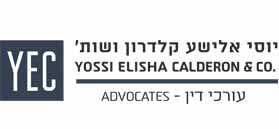 Yossi Elisha Calderon & Co., Advocates
Taxation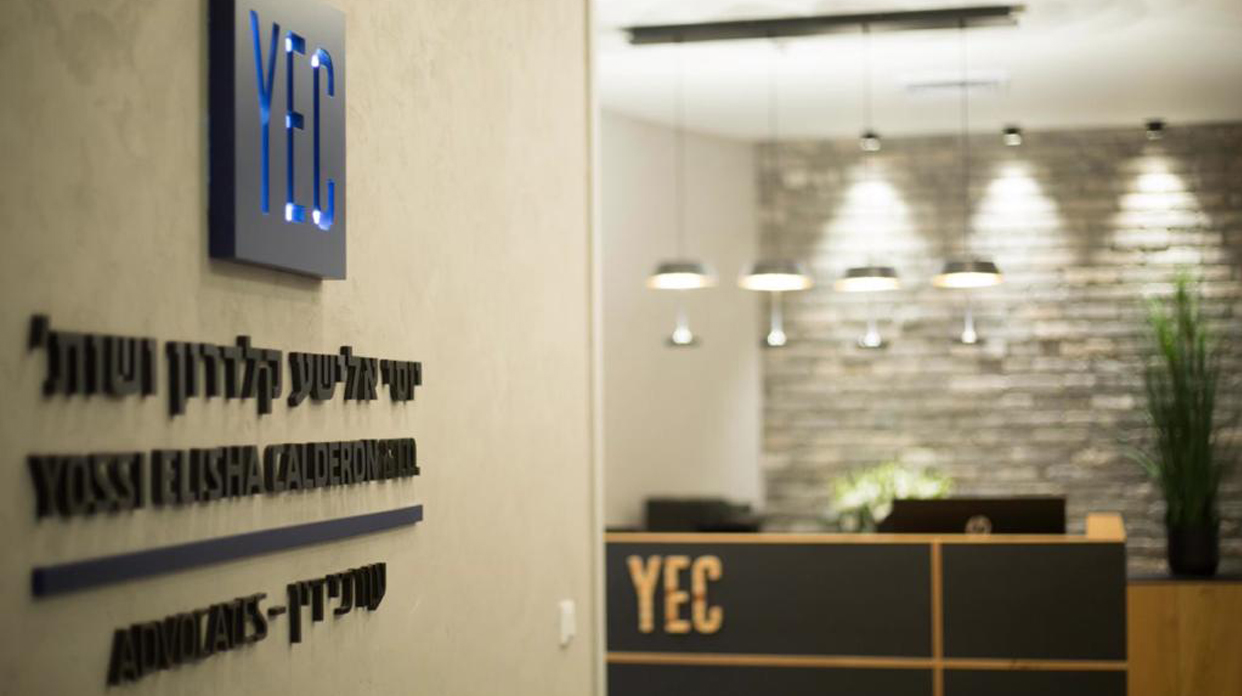 Company's Profile
Established:
2017
Line of Business:
Taxation
Address:
7 Menachem Begin Rd.,
Gibor Sport House (20th floor), Ramat Gan
Phone:
972-3-3792222
Fax:
972-3-3792111

Company Executives
Yossi Elisha

Adv., CPA and Founder

Yossi Elisha Calderon & Co., Advocates

Dr. Benny Calderon

Adv., Senior Accountant and Partner

Yossi Elisha Calderon & Co., Advocates

Adv. Daniella Gabbay Ben-Zeev

CPA and Partner

Yossi Elisha Calderon & Co., Advocates

Adv. Yarden Avidani-Akirav

Partner

Yossi Elisha Calderon & Co., Advocates

About Yossi Elisha Calderon & Co., Advocates
Yossi Elisha Calderon & Co., Advocates is one of Israel's leading boutique law firms in the field of taxation, providing counsel, support and representation services for a wide variety of clients on various taxation aspects, both in Israel and abroad.
With the comprehensive experience of the firm's team in providing legal support and tax consultancy to some of Israel's leading and best-known companies, the firm has an extensive reputation, and is renowned as one of the highest-quality firms in Israel in its field, and receives high rankings in international and Israeli ranking guides.
The firm offers a wide range of legal services in various taxation issues, including companies' tax, individual tax, real-estate tax, and VAT.
The firm is regularly involved in the most significant and prominent transactions in the Israeli economy and is responsible for numerous important legal precedents and rulings, including issues that are regularly taught in law faculties as "guidelines" of Israeli taxation.
The firm has extensive experience in the management of complex taxation issues, receiving pre-rulings from the tax authorities, tax litigation in tax appeal cases in the Israeli courts and the field of double tax agreements with foreign countries.
The firm is renowned for its unique expertise in real-estate tax and it represents some of Israel's leading real estate companies and entrepreneurs. The firm accompanies some of Israel's largest and most publicized real-estate projects, which are estimated in NIS billions. It also has unique experience in urban renewal taxation, and it facilitates numerous NOP 38 projects and "Pinui-Binui" (evacuation and reconstruction) projects.
The firm believes in the provision of personal, professional and fast service for all of its clients, personally tailored to their unique needs, and believes in the aspiration for excellence, attention to details and accurate and reliable reporting.
All of the firm's employees have broad academic backgrounds, with an additional economic degree in addition to their LL.Bs. The combination of economic education and legal education provides great value for the clients and enables them to achieve their business aspirations in each activity and operation.
Precedents and Participation in Tax Legislation
Among the significant precedents that were led by the firm are Supreme Court rulings concerning loss offsetting, rulings concerning the statute of limitations of assessments, and precedential tax decisions concerning urban renewal, which changes the taxation processes in this field.
The firm's record also includes capital market tax decisions, precedents concerning restructuring, and decisions concerning the taxation of trusts.
The firm participates in tax legislations in Israel, including the legislation of The Economic Arrangement Law and the urban renewal tax structure, owing to its extensive reputation as a leading firm.
Practice Areas
Income Tax - The firm provides comprehensive legal support for individuals and companies on all tax aspects of their commercial transactions, including strategic tax consulting, tax arrangements, representation before the various tax authorities and in income tax appeals, and accompanies many of Israel's leading companies in their ongoing tax matters in Israel and abroad. The firm provides legal-tax representation that is tailored to the clients' needs, based on longstanding experience and expertise, including the creation of efficient tax structures and the development of strategies for the prevention or mitigation of tax liabilities.
Real-estate Taxation - The firm has a unique specialization in real-estate taxation, and it represents leading Israeli real-estate companies and entrepreneurs. The firm has longstanding experience in providing counsel and support in land taxation, and it has unique experience in the urban renewal field and accompanies numerous Tama 38 and Pinui-Binui projects.
VAT - The firm provides its clients with high-quality support and representation on all VAT aspects and has many years of expertise concerning transaction planning from the VAT aspect, provision of legal opinions, handling tax assessments and representation before the VAT authorities and the various legal tribunals.
International Taxation - The firm provides legal counsel and support to companies and individuals with international operations, and provides personally-customized legal services on various tax topics, including foreign trusts, counsel to immigrants and returning residents, legal opinions, tax benefits counsel and development of efficient international tax structures.
The Firm's Founders
Adv. and CPA Yossi Elisha
Adv. Elisha is considered to be one of the prominent experts on Israeli Taxation and has an extensive reputation as a leading expert with a record of numerous tax decisions and major legal precedents.
He serves as (co)-Chairman of the National Taxation Forum of the Israeli Bar Association, The Israeli Bar Association's representative for tax legislation and contact with the tax authorities, and represents the Bar in the Knesset in tax legislations, the Finance Committee and vis-a-vis the tax authorities.
He is often called to appear before Knesset Committees and provide expert opinions concerning tax legislation, with direct impact on Israel's economic reality. Thus, he accompanies the significant tax legislation in Israel over the past years and participates in its formulation.
Adv. Elisha has extensive experience in managing complex tax matters, both local and international. His practice areas include all aspects of corporate tax, pre-rulings from the Israeli tax authorities on diverse tax matters, VAT, income tax, real-estate tax, tax litigation and DTAs with foreign countries.
Dr. Benny Calderon, Adv. (Senior Accountant)
The extensive experience that he gained during years of working both for law firms and in one of Israel's largest accounting firms, has turned Dr. Benny Calderon into one of Israel's leading tax experts.
Adv. Calderon provides legal counsel and support for private clients and companies on all tax aspects, including income tax, land tax, VAT and international taxation.
He is renowned for his vast professionalism in taxation and his ability to manage complex tax cases amounting to NIS millions, with fast and high-quality service. In addition, he is highly experienced in tax litigation and representation before various courts, including in the Supreme Court and appeal committees.
Adv. Calderon has an extensive presence in the academic realm and has been lecturing for many years in the law and business administration (accounting) faculties of the Uno Academic College in a variety of tax courses, including real-estate tax and individual and companies tax.