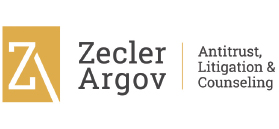 Zecler Argov Antitrust, Litigation and Counseling
Competition and Regulation Laws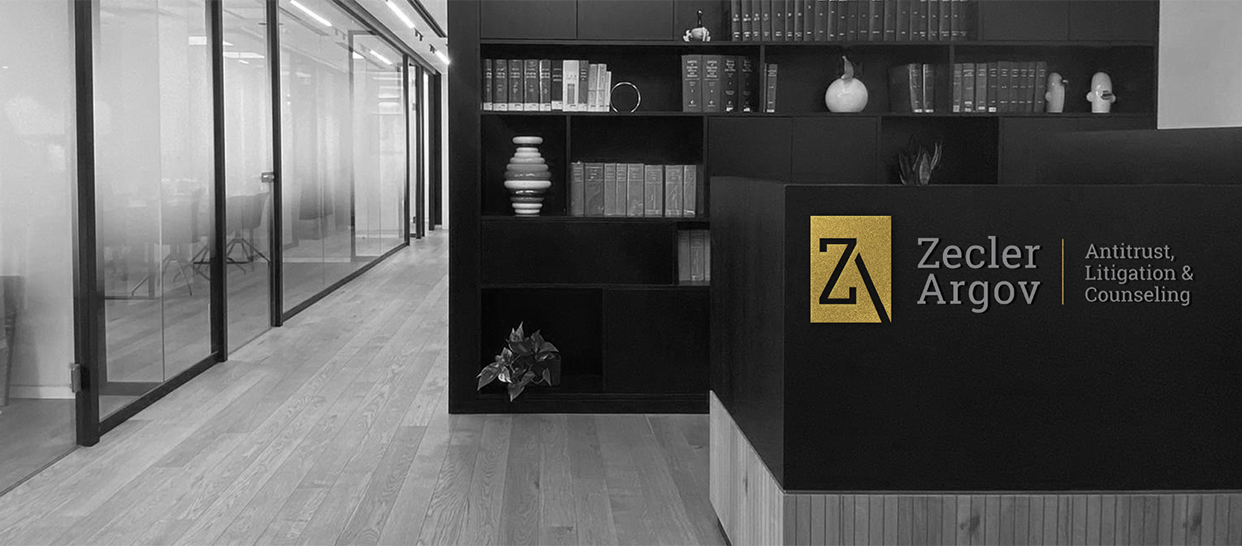 Company's Profile
| | |
| --- | --- |
| Established: | 1998 (Current Structure: 2020) |
| Line of Business: | Competition and Regulation Laws |
| Address: | Menachem Begin 144a Rd., (Midtowm Tower) Tel Aviv 6492124 |
| Phone: | 972-3-9123030 |
| Fax: | 972-3-9123040 |

Company Executives
Adv. Niv Zecler

Founding Partner

Zecler Argov Antitrust, Litigation and Counseling

View Profile

Niv Zecler

Adv. Ofer Argov

Founding Partner

Zecler Argov Antitrust, Litigation and Counseling

View Profile

Ofer Argov

Adv. Shiran Sofer

Partner

Zecler Argov Antitrust, Litigation and Counseling

About Zecler Argov Antitrust, Litigation and Counseling
Zecler Argov Law Firm is ranked as one of Israel's leading Competition law firms by both local and international guides. Firm co-founder Niv Zecler is considered one of Israel's leading Competition lawyers, consistently ranked as a top tier lawyer. He is included in the "Hall of Fame" of the leading international guide Legal 500 and ranked as top tier lawyer among others.
Adv. Zecler, who maintains nearly 30 years of expertise, served as legal counsel to the Competition Authority in Israel before founded Weinstock Zecler (WZ) in 1998. The firm operated as a M&A and Antitrust boutique for 20 years until the end of 2018, when WZ merged with one of the leading law firms in Israel. That merger was short-lived and by 2020 a new antitrust boutique emerged, Zecler Argov, including partners Niv Zecler, Ofer Argov and Shiran Sofer.
Our history at Zecler Argov includes lawyers from as far back as our WZ predecessor. The leaders of our firm have been working together for nearly a quarter-century and so the "new" firm of Zecler Argov is in fact a straight-line continuation from the WZ days of the late 1990s. This means our team has a long history and vast experience in antitrust law. It also means we have been involved in most of the criminal procedures, complex litigations, and merger cases that have taken place in Israel for most of the past 25 years.
All our partners are accomplished litigators. The combination of our expertise in competition law and vast litigation experience in the courtroom imbues our firm with the skills and experience to provide clients with the most comprehensive and practical legal representation. They receive counsel from a highly qualified and proficient team, who have all the skills necessary to advocate successfully for them. We have the background, history, and people to spearhead the antitrust field in Israel.
Fields of Expertise
Competition Litigation - Zecler Argov maintains special expertise in competition law and in managing complex legal procedures, including class actions. We have been a leader in antitrust class actions, exemplified by the many cases we've handled over the years. This includes representations in: Regular lawsuits and class actions against local cartels; Regular lawsuits and class actions against monopolies due to abuse of their dominant position; and Trailing lawsuits for criminal prosecution.
We represented our clients in one of the most precedent setting class actions in Israel, regarding unfair pricing by a monopoly. Our work led to the first-ever guidelines and standards set in Israel by which excessive pricing can be identified. We have also represented clients in class actions that took place following criminal prosecutions of various cartels. Outside the civil courtroom we represent clients in administrative procedures before the Competition Authority and Competition Tribunal, including administrative fines, appeals and petitions to approve a restrictive agreement, and before the High Court of Justice on petitions pertaining to competition law and regulatory issues.
Class Actions - International Cartels - Zecler Argov specializes in managing class actions served in Israel involving international cartels, whose malfeasance may have occurred outside of Israel. These class actions raise complex and novel questions regarding various aspects of antitrust law and class action law. We are currently representing clients in several class actions, including: against the Forex cartel; against a global cartel in the field of optic CD drives; and against an international cartel in the field of capacitors.
Criminal Investigations and Representation in Criminal Charges - We represent clients in criminal investigations and in criminal charges, both, pertaining to competition law. This is a unique field that requires expertise both in competition law as well as criminal procedures; additional crimes beyond antitrust violations may be included in such prosecutions: fraudulently accepting goods, money laundering, and bribery. Zecler Argov has the institutional history in competition law to understand all aspects of these criminal proceedings. That plus our vast practical experience in criminal case management is unique for Israel, enabling us to provide representation that clients cannot find elsewhere. Examples of such criminal defence representation include: one of the largest bakeries in Israel in a criminal proceeding regarding agreements to divide the market of bakeries in Israel (the bread cartel); a travel company and its owner in a criminal proceeding regarding the youth excursions to Poland (the Poland travel cartel); investigations against transportation companies, billboard companies, and more.
Compliance, Monitoring and Internal Investigations - For clients across the spectrum of Israeli industries, we prepare and implement internal antitrust compliance programs. These industries include food retailers, pharmaceutical (including pharmaceutical chains as well as an international pharma company), cellular companies, computer companies, and more.
Strategic and Business Counseling regarding Competition Matters - Our team can rely on decades of antitrust legal counsel to educate our clients on competition law to help them minimize their exposure and manage antitrust risks so that they may fulfill their business goals. We are able to create practical solutions thanks to our in-depth expertise and cutting-edge knowledge in antitrust, both in Israel and worldwide.
Merger Transactions - Zecler Argov advises clients through their merger planning to ensure they avoid any antitrust issues. From the initial planning of the transaction, to the submission of the merger announcement, and up through receiving approval from the Director General of the Competition Authority in Israel, our competition lawyers are there at every step.
Of course, should it become necessary, we also offer extensive litigation experience before the Competition Tribunal. We are called to help in cases in which the Director General of the Competition Authority in Israel objects the requested merger and our help is needed to get the merger approved.
Regulation - We specialize in all aspects of economic regulation which interwinds with antitrust law, including regulation under The Promotion of Competition in the Food Sector law in Israel, regulation under the Israeli Concentration Law, under the Telecom Law, National Health Insurance Law and others. Zecler Argov has a long relationship with clients in various industries including food, retail, beverage, pharmacy, media, electricity industries; we also have particular expertise with the communication industry, including telecoms, mobile, and other subindustries in this field.
Anti-Dumping - Our firm specializes in representing clients in various matters pertaining to anti-dumping, where foreign competitors dump their products into the Israeli market in contravention of trade laws. Zecler Argov lawyers employ all manner of legal strategy, according to need. Recently we represented a foreign cement manufacturer accused of importing into Israel while dumping its products in the market. After turning to us for counsel, we successfully satisfied the authorities that there was no dumping or injury to the local market and therefore no increased dumping levy was imposed.
Anti Bribery and Corruption - Zecler Argov's expertise in economic and business-related criminal investigations, proceedings and compliance has been extended to accusations of bribery of foreign officials by Israeli citizens. Our team works seamlessly with one of the leading international firms in the field of corrupt foreign practices to help clients in these matters.

Company Rankings