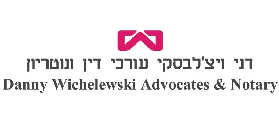 Danny Wichelewski Advocates & Notary
Civil-Commercial Law, Real Estate (including Receiverships), All Facets of Corporations, Litigation including Labor Law, Collection, Internal Auditing, etc.

Company's Profile
| | |
| --- | --- |
| Established: | 2005 |
| Line of Business: | Civil-Commercial Law, Real Estate (including Receiverships), All Facets of Corporations, Litigation including Labor Law, Collection, Internal Auditing, etc. |
| Address: | 10 HaTa'as St., Bell House, Kfar Saba |
| Phone: | 972-9-7676018 |
| Fax: | 972-9-7676016 |

Company Executives
Danny Wichelewski

Founder and Owner

Danny Wichelewski Advocates & Notary

View Profile

Danny Wichelewski

About Danny Wichelewski Advocates & Notary
Danny Wichelewski Advocates & Notary was founded in 2005 by its owner and founder, Adv. Danny Wichelewski. The firm practices various areas and focuses as a boutique firm in the areas of real estate, commercial law and litigation. In the framework of the firm's real estate practice, it handles the full range of activities in this area, including the facilitation of large-scale construction projects, receiverships, representation of parties in large and complex urban renewal projects, rezoning etc.; And in the framework of its commercial law operations it provides comprehensive and complete support for corporations on various topics, and including litigation aspects (another specialization of the firm), and also utilizes its internal auditing capabilities, both for providing audit services and for supporting the clients.
The firm operates in a boutique firm format, and its clientele includes a variety of organizations, from large corporations, through smaller companies, businesses and private clients – to local authorities. The firm provides vast services through its employees and through contracts with complementary firm in order to provide a complete umbrella of services.
Adv. Wichelewski, Owner and Manager
Adv. Wichelewski has an LL.B. and a B.A., Business Administration (specialization in finance and capital markets) both with honors from IDC, and an LL.M. from Tel Aviv University. Following his graduation, he interned in the State Attorney Office, Taxation and Economic Departments, Tel Aviv District.
Among other roles, Adv. Wichelewski is active in the Israel Bar Association, where he has been serving in various committees over the years, and a member of the disciplinary court of the IBA's Central District. Adv. Wichelewski serves as a legal counselor and internal auditor of various private companies and associations. In addition, he serves as a notary and has specialization in drafting lasting power of attorney and as a mediator and arbitrator.
The Firm's Vision – The Client at the Center
The firm's vision is to see put the client at the center and accordingly its vision was constructed around the clear goal of providing clients with a professional, efficient, courteous and fast service – that would provide them with the understanding that they and their legal needs are at the center. In order to achieve this goal, the firm emphasizes its service-orientation and very high availability alongside with high professionalism. The firm to provides its clients with a comprehensive legal frame in its practice areas, and it takes care to refrain from handling matters outside of its professional scope. For this purpose, the firm maintains professional corporations with leading entities in its main practice areas. Through its network, the firm creates an umbrella that is meant to take care of all of the clients needs through the legal proceedings, and eliminates the need for running around and coordinating. For example, the firm cooperates with WDZF, one of Israel's leading planning and building firms, in a partnership that provides a complete umbrella for the firm's entire real estate department, one of Israel's leading, best and most comprehensive departments. The professional frame also includes cooperations between the firm and some of Israel's leading professionals, including architects, tax experts, accountants, planning firms and authorities. This situation exists also in the commercial law and litigation departments – professional relationships with advisors, investigators, and experts and to computerized collection systems, all providing the firm with the ability to offer its clients with a unique and complete basket of legal services in its practice areas, and enables the firm to compete with and be part of the finest leading law firms in Israel.
Main Areas of Practice
Real Estate - The firm serves as a boutique firm in this area and accompanies its clients through the legal complexities of every type of real estate transaction, from simple sale transactions up to the representation of initiators and/or contractors and/or landowners in some of Israel's largest transactions. The firm accompanies various construction-related entities when they require legal services, be it the contractors, the initiators, the apartments' buyers or sellers, management companies or even local authorities. The firm handles all layers of real estate and construction, including residential and/or commercial new construction projects; urban renewal projects including Tama 38/1 (seismic retrofitting); Tama 38/2/3 (demolition and reconstruction); and Pinui-Binui. The projects where the firm are involved include some of Israel's largest urban renewal and new construction projects, including in Bat Yam, Or Akiva, Hadera, Petach Tikva, Mazkeret Batya, Ra'anana and more. The characteristics of the projects are diverse and include residential buildings, commercial structures and large-scope office buildings. Some of the prominent projects that are accompanies by the firm are Israeli's largest hotels and leisure projects, leading urban renewal complexes in central Israel with thousands of apartments, large commercial complexes, rezoning, combination transactions and representation of local authorities including in receiverships of properties they own, etc. And in addition to all of the above, the firm accompanies individuals and private buyers and sellers of properties across Israel and doesn't forget to provide them with a complete service, and the firm benefits from numerous private transactions including returning private clients who benefit from its unique and high-quality services and clients from abroad.
Commercial Law - The firm counsels on the establishment of partnerships, associations, cooperatives, limited liability companies and small to large businesses, drafts AoAs, registers in the Companies/Partnerships/Associations registrars, creates Board procedures and fundamental corporation documents. Beyond corporations' establishment, the firm aims to lead corporations safely through the trail of legal complexities of the corporation's lifecycle. Ongoing legal counsel, preparation of founders/partnership, employment, fundraising and investment agreements are an inseparable part of corporate management. The firm verifies that the clients benefit from the good and comprehensive legal support which necessary for the management of any business or corporation. The firm regularly represents partnerships, association, and private and public companies.
Civil-Commercial Litigation - The firm handles a wide variety of civil-commercial claims in all of the courts, including, but not limited to, various monetary claims, declaratory claims, injunctions and various court orders, seizures, declaratory orders, answers (to complaints), appeals etc. The firm also handles representation, management and advisory in mediations and arbitrations in various issues, and its lawyers also serve as arbitrator and mediator.
The firm's lawyers are highly experienced and knowledgeable in litigation in all the courts. The firm has extensive experience in lawsuits management and representation before all the courts and gained much success in this field. The firm also utilizes its knowledge and capabilities in the commercial, civil and real estate areas and accordingly handles large cases in these areas with great success in the higher courts.
Pro Bono
The firm participates in voluntary activities in various areas. It has been accompanying several charities for years, including advisory and legal representation in a full or partial pro bono model, including the Krembo Wings NPO, a youth movement which integrates special-needs youth.

Company Rankings