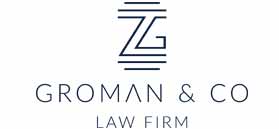 Groman & Co., Law Firm
Real-estate with an emphasis on urban renewal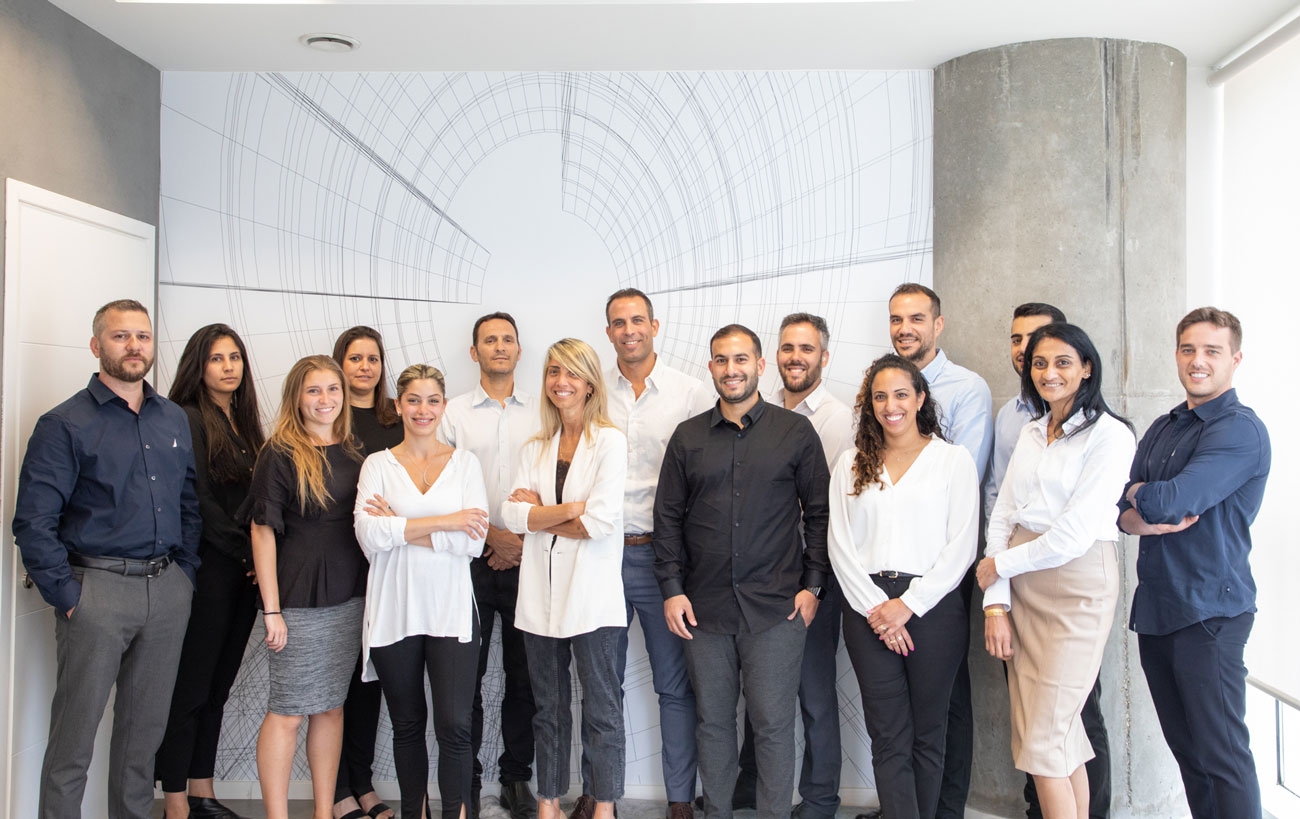 Company's Profile
| | |
| --- | --- |
| Established: | 2016 |
| Line of Business: | Real-estate with an emphasis on urban renewal |
| Address: | 23 Bar Kokhva St., V-Tower, 10th floor, Bnei-Brak |
| Phone: | 972-3-7794004 |
| Fax: | 972-3-7794005 |

Company Executives
Ziv Groman

Owner & Managing Partner

Groman & Co., Law Firm

View Profile

Ziv Groman

Maayan Mauda

Adv.

Groman & Co., Law Firm

Oshra Friedman

Adv. & Notary

Groman & Co., Law Firm

Noy Orlinsky

Adv.

Groman & Co., Law Firm

Assaf Shefi

Advocate

Groman & Co., Law Firm

Atara Sova

Adv.

Groman & Co., Law Firm

Adi Sharabi

Adv.

Groman & Co., Law Firm

Niel Bonfil

Advocate

Groman & Co., Law Firm

Yael Shaulov

Advocate

Groman & Co., Law Firm

Lea Israel

Advocate

Groman & Co., Law Firm

Liad Chen Zion

Advocate

Groman & Co., Law Firm

About Groman & Co., Law Firm
Groman & Co. accompanies and represents numerous homeowners in the field of urban renewal and provides day-to-day legal support to dozens of top-tier initiation companies and contractors in the Israeli market. Services include providing legal counsel and support during combination transactions, sale and acquisition agreements, and finance agreements before the various financial entities and banks, along-side providing legal counsel and support to public entities as well as various investors in complex real estate transactions.
Our firm is one of Israel's leaders in the field of urban renewal (NOP 38, retrofit/demolition and construction, and pinui-binui), which represents, for over a decade, about 200 urban renewal projects. The firm is known for its expertise, uncompromising excellence, unique innovation, professionalism, tailored service, and its family atmosphere along-side its out-of-the-box thinking.
Proven Experience, Creativity and Expertise
The firm includes 9 lawyers and interns, headed by Adv. and notary Ziv Groman (42), a father of 3, frequent participant in the "Ironman" race, lectures in various forums on urban renewal and real estate financing, publishes article in this field and is a popular guest in various media outlets. Adv. Groman was also chosen as one of the 70 most influential people in urban renewal, for the second consecutive year. He is also a frequent guest on N12 "Real Estate Secrets" show panel.
Due to the fact than our firm represents initiator, contractors and homeowners, our clients benefit from the vast knowledge we have accumulated from both sides, as well as out ability to provide them with the best possible service and while offering optimal solutions. Our firm grants client with a complete package of services, for every aspect, including assisting in providing bank and non-bank credits, equity completion, performing tenders and pricing while maximizing tenants' rights, personal accompaniment of each project from start to finish, etc.
Urban Renewal
The firm is highly experienced in the provision of legal solutions in the urban renewal field, both in the representation of residents and in the representation of initiators and contractors, before the tax authorities and the banking system in finance agreements, before the planning authorities and the various agencies, for all types of urban renewal transactions. The firm personally supports its clients legally, throughout all of the project's stages, from start to finish.
Real-Estate Transactions
The firm provides its clients with a comprehensive envelope of legal services for all types of real-estate transactions, including development, urban renewal, initiation, and combination transactions, purchasing groups, settlement expansion, and more.
In this framework, the firm prepares and handles sale agreements, leasing agreements, rent agreements, property management, handles administrative petitions, appeals, objections and betterment charges. The firm's clients include private and public real-estate companies, businessman and private companies.
Representation of Residents in Tama 38 projects
The firm specializes in the representation of residents who are about to enter Tama 38 projects.
In this framework, the firm provides close support throughout all of the project's stages, from the planning of the transaction structure, including the tax structure, the negotiations and signing the transaction's documents, the financing, the contracts with architects, consultants and various professionals, agreements with contractors, planning and building, and up to the delivery of the apartment's key.
Legal Support for Initiators and Residents in Pinui-Binui projects
The firm specializes in personal and compassionate legal support in the representation of residents and contractors in Pinui-Binui projects, where the project's buildings are designated for demolition and in their place new buildings would be constructed, in contrast to Tama transactions. Therefore such transactions require a sensitive and delicate legal support, which includes the preparation of a draft agreement and negotiations between the residents and the initiators/contractors, including a definition of the consideration for each party, arrangement of the residents' guarantees, arrangement of the apartments' evacuation and the rental of temporary substitute apartments, transport, storage, etc.
Land Taxation
The firm which benefits from a diverse experience in the land and real-estate tax field, provides complete and professional legal counsel for initiators, contracts, land owners and investors in this field, striving to bring maximum results for its customers in every transaction.
Selected Projects
144-146 Ibn Gabirol, Tel-Aviv (TA); 81 Gordon, TA; 23 Naftali, Jerusalem; 20 Maccabi, Ra'anana; 22 Maccabi, Ra'anana; 4 Neve Yehoshua, Ramat Gan (RG); 44-48 Arlozorov, Petach Tikva; 14 HaYarkon, TA; 22 Yermiyahu, TA; 30 Gordon, TA; 13 Gershom, RG; 1, 1a, 1b, 3,5, 7, 9a, 9b, 9c Ben Gurion, Givat Shmuel; Yitzhak Sade / HaPalmach, TA; Raziel / St. Martin, RG; 5+7 Shualei Shimshon, RG; 43 HaHagana, Herzliya; 7+9 Pochas, Petach Tikva; 2 Ibn Gabirol, Herzliya; 12 McDonald, Netanya; 9 Averboch, Ramat HaSharon; 35 Borochov, Ra'anana; 18 Le'ah, TA; 9 Shtriker, TA; 3 David Elazar, Ra'anana; 1 David Elazar, Ra'anana; 42 Shlomtsiyon HaMalka, TA; 27-29 Weizmann, TA; 44-46 Weizmann, Givatayim; 19 Golomb, Ramat HaSharon; 5-7 Jericho, TA; 23 Bloch, TA; 240 HaRo'e, RG; 6-8 Halperin, Netanya; 16-18 Israel Misalant, TA.

Facebook Updates

Projects
4 Neve Yehushua St., Ramat Gan

14 HaYarkon St., Tel Aviv

43 HaHagana St., Herzliya

2 Ibn Gvirol St., Herzliya

44-48 Arlozorov St., Petah Tikva

9 Averboch, Ramat HaSharon

23 Naftali St., Jerusalem

Sde Izhak- Hapalmach St., Tel Aviv

Raziel- San Martin St., Ramat Gan

3 David Elazar St., Raanana

Company Rankings