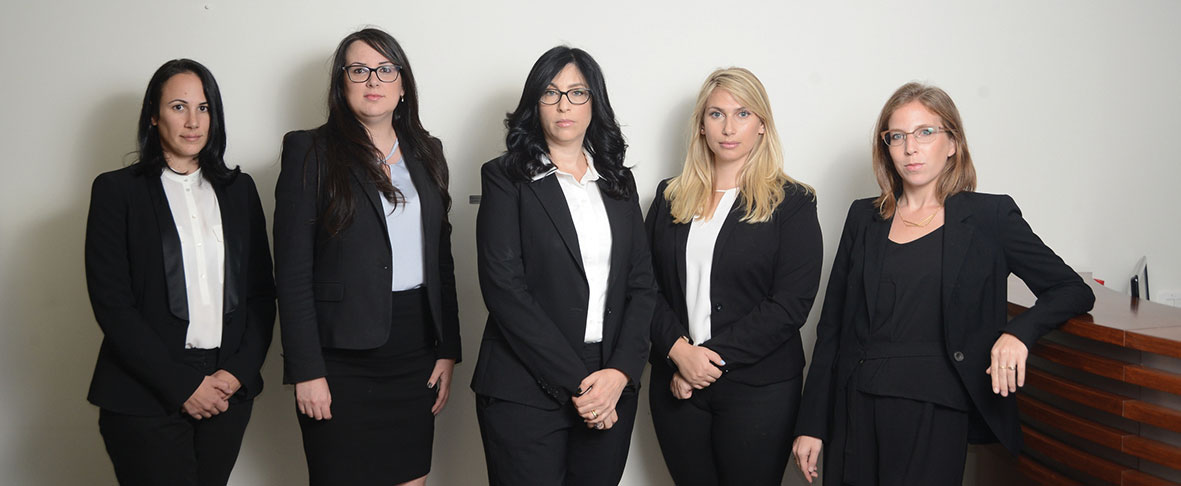 Company's Profile
Established:
2007
Line of Business:
Family and Estate Law
Address:
8 Yitzhak Sadeh St., Acro Tower, 9th Floor,
Tel Aviv 6777508
Phone:
973-3-5775099
Fax:
972-3-5775098

Company Executives
Adv. Judith Meisels

Owner and Founder

Judith Meisels, Law Offices

View Profile

Judith Meisels

About Judith Meisels, Law Offices
The Judith Meisels Law Firm is a leading boutique firm in the field of Family and Estate Law. The firm is credited with participating in numerous cases that have generated important precedential rulings, including by the Supreme Court. The firm's professional legal team is fluent both in English and Hebrew.
Fields of Expertise
The Judith Meisels Law Firm specializes in offering its clients tailor-made services suitable to their unique circumstances. The firm's expertise is in both complex litigation and mediation.
The firm also specializes in international related aspects such as international property disputes, child abductions according to The Hague Convention, the divorce between citizens of different countries, international custody and other family disputes with an international aspect.
The firm has a staff of 5 lawyers and has been consistently ranked as one of the best firms in Family Law in the Dun's 100 ranking by Dun & Bradstreet, as well as being ranked among leading firms by BDI.
The firm's creed is that of integrity, fairness, and determination and it strives for equality and justice in every activity it engages in. This determination has resulted in the many legal precedents the firm is credited with.
Promoting equality and awareness of deliberators to their rights is at the core of the firm's values. Adv. Judith Meisels takes care to combine practice and academics, often standing at the forefront of recent rulings in the field, and teaching as a professor of law at the College of Management's Law Department.
Meisels has unique expertise in complex estate law issues. Among other things the firm deals with drafting wills, submitting objections to wills and conducting estate disputes, and managing estates and receiverships. New innovative fields in which she specializes include International surrogacy and adoption, joint parenthood, and issues pertaining to a same-sex couple, single-parent and multi-parent families. The firm handled, for example, the first case of LGBT divorce in Israel.
The firm, established in 2007, has influenced legislative proceedings in the field of Family Law, among others in the memo for Parents and their Children Act of 2011-2012, and the Deliberation Arrangements and Family Dispute Act (Tentative Order) of 2014-2015.
Adv. Judith Meisels
Adv. Judith Meisels studied law at Tel Aviv University, she holds an LL.M., magna cum laude, and is a certified attorney since 1998. Twenty years in the field of Family and Estate Law and running her own legal practice for the past decade, have granted Adv. Meisels extensive experience and rich legal knowledge in all family-related fields. Adv. Meisels is involved in legislative proceedings. She is also a professor of law, teaching the Family Law course in the College of Management's Law Department and has served in a wide variety of public positions.
In addition, Adv. Meisels gives lectures on Family and Estate Law matters at various institutions including Tel Aviv University, Bar Ilan University, The Bar Association and as part of various conventions. Adv. Meisels is also a regular columnist, writing on Family and Estate Law topics for one of Israel's leading newspapers, and appears in the written press and on television as an expert on various subjects in her field of expertise. Many of Adv. Meisels' presidents received attention, and some are studied in various educational facilities. She has also published articles in law reviews and legal journals.
Adv. Meisels is a member of the Academic Inter-University Forum for Family Law, the Israel Bar Association's Family Law Forum which oversees the field of Family Law in Israel. She served as Vice Chairperson of the Israel Bar Association's LGBT Committee, and a member of the Israel Bar Association Women Empowerment Committee, as well as the sub-committee established to formalize an amendment to the Legal Competence and Guardianship law. Between the years 1998-and 2000 Adv. Meisels served as a senior legal counselor in the Claims Resolution Tribunal in Zurich for International Arbitration with respect to the dormant Swiss bank accounts.
Clientele Profile
The Judith Meisels Law Firm is meticulous in maintaining its clients' confidentiality and therefore their names will not be listed. The firm's clientele includes affluent Israeli businessmen and women, high-profile Israeli figures various private clients, and foreign citizens.
The Judith Meisels Law Firm also engages in pro bono representation through "Halev Project" – The Association to Combat Poverty and the "Schar Mitzvah" program by the Israel Bar Association.
Prominent Cases and Selected Precedents
Cases handled by the firm have often been at the center of Israeli national attention. Among the prominent cases handled by the Meisels firm that has won media attention is the legal precedent set by the Supreme Court with respect to mutual wills. The firm was also credited with a Supreme Court ruling, given by an extended quorum of seven justices, pertaining to the rights of two fathers to full legal parenthood, as well as with precedential rulings regarding reputed spouses, complex property disputes, alimony, custody, and the first divorce of a same-sex marriage in Israel, a ruling which received wide national and international media coverage.
Publications
• "Of Honey and Sting: A Discussion of Existing Custody Arrangements in Israeli Law", children's rights and Israeli law (edited by Dr. Tamar Morag, Ramot Publication House - Tel Aviv University – 2010)
• "Thoughts on the Lack of Will Intersections in Family Law Following High Court of Justice ruling 4077/12 Jane Doe vs. Ministry of Health et al.", the online journal "Hamishpat": Human Rights, for the Emil Zola Human Rights Chair.
• "Legal Parenthood" and "LGBT Divorce in Israel", two chapters in the book: LGBT Rights in Israel: Gender Identity, Sexual Orientation and the Law (edited by Alon Harel, Einav Morgenstern. Yaniv Lushinsky), the Hebrew University Press, 2016
• "The Voice of Blood in lieu of the Voice of Man" – a discussion regarding the High Court of Justice rulings 566/11, 6569/11 Mamet-Meged vs. Ministry of Interior", the online journal "Hamishpat": Human Rights, for the Emil Zola Human Rights Chair.

Company Rankings