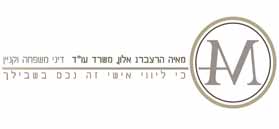 Maya Hertzberg Alon – Law Firm
Family Law, Divorce, Inheritance, Custody and Mediation

Company's Profile
| | |
| --- | --- |
| Established: | 1992 |
| Line of Business: | Family Law, Divorce, Inheritance, Custody and Mediation |
| Address: | 182 Herzel St. 6th floor, Rehovot 7626718 |
| Phone: | 972-8-9363393 |

Company Executives
Adv. Maya Hertzberg Alon

Founder and Manager

Maya Hertzberg Alon – Law Firm

View Profile

Maya Hertzberg Alon

Eldad Pace

Adv.

Maya Hertzberg Alon – Law Firm

About Maya Hertzberg Alon – Law Firm
The Maya Herzberg Alon Law-Firm – is a leading, veteran, boutique law-firm that specializes in the field of family law. Our law-firm was first established 28 years ago, and ever since has been providing legal services in numerous family law cases, which included many complex cases concluded with substantial accomplishments. Over dozens of years, our Law-Firm has been amassing its' experience and expertise, both in the specific field of family law, and also in the general fields of civil and commercial law. Our law-firm has provided legal counsel in family law related cases in a wide variety of transactions belonging to other fields of law, including real estate, contracts, banking, payment execution, and bankruptcies. Our law firm's unique combination of expertise in very diverse fields of law has provided us with a substantial and meaning advantage in the handling of complex family law cases involving companies and assets. Our ability to provide expertise in various and diverse fields of law under the same roof, has also ensured our ability to provide our clients with professional, comprehensive, and complete solutions for complicated family law cases that involve companies and assets, and many other legal intricacies. Our clientele consists of noted businessmen and businesswomen, owners of leading companies and substantial assets, or their spouses in matters relating to divorce and separation proceedings, transferring properties between generations, inheritance disputes, and mediation processes. Our law firm is also well renowned for providing the utmost attention to its' clients' needs as a personalized service, and by means of a personal connection between our attorneys and our clients, as well as for its' celebrated expertise, and uncompromising effort to attain its' goals.
Experience and seniority
Over the past 28 years our law firm has handled hundreds of cases in the fields of divorce, custody, and inheritance law, and all while exercising a great deal of professionalism, inside and outside of the courtrooms. Our office staff is characterized by its' sensitivity, patience, and above all by its' reliability, and it accompanies our customers in attaining their short and long term goals. Attorney Maya Herzberg Alon, serving as the law-firm's leading attorney, is also a registered and accredited mediator in the court system's list of mediators, since the year 2002. Our law-firm has accumulated many noted courtroom victories, and was instrumental in creating new legal precedents in a wide range of subjects, including: competing jurisdictions, resource balancing and distribution, marital partnerships in assets that were acquired prior to the marriage, uneven distribution of communal assets as a penalty for the irresponsible behavior of one spouse, alimony payments after divorce, limitation of the presumption of communal ownership to only part of an assets that were accumulated during the course of the marriage, and many other such matters
Our Main Fields of Expertise
• Divorce Proceedings
• Property Distribution
• Alimony and Child Support Payments
• Custody
• Property Agreements
• Transference of Properties Between Generations, Inheritance, and Wills
• Family Violence, Threats, and Harassments
• Common-Law Spouses
• Mediation
• False Charges
• Returning Kidnapped Children in Hague Convention Proceedings
• Custody and Lasting Powers of Attorney
• Same Sex Spousal Rights
Attorney and Notary Maya Herzberg Alon – Founder
The founder of the law-firm, Attorney Maya Herzberg Alon, received her law degree from Tel Aviv University in 1989. After concluding her studies, attorney Herzberg Alon performed her articled clerkship at the Tel Aviv District Court of Law, and thereafter she concluded her clerkship in one of the country's leading law-firms in the field of family law. In the year 2001, attorney Herzberg Alon was appointed as a mediator and mediation procedure administrator for disputes and disagreements in the field of family law. Four years later, Ms. Alon was also appointed as a notary and has been lawfully registered as a mediator in the court system's list of mediators since the year 2002.
Ms. Alon is the founder and chairman of the Equality and Decency in Family Law Committee of the Tel Aviv District of the Israel Bar Association, and has been promoting theses same important issues within the lawyers' community, and in the discourse between attorneys and their clients, and between lawyers and judges, the welfare authorities, and the police. She is socially active, and founded the association's "Circle", which engages in matters relating to false charges and parental disinterest. She delivers lectures and administers Bar Association workshops in the field of family law for lawyers, and which include the following workshops: One Step at a Time in the Management of Family Law Cases, Custody Law after the enactment of the Amendment to the Law, Single Sex Spousal Rights, and professional conferences in the field of family law. Ms. Alon is invited and takes part in professional panels of the Israeli Bar Association conventions in the field of family law.
Over the years, attorney Herzberg Alon has handled hundreds of divorce cases, and has assisted numerous customers in contending with various forms of crisis. All this was accomplished by her through the application of winning strategies, which enable her to offer her clients an optimal service that is most suited to their situation. Ms. Alon brings with her an extensive background in the field of civil law which enables her to contend with complicated cases relating to property distribution and family disputes, and is characterized by her traits of attentiveness, empathy, and sensitivity to her client.

Photo Gallery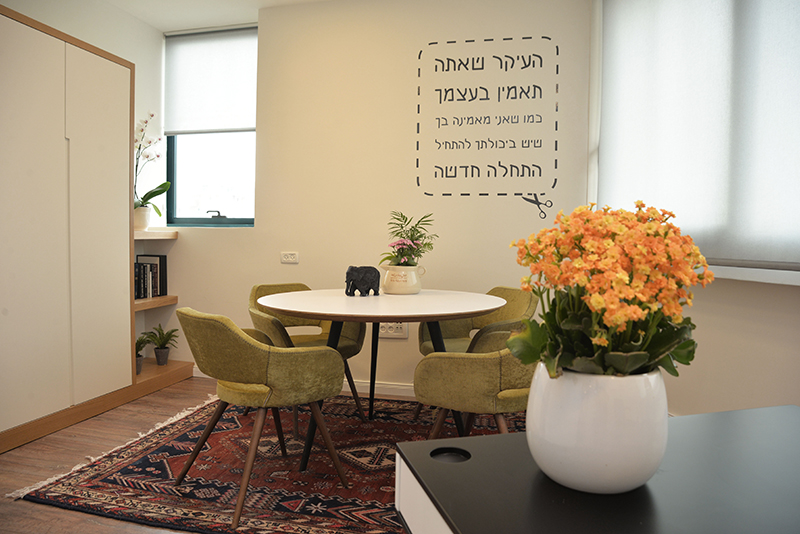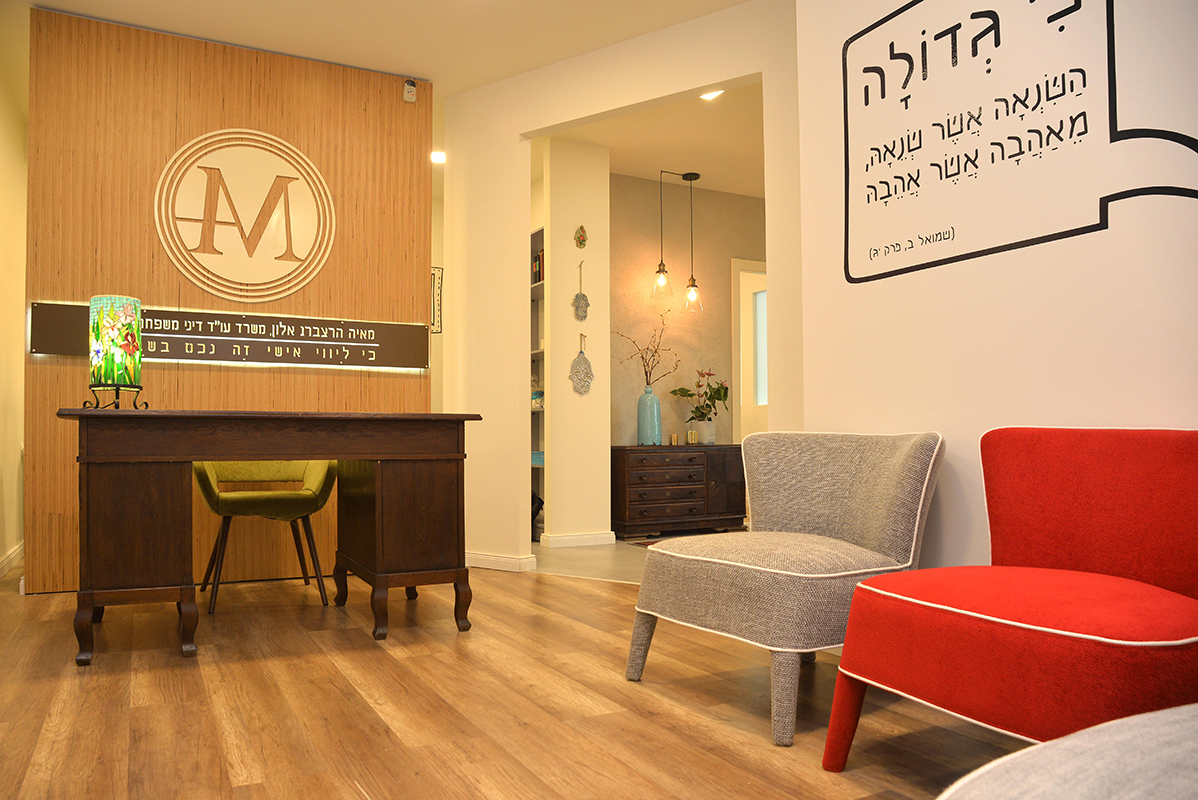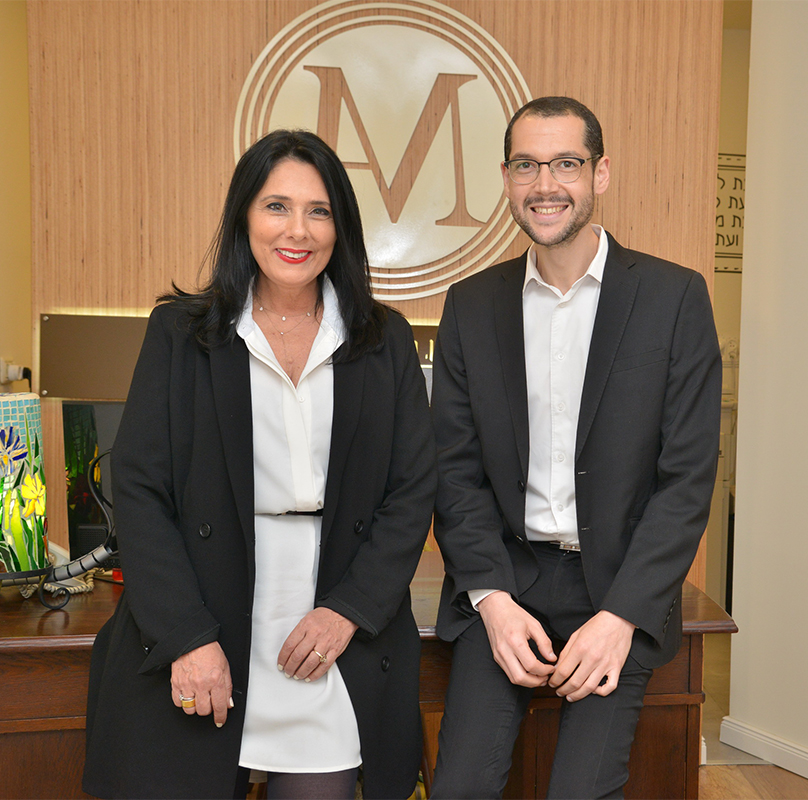 Company Rankings