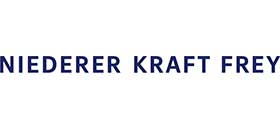 Niederer Kraft Frey Ltd
Niederer Kraft Frey is a leading full service Swiss law firm based in Zurich with an international approach. NKF works closely with its clients in Switzerland and internationally, to implement strategic goals, strengthen businesses and navigate change effectively

Company's Profile
Established:
1936
Line of Business:
Niederer Kraft Frey is a leading full service Swiss law firm based in Zurich with an international approach. NKF works closely with its clients in Switzerland and internationally, to implement strategic goals, strengthen businesses and navigate change effectively
Address:
Bahnhofstrasse 53
8001 Zurich
Switzerland
Phone:
+41 58 800 80 00
Fax:
+41 58 800 80 80

Company Executives
Clara-Ann Gordon

Partner

Niederer Kraft Frey Ltd

Tamir Livschitz

Partner

Niederer Kraft Frey Ltd

About Niederer Kraft Frey Ltd
Established in 1936, corporate law firm Niederer Kraft Frey Ltd has a proven track record of leading excellence and innovation in Swiss law. With a strong domestic and international client base in Switzerland, together with an established reputation for efficient collaboration with international law firms, Niederer Kraft Frey continues to build on its history of quality, commercial pragmatism and innovation.
Throughout our history, we have continuously worked on the most important and demanding cases entrusted to Swiss law firms. This is the foundation of our distinct market knowledge, expertise and experience for which we are known for decades.
We work and think internationally. As a market leader in Switzerland, we have built long-standing relationships with the world's best international law firms.
Niederer Kraft Frey is a full service law firm with over 100 lawyers, of whom 35 partners. We attach importance to professional breadth and depth. Intellectually flexible generalists with specialist knowledge in various fields help our clients maintain an overview and to overcome complex problems in a holistic manner. Our deep expertise covers the entire spectrum of business and finance law. Our offices are located on Bahnhofstrasse in the heart of Zurich's banking and financial district.

Company Rankings

Articles about Niederer Kraft Frey Ltd