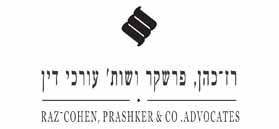 Raz-Cohen Prashker & Co. Advocates
Law Firm in the Fields of Real Estate, Planning and Building, Taxation

Company's Profile
| | |
| --- | --- |
| Established: | 2008 |
| Line of Business: | Law Firm in the Fields of Real Estate, Planning and Building, Taxation |
| Address: | 24 Huberman St., Tel Aviv-Jaffa 6407516 |
| Phone: | 972-3-7766800 |
| Fax: | 972-3-6967611 |

Company Executives
Moshe Raz-Cohen

Adv., Partner

Raz-Cohen Prashker & Co. Advocates

Keren Prashker

Adv., Partner

Raz-Cohen Prashker & Co. Advocates
Lawyers
Moshe Raz-Cohen
Keren Prashker
Drorit Vittner Shafir
Ron Halperin
Eran Heller
Keren Kimchi Nadolny
Inbal Levy-Geva
Shira Avital
Jouan Mansour Gawi
Hadas Stein
Anna Abitbul
Matan Sulami
Daniel Barzilai
Sapir Tzfira
Nofar Goldenberg
Tali Hill
Gal Eliraz
Ariel Raz

About Raz-Cohen Prashker & Co. Advocates
Raz-Cohen Prashker & Co. Advocates is a leading Israeli law firm in real estate, planning and building, and property tax. The firm was founded over 20 years ago as a breakthrough law office in urban renewal, and clear and build projects, and has played a main role in major and complex real estate deals including clear and build, TAMA 38, and combination deals. The firm has major experience in representing purchasing groups, rendering services from planning through implementation. The firm represents local committees, government and development companies and contractors, including Matzlawi, Property & Building, Krinsky-Gottlieb, Solel Boneh, Globalinks, Mekorot and more and nearly 1,000 incorporated households in urban renewal deals.
Practice Areas
The firm specializes in planning and building, real estate contracts, parceling and division, protected tenants, real estate tax, property and ownership law, Israel Land Administration (ILA) law, requisitioning, registering parcels and joint housing, tender booklets for marketing property, sales agreements, managing properties and buyers' rights, building offenses and administrative law, and planning and licensing procedures in planning institutions. The firm also specializes in administrative petitions, loss of real-estate value claims, illegal eviction of owners, and contesting procedures against master plans, tenant protection laws and land settlements.
Commercial Real Estate and Land - The firm supports developers and contractors in projects from purchasing rights to implementation, provides ongoing consultancy services to companies in construction and infrastructures, and handles all related issues including financial support, tax planning, preparing calculations and representation before authorities.
Clear and Build - The firm has a long series of major achievements in representing tenants in clear and build developments, earning the firm unrivalled recognition for its extensive knowledge. The firm is the only firm in Israel who completed thus far urban renewal projects and delivered apartments to its supported clients in an extent of more than 900 housing units.
Selected Projects
Shaul HaMelech, Kiryat Ono - Representing 270 households and building 880 new apartments. The project was completed and all of the residents received their new apartments and live in them. The project included vacating tenants, demolishing homes and building new housing units, handling relations with the authorities, bank support arrangements, putting up guarantees, handling tax issues, registering rights, parcellation registration, leasing contract expenses from the ILA, and the registration of the joint houses in the Land Registry.
Morasha, Ramat Hasharon – Representing 180 households in their proceedings with Aurora Investments including choosing the developer, supervising planning, parceling and dividing, submitting applications and receiving Housing Ministry approvals, tax consultancy, guarantees arrangements, etc.
The Yoseftal Complex, Bat Yam – Representing Maslawi in a clear and build transaction for vacating 240 apartments, and replacing them with 1,000 apartments as well as spaces for commerce, offices and hotels. The firm supports the deal's planning issues including preparing city building plans, handling bank support questions, declares the project a 'Pinui-Binui' project for tax purposes, handles the process of selling the apartments to buyers and supporting the company until registration in the Land Registry.
TAMA 38 (Earthquake Retrofit) - For over 15 years, the firm has supported large and complex TAMA 38/1 and 38/2 projects from selecting the developer to registering Land Registry rights. The firm has handled TAMA 38/2 projects in Ramat Gan, Givatayim, Herzliya, Tel Aviv, and Ra'anana.
Selected Projects
Izhak Elhanan Complex, Ramat HaSharon – Representing tenants in their proceedings with "Azorim". The project includes choosing the developer, managing the negotiations, signing the agreement, handling the project's tax aspects and receiving necessary permits from the proper authorities.
Bavli-Tosefta Complex, Tel Aviv – Representing tenants in their proceedings with "Urban". Handling the agreement and negotiations, managing the collaterals on behalf of the tenants, handling the transaction's tax aspects and accompanying the planning process.
Planning, Building and Requisitioning Land - The firm has special expertise in representing local committees and government companies, in all land requisitioning topics. The firm also represents clients whose rights have been expropriated by planning authorities. The firm represents NTA Metropolitan Mass Transit System, handling all subjects regarding the Red Line. The firm also represents the Tel Aviv-Jaffa Local Committee, the District Planning and Building Committee– Central District, Israel Railways, Amidar, Eilat Municipality, Netivei Israel, ILA, Yoram Gadish Group and more.
Real Estate Taxation - Raz-Cohen Prashker is one of Israel's most highly professional real estate tax firms with the broadest experience in tax and has advised on hundreds of complex real estate deals from a tax perspective including providing opinions, submitting reports, representing clients before the tax authorities, tax planning in complex projects such as TAMA 38/2, clear and build, etc.
Adv. Moshe Raz-Cohen
LL.B., 1993. LL.M., 2000, Tel Aviv University. A member of the Israel Bar, 1995, has Major experience in supporting complex deals, urban renewal and real estate tax, and real estate litigation. He represents local councils and public authorities in planning and building and requisitioning. He wrote the book "Registering parcels," which was a breakthrough in a little known field. He represents the Central District Committee and serves as legal advisor to the Interior Ministry's National Unit for Building Supervision. In this position, he formulated bills, set guidelines for supervisors and lawsuits and took part in meetings attended by the Interior Minister to form policy. He lectures in academic forums for the Israel Bar, and the Real Estate Appraisers Association. Adv. Moshe Raz-Cohen's many articles are frequently quoted in rulings and publications.
Adv. Keren Prashker
LL.B., Bar-Ilan University, 1996; LL.M., Tel Aviv University, 1999. A member of the Israel Bar, 1997. She specializes in real estate transactions, urban renewal projects, and purchasing groups support, during which she handles terms of agreement negotiations and, among other things, she provides legal and financial accompaniment, supports rezoning procedures, provides support during approvals of master plans and city building plans, prepares agreements with contractors and consultants, and counsel during marketing projects and registration rights.

Facebook Updates