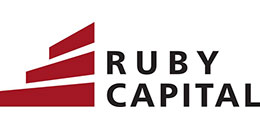 Ruby Capital
A HUB FOR INNOVATIVE REAL ESTATE FINANCE SOLUTIONS


Company's Profile

Company Executives
Ilan Rubinstein

Chairman and Founding Partner

Ruby Capital

Gerson Schapiro

CEO and Founding Partner

Ruby Capital

View Profile

Gerson Schapiro

Andrew Mestel

Founding Partner and Director

Ruby Capital

Yaakov Nitzan

President and Partner

Ruby Capital

View Profile

Yaakov Nitzan

Omer Alpern

Vice-President

Ruby Capital

Eran Heimer

Group CFO and head of Finance

Ruby Capital

Hadas Peker-Nir

CFO

Ruby Capital

Mickey Berger

Head of Project Finance

Ruby Capital

About Ruby Capital
Ruby Capital specializes in real estate financing investments and finance, which was founded in 2015 and enjoys an excellent reputation due to its successful track record and its team's proven expertise, flexibility, creativity, and access to attractive investment opportunities.
Sharing over 100 years of accumulated experience in both the local and international real estate markets, Ruby Capital's partners have valuable, global business connections. Since its inception, the company has been focusing on the Israeli real estate market, rapidly growing its debt activity and partnering with both private investors and leading financial institutions.
Credit as a Tool for Partnership and Growth
Collaborating with scores of local investors and most of the country's premier business institutions, Ruby considers its financing solutions effective tools for growth and for a successful partnership with its clients, be they investors or developers. The fact that most of them work with Ruby time after time is testament to the company's integrity, reliability, and relentless pursuit of excellence.
Financing Solutions
Ruby Capital offers a wide range of financing solutions, including:
Construction and Bridge Loans for Purchase Groups
Construction Loans for Developers
Bridge Loans
Mezzanine Financing
Take Out Loans
Inventory Bridge Loans
Thoroughly Understanding the Israeli Market and Its Developers' Needs, Ruby Capital Has Developed Custom Financing Solutions for Every Stage of a Real Estate Project
Collaboration with Premier Banks and Insurance Companies
Ruby Capital cooperates with both leading financial institutions and premier insurance companies to provide end-to-end solutions for real-estate projects.
Pre-permit Financing for Urban Renewal Projects
Convinced of both the need for and the promise of urban renewal projects, Ruby Capital has developed proprietary pre-permit financing solutions for urban renewal projects.
Sapir Fund for Capital Investments in Real Estate
Leveraging its access to attractive business opportunities in Israel, Ruby Capital recently established Sapir, a real estate investment fund, in addition to its booming debt business. In fact, Ruby Capital just closed a new NIS 1.25 billion funding round in Sapir. Collaborating exclusively with proven developers and experienced financial partners, Sapir helps create value for joint projects.
Investment examples include:
Ashdod - land acquisition and starting the construction process for a logistics center
Holon - land acquisition and improvement for residential purposes
Tel Aviv - land acquisition and improvement for residential purposes
Petah Tikva – TAMA 38/2 urban renewal project
The Founders
Ilan Rubinstein, Chairman and Founding Partner – Ilan served in senior management positions at several companies specializing in real estate development in both North America and Israel. Ilan has been a partner in dozens of real estate transactions, including acquisition, financing, initiation, rental and property management, totaling over USD 29 billion.
Gershon Schapiro, CEO and Founding Partner - Gershon founded and served as CEO of an international metals trading company with offices throughout Europe, Asia, Africa, and the Middle East. During his tenure, he led the company to growth and commercial success. At the height of its operations the company reached an annual sales turnover of about USD 500 million. He served in senior positions in various high- tech companies in Israel where he was a partner in successful exits.
Andy Mestel, Founding Partner – Andrew has extensive experience in the trade, financing and marketing of commodities and raw materials in the global market. He also has a track record of founding new businesses and consistently leading them to growth and commercial success. Recently Andrew has been focusing on real estate projects in Israel and the United States, where he has been involved in the purchase, finance, debt syndication and management of the projects.
Senior Management
Yaakov Nitzan, CEO, and Partner – Yaakov has 20 years of in-depth business and real estate experience. One of his major achievements was the development of Harel Insurance's financial support system which manages thousands of housing units. Overseeing the Israeli real estate credit activity worth billions of New Israeli Shekels, Yaakov also served in various executive positions in Israel's finance industry.
Omer Alpern, Partner - Omer specializes in financing projects and especially in the complex financing of real estate assets. He has previously been involved in raising billions of New Israeli Shekels worth of debt and capital for real estate, infrastructure and energy activities in Israel and around the world. An accountant by profession, Omer served in the past as CFO of City People and specialized in financial analysis and project management at BDO Ziv Haft. At Ruby Capital, Omer is leading the business development unit.

Facebook Updates

Photo Gallery