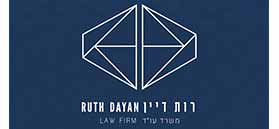 Ruth Dayan - Law Firm
Law Firm specializing in Family Law and Mediation including Divorce, Wills and Inheritances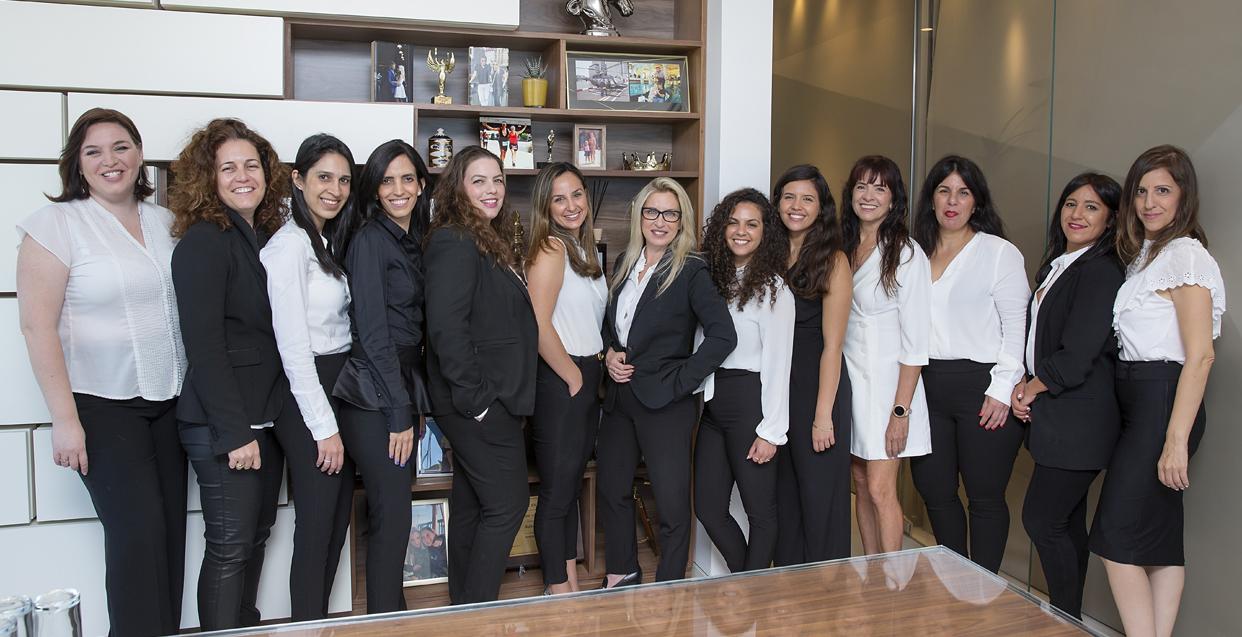 Company's Profile
Established:
1998
Line of Business:
Law Firm specializing in Family Law and Mediation including Divorce, Wills and Inheritances
Address:
28 Haarba'a St., Northern Tower, 10th floor,
Tel Aviv 6473925
Phone:
972-3-6708888
Fax:
972-3-6708889

Company Executives
Ruth Dayan Wolfner

Founder and Owner

Ruth Dayan - Law Firm

View Profile

Ruth Dayan Wolfner
Associates
Shely Yahav
Tali Sivan Lahav
Dana Bari
Mor Ben Menashe
Limor Barzilay Wolfovitz
Yaara Reuven
Alona Sinai
Moran Kremer Peretz
Hagit Bareli
Udi Neuman
Adi Dubson

About Ruth Dayan - Law Firm
Established in 1998 by Adv. Ruth Dayan-Wolfner, the Office is a leading Israeli law firm that specializes in family laws and has seen rapid growth thanks to its unwavering professionalism and comprehensive understanding of the complex aspects of family laws, its personal client treatment and effective results, all expressed by reaching client goals. The firm handles divorce cases and other aspects of family laws, e.g., common-law marriage, financial agreements, wills and inheritances.
Team
The legal work is done at the highest professional level and quality by expert attorneys with extensive experience in family and inheritance laws, constantly aspiring to learn, be informed, and use all technologies available.
About
After graduating with honors from Tel Aviv University with additional B.A. degrees in Criminology, Sociology and Anthropology from Bar-Ilan University, Ruth has accumulated experience by representing hundreds of clients in divorce cases, inheritance disputes and arrangements of other family disputes before the Court of Family Matters, rabbinical tribunals and other instances. After being accepted as a member of the Israel Bar Association, Dayan-Wolfner authored the book "Israeli Guide to Divorce", which has guided thousands of divorcees since publication. In 2019, her second book, "Karma is a Bitch: Diary of a Divorce Attorney" was published by Steimazky and became a best-seller. Ruth is the founder and pioneer behind the GetUp divorce guide, a leading divorce website – and Lareshet, the will and inheritance website that covers inheritance laws. Moreover, she runs a successful blog that has seen significant popularity, posting weekly stories from her personal and professional lives. Her articles are frequently published in the media and she does numerous TV and radio appearances. She is known for her unwavering professionalism, comprehensive understanding of all complex aspects of family laws, personal and intelligent treatment of every client, and for reaching effective results that are expressed by achieving client goals.
Professional Vision
The firm aspires to reach optimal results for its clients with an emphasis on assisting clients throughout the legal process, with unwavering expertise, innovation, thoroughness and out-of-the-box mindset, humanely and with to the particular emotional state of the client in mind.
Fields of Expertise
Legal Consulting - due to the complexity of powers and caselaw dynamics in family law, proper legal strategy can change the divorce entirely. As no two cases are alike, the right strategy should be fitted to the specific case details with a long-term view of client needs. Our office specializes in outlining the suitable strategy for managing proceedings according to the unique case details, obtaining a significant advantage for the client when selecting the suitable instance and arguments and pre-outlining the right legal course, even before proceedings begin.
Litigation - representation before the Court of Family Matters, rabbinical tribunals, appeal instances – district and supreme, and the Great Rabbinical Tribunal. The Office is reputable for its successful representation and for reaching extraordinary results in complex and sensitive cases. Its achievements are attributed to leading litigation efforts, thoroughness, creativity, strategic thinking and extensive experience in representing clients.
Managing Complex Legal Proceedings
Divorce Proceedings - managing divorce proceedings before rabbinical tribunals in all issues, including complex Jewish law issues, e.g., consolidated divorce claim, divorce causes, domestic peace claims, get charges, Ketubah claims, applications to specific sectors, proof of infidelity, authority arguments and management of international divorce proceedings, even when the parties reside outside Israel.
Distribution of Property - issues related to the distribution of family property following divorce. The Office is reputable owing to its numerous successes in managing complicated property distribution proceedings with bountiful legal issues and assets, both in Israel and abroad. The Office also specializes in managing proceedings related to family companies, partnership in start up companies and ventures, investments abroad, shares and options, personal and business reputation, earning gaps, unequal distribution of family property, dissolution of shared ownership of real estate properties, claims for specific asset sharing, locating smuggled and hidden property, and valuations and investigations done by experts.
Support - representing and defending against support claims, including child support and alimony, calculating earning potential, proof of quality of life and unreported incomes. Ruth Dayan is experienced in representing claims to specify the primary parent and share the burden of child expenses, including claims of the father to charge the mother with child support.
Custody - managing custody proceedings necessitates professional conduct with experts. The Office is experienced and knowledgeable in professional conduct and provides close assistance to clients with welfare workers, court interrogations or private entities who give an opinion, e.g., psychologists, psychiatrists and psychotherapists, and with the opinions rendered in such proceedings.
Immigration and Claims to Return Abducted Children - We manage all immigration claims, including returning minors to their country of origin while representing the parent from whom the child was abducted and who arrived in Israel to retrieve them. We are also capable of assisting the parent with keeping the child they brought to Israel in Israel, despite the Hague Convention's provisions on the Return of Abducted Children, by emphasizing exceptions in the Convention to the Court via speedy proceedings.
Common-law Marriage - the offices manages legal proceedings pertaining to the rights of couples who have not officially wed and are in a common-law marriage. These include property claims, inheritance rights, alimony payments and obtaining recognition as a common-law couple to receive pension and other rights.
Defending or Objecting to Wills - we've accumulated numerous proven successes in managing cases of objections to wills and defending wills, including in cases of undue influence on the will drafting, arguments against the mental capacity of the will drafter, will defects, will interpretation, etc.
Such proceedings require in-depth legal knowledge in this field and thoroughness, meticulousness and the ability to research and examine facts and events that took place prior to death.
Additional Proceedings Concerning Wills and Inheritances - the office also manages additional proceedings related to estates, including estate claims, estate scope claims, claims against heirs, etc.
Legal Agreements
Legal agreements of all types – divorce agreements, including providing assistance to clients in mediation proceedings and negotiations toward a divorce agreement; financial agreements; cohabitation agreements in common-law marriage; etc.

Facebook Updates

Company Rankings