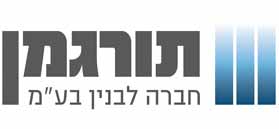 Turgeman Construction Company Ltd.
Real-estate initiation, development and construction

Company's Profile
| | |
| --- | --- |
| Established: | 1965 |
| Line of Business: | Real-estate initiation, development and construction |
| Address: | 21/8 HaOrgim Holon, 5885701 |
| Phone: | 972-3-5590512  |
| Fax: | 972-3-5582067 |

Company Executives
Dotan Turgeman

CEO and Owner

Turgeman Construction Company Ltd.

About Turgeman Construction Company Ltd.
Turgeman Building Company Ltd. is a private company that has been operating for almost 60 years in the fields of real-estate development, construction and initiation. The company is one of the industry's largest and longest-standing companies and it specializes in building public and culture buildings, residential buildings, industrial and commercial buildings, and also in architectural conservation of buildings, urban renewal and infrastructures construction. The company works throughout Israel and its core values of quality, reliability and professionalism have built its longstanding reputation. The company combines initiation with execution and has a C5 classification, the highest classification for construction contractors. It is ISO 9001 licensed and holds a government works contractor license.
The Late Me'ir Turgeman, The Company's Founder and Honorary Citizen of Holon
The company was founded in the early 1960s in Holon. The Late Me'ir Turgeman, who had been dreaming for a while to found a construction company, got to make his dream come true and started with the construction of residential buildings in his beloved city. Over the years, the company built, under the rigorous management and uncompromising quality that characterized Me'ir, dozens of residential buildings in Holon, and Me'ir made a name for himself as one of the city's builders and was even awarded the Honored Resident award. In time, Me'ir's son, Dotan, joined his father after graduating with a B.Sc., Civil Engineering from the Technion and gaining extensive construction experience in one of Israel's largest real-estate companies. Dotan, who since graduated also with an M.Sc., Construction Management from the Technion, has been serving as the company's CEO since 2001.
Unique Expertise in Building Conservation
Dotan's love for culture and the arts has opened an entire window for the company, into the world of arts and culture buildings and building conservation, a very unique real-estate segment. Today, the company is considered to be one of Israel's leading companies in the building conservation field, which includes construction innovation alongside with care in preserving historical elements and early materials and designs. This is a complex and artistic construction segment. Some of the company's projects in this field include The City Hall museum in Tel Aviv, Rothschild Bank, the Farmers House, HaTachana Complex in Tel Aviv, the Israel Antiquity Authority House in Jerusalem, The Be'er Complex in Yaffo and more.
Building Smart, Building Green
Turgeman Construction Company has been a key player in Israel's residential construction market for almost 60 years. Over the years the company has built hundreds of unique residential complexes which combine luxury and convenience with functionality and aesthetics. The company builds residential projects with love and professionalism and provides apartment buyers with the perfect residential experience.
Green Valley, Ness Ziona – an innovative residential project with35 apartments in 3 buildings.
Green and Smart, Kfar Saba – A beautiful project, which sets a new standard of green and smart building. It includes two upscale buildings with 34 apartments in a high standard.
Turgeman Green in Holon – this was the first building in Holon to receive a Green Standard Mark. An upscale residential project with 41 apartments with a mix of special garden duplexes, upscale 4- and 5-room apartments and mini-penthouses.
Turgeman Raanana, Above All – a boutique project, currently under construction, located in Neve Zemer neighborhood and includes 18 residential units. Turgeman Holon, H-370 – a new project in the up and coming neighborhood of Holon. The project includes 37 residential units and is currently pending permits. Turgeman Kiryat Ono – 26 residential units in Neot Ariel Sharon neighborhood. Permit stages.
Green Town – Urban Renewal
The Turgeman Group has been operating, over the past few years, a separate urban renewal division – the Green Town Company. The company is currently in planning and permit stages for several projects.
Prominent Projects
The American School, Or Yehuda – Covers an area of 70,000 sq.m., the project includes an elementary, junior-high and high schools buildings, a sports hall, an auditorium, a cafeteria and a round library building with a unique architectural design, a pool, sports and leisure facilities, etc.
Med 1 Project – the establishment of a branding station for Med 1 company, which is in charge of Israel's underwater communications cable, and is characterizes mainly with clean rooms construction. Establishing special underwater, waterproof structures, equipped with emergency preparation, and which include civilian and military communications centers;
The Farmers House Complex in Tel Aviv – the conservation of the historic building in the Kaplan Aviv st., including the addition of new construction with 3 new floors above the existing 4. In addition, the construction of a 50-car automatic subterranean parking garage in the top-down method;
The Tel Aviv University – The company built the Nazarian Visitors Hall in accordance with the Leed Green Building Standard;
The Beit Berl College – constructed an auditorium building and classrooms;
Dor Alon Gas Station, Highway 6 - the construction of an innovative gas station near Magal;
The Rothschild Bank Project – Rothschild Bank is one of Tel Aviv's most impressive buildings. The conservation process included comprehensive renovation, the construction of an additional floor, and digging parking spaces through the technique of building suspension;
An Offices and Commerce Building in Holon's New and Advanced Business Complex – The project will include a 12,000 sq.m. offices and commerce complex. This project is currently under construction;
The Tsiporen House in Tel Aviv – The project combines modern architecture into a classic building that was designed in 1925 by Yosef Berlin. The project turned the building into a spectacular house with 24 luxury apartments. The company maintained the original classical design with its arches and pillars.
One of the Biggest Construction Companies in Israel
The company is considered to be one of Israel's largest construction companies and its staff includes advisors, civil engineers, project managers, procurement managers, work managers, and about 200 workers and subcontractors. All of its employees and contractors are considered to be the best and most experienced in their fields and thus the company has gained a reputation of execution and excellence with the constant learning of innovative construction methods and implementation in all of its projects. Thus, the customers benefit from a warm and personal service from a professional and experienced team that works untiringly to fulfill their wishes.