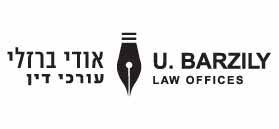 U. Barzily Law Offices
Law Firms Specializing in Taxation

Company's Profile

Company Executives
Ehud Barzily

Founder & Manager

U. Barzily Law Offices

View Profile

Ehud Barzily

Maya Nitke

Real-Estate Taxation Manager

U. Barzily Law Offices

View Profile

Maya Nitke

Karin Zuckerman

Litigation Manager

U. Barzily Law Offices

Ofer Rachmany

Criminal Offences, International Taxation Manager

U. Barzily Law Offices

View Profile

Ofer Rachmany
Leading Executives
Tal Sasson
Liron Ben Mayor
Amir Barzily

About U. Barzily Law Offices
U.Barzily Law Offices is one of Israel's leading law firms specializing in taxation, founded in 2001. The firm offers domestic and international clients comprehensive advice on all aspects of taxation. The firm provides the highest quality services and has the extensive professional know-how and broad experience in this area. The firm, located near the Ramat Gan Diamond Exchange, serves private clients including Israelis and foreign residents, new immigrants and returning Israelis as well as private and public companies in Israel and overseas in all fields including: high-tech and industry, commerce and services, tourism, acquisition groups, real estate investment funds (REIT), real estate, infrastructures and transport, non-profit organizations, local authorities, government corporations and cooperatives.
Practice Areas
Real Estate Law: Udi Barzily served as Chairman of a subcommittee as part of the Rabinovitz Committee that discussed special arrangements for real estate law. The firm is involved in many areas of real estate law in the area of real estate taxation and handles all aspects of taxation related to complex real estate deals, exchange, clearing construction and combination deals, purchasing groups, restructuring, dissolving cooperatives, purchase tax, sale and betterment tax, and deals involving agricultural land and the ILA.
International Taxation: Ventures in Israel and abroad, opinions regarding the art of double taxation, consultation of international holding structures, cooperation with a wide range of offices and colleagues around the world, and more.
New Immigrants and Returning Residents: Assistance to foreign residents, new immigrants, in light of tax law reforms - amendments 168 - tax benefits under the law.
Trusteeships and Representing Trustees and Beneficiaries: Following new arrangements in the law on the subject since 2006 and with many issues still not regulated in the sector, the firm is working through legal activities to resolve them.
Representing Public Companies and Supporting Public Offerings: U. Barzily represents public companies in providing professional opinions attached to prospectuses. The firm represents active REIT funds (real estate funds operating in Israel). As part of this work, the firm has been involved in the legislative process and its application.
Individual & Company Taxation: Income tax; capital market; VAT; international taxation; tax covenants; capital gains tax; structural changes – mergers, splits, and acquisitions; employee's options plans; investments center. Among other things, the firm writes professional opinions, provides advice and representation before the tax authorities, courts and judicial bodies and litigation on tax topics. The firm has a major reputation based on its proven success and fundamental precedent rulings obtained on tax topics.
Criminal Tax Investigations: The firm obtains wide experience regarding tax investigations with the income tax, VAT, and Customs investigating teams. This experience is highly important at the first stage of the investigation.
Office Staff
Udi Barzily law firm has 7 lawyers, all with a background in taxes and / or accounting. It is headed by Adv. Udi Barzily.
The Firm's Activities
All the firm's activities are conducted with complete discretion as a basic principle. The firm's activities include consultancy, accompanying transactions, professional opinions, discussions with the various tax authorities and with assessors (including in the preliminary stages, submitting and handling wills), pre-rulings, and litigation before various courts and tribunals and managing court disputes in all judicial bodies, civil and criminal. The firm's structure enables all clients to receive direct contact with lawyers specializing in all aspects of taxation and provides clients with an uncompromising commitment to reach the best solution for their tax problems through excellence and dedication.
Innovative & Creative Solutions
The firm excels in finding effective solutions and efficient tax strategies or complex financial transactions. This creative, innovative and thorough approach is taken by the firm regarding taxation combined with a deep understanding of the options available to clients in relation to frequently changing taxation legislation.
The Firm's Management
Udi Barzily, Adv., CPA - LL.M. (summa cum laude) and CPA. He served in the Income Tax Commission for over 10 years in many senior positions: Deputy Commissioner, Income Tax Authority (96-00); Manager, Real Estate Betterment Tax (96-99); Legal Advisor, Income Tax Authority (99-00). He was several times a candidate to become Income Tax Commissioner (Head of the Tax Authority). In 2000 he resigned from public service and served as a Partner with Meitar, Liquornik & Geva before opening his firm. He served on public committees, which discuss tax reforms and participated in both Rabinovitz Committees serving as Chairman of the subcommittee, which discussed international taxation and lowering taxes in Israel, took part in preparing legislation for negative income tax and taxation law for new immigrants and returning Israelis. He serves as Chairman of the public committee for the reform of local taxes. He was also a member of the tenders committee of M.I. Holdings, which discussed the privatization of Bank Leumi and Israel Discount Bank, and Chairman of the Public Council of the Israel Sports Betting Board.
Maya Nitke, Adv. - LL.B., Academic Center of Law and Business, Ramat Gan, and an M.B.A. from the Open University. In 2010 she was appointed to be a supervisor in Land Taxation (Central District) Department, and in 2014 she was promoted to the rank of a coordinator. In the framework of these roles she gained proficiency in all aspects of the Land Tax Law and in particular in matters concerning Tama 38 and Pinui-Binui.
In addition, Maya represented the State of Israel in appeal proceedings in the Supreme Court, lectured in the various bars and institutes (Israeli Bar Association, Institute of CPAs in Israel and the Institute of Tax Consultants in Israel) on the various amendments in the Land Tax Law.
Maya served in senior roles in the Land Taxation (Central District) Department, in 2017 she retired from public service and started working in the private market.
Karin Zuckerman, Adv. - LL.B. Academic Center for Law and Business, Ramat Gan. Coordinator, the Committee for Municipal Rates Reform. Author of articles in the professional and economic media. Karin has been with the firm since 2007.
Ofer Rachmany, Adv. - LL.B. Law Tel Aviv University 1997; B.A. Joint Major Hebrew Language and Literature, and Political Science, Bar-Ilan University; International Tax Law, LL.M., ITC Leiden, Holland
EU Law, LL.M., Leiden University, Holland.
Worked in the leading CPA and law firms engaged in international taxation, and worked in the field in The Netherlands.

Photo Gallery