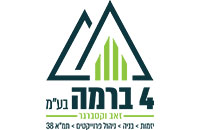 4 Barama Ltd.
Real estate development, construction, and project management

Company's Profile
| | |
| --- | --- |
| Line of Business: | Real estate development, construction, and project management |
| Address: | 8 Nachalat Zadok St., Jerusalem |
| Phone: | 972-2-5001812 |

Company Executives
Zeev Wexberger

Founder & Owner

4 Barama Ltd.

Hanoch Weinberg

VP

4 Barama Ltd.

Naftali Silverman

Project Manager

4 Barama Ltd.

Eliyahu Wexberger

Construction Supervisor

4 Barama Ltd.

About 4 Barama Ltd.
4 Barama is a family-owned Jerusalem-based company engaged in development, construction, and project management. Formally established in 2019, the company's managers have been involved in developing and executing projects under a different name for many years. Zeev Wexberger, CEO, has over 20 years of experience. 4 Barama specializes in development and construction of unique projects, regarding both location and engineering and planning complexity, and constructs boutique buildings, construction, and expansion of buildings for preservation, and construction of residential projects in urban renewal routes - NOP 38/1 (reinforcement and construction), NOP 38 / 2 (demolition and construction) and Pinui Binui.
Development and Execution Under One Roof
As both a developing and executive company, 4 Barama has a distinct advantage, which gives the company complete control over every project it initiates and executes while meeting strict schedules and reducing costs, in favor of the tenant. The combination provides peace of mind to the company's customers, who know that everything is under one roof, and they have a single point of contact, throughout the entire process (planning, execution, even during the testing phase).
Locally Owned Jerusalem Company
As a born-and-bred Jerusalem company, 4 Barama specializes in construction throughout the capital, emphasizing on its center. The company provides uncompromising construction quality while maintaining the highest standards, professionalism, transparency throughout the process, service, and reliability. Moreover, 4 Barama will remain a boutique company that focuses on a limited number of projects, taking care of every detail, and providing dedicated service to clients and tenants.
Rebuilding Jerusalem
4 Barama's vision is to provide tenants with value, both economically and in a unique aesthetic and design sense. Thus, the company combines both old and new in its projects and creates projects that emphasize the classic style of Jerusalem stone alongside innovative design elements. A combination of these factors creates aesthetic and aesthetically pleasing buildings that enhance the city's beauty.
Company Management
Zeev, as well as his management team, founded 4 Barama after years of working for a variety of development and construction companies. Zeev holds a certificate in construction management from the Technion, an investment consultant certificate from the Open University, and a foreign real estate certificate from the Hebrew University. As chairman and CEO of the company, he personally accompanies all projects while providing personalized service to customers and tenants. Zeev is also strict on contributing to the community as a team leader and ambulance driver at MADA's intensive care unit twice a week.
Hanoch Weinberg, VP - Hanoch holds a practical building license and, as part of his role at the firm, manages and promotes projects from the beginning to the delivery of the apartment keys. With years of experience in the NOP 38 projects and luxury buildings, he accompanies the projects in full transparency and with accessibility to customers.
Naftali Silverman, Project Manager - Naftali has 15 years of experience in the construction industry as a construction engineer and certified contractor. Construction, skeleton work, land excavation, and landfills are among his specialties, and he works closely with neighbors and tenants.
Eliyahu Wexberger, Construction Supervisor - Eliyahu is an expert in luxury interior construction and has over 13 years of experience. His duty entails accompanying and managing professionals and subcontractors, coordinating planning and execution, and closely monitoring the quality of work.

Prominent Projects
NOP 38
4 Torah Mitzion, Romema - A completed and populated urban renewal project that is one of the company's signature projects. A large classic project of reinforcement and construction according to NOP 38/1, for a building over 70 years old near Allenby Square. The company strengthened and upgraded 20 existing apartments and added 16 new apartments, strengthened the building and the foundations for earthquakes, coated the building with new stone and upgraded the building's systems and infrastructure, and installed two elevators.
5 Rashbam, Makor Baruch - The Rashbam 5 project is a unique 5-story boutique building. Construction included dismantling the old 2-story structure and marking the stone on 3 of the facades for preservation and restoration. The building consists of 9 apartments, including a special studio, housing units, and unique luxury apartments. Renowned architect Barbara Berzin led the architecture and design. The exterior and interior works were done at the highest level. A unique and prestigious project both regarding the interior finishes and construction of the apartment and the preservation of the building.
56 Rashi, Makor Baruch - NOP 38/2 project (demolition and construction). A modern 22 new apartment building was built in place of an old 12-apartment building. The company's capabilities were revealed as the project involved the demolition of an existing structure and excavation of a parking garage while maintaining the building's facade, which included a unique 2-story diagonal facade.
21 Hagai, Geula - NOP 38/1 project. An addition of two and a half floors (commerce and offices) to an existing building. The company provided an innovative engineering solution for construction on the roof of an existing building, and the construction of the building was completed without columns in the walls, causing no disruption to the daily operations of the bank within.
9 Porush, Shaarei Chesed - NOP 38/2 project combined with preserving a unique façade with rounded arches that face the mythological Ussishkin Street. Four large and unique luxury apartments in the building built for a family of entrepreneurs. There is a sense of prestige and an unparalleled level of quality in the project.
34 HaLamedHeh, Katamon Neighborhood – NOP 38/1 project that includes adding 2 floors above an existing building with 2 entrances, adding a residential secure space and a room to every existing apartment, renovating the infrastructure, adding an elevator and renovating the building.
Development and Pinui-Binui
The company is currently involved in about 10 development projects in NOP 38A (reinforcing the building and building new spaces and floors) and NOP 38B (constructing a new building instead of the old one), in Rechavia neighborhood, Mekor Baruch, Katamon, Beit - HaKerem and Bayit VaGan. In order to provide maximum service and escort to both the tenant and the apartment buyers, the company made a strategic decision to focus on Jerusalem boutique buildings merely.

Projects