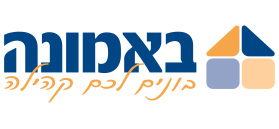 Be'Emuna Development & Management projects Ltd.
Real Estate Development, Organizing Purchasing Groups, Project Marketing and Promotion


Company's Profile
| | |
| --- | --- |
| Established: | 1995 |
| Line of Business: | Real Estate Development, Organizing Purchasing Groups, Project Marketing and Promotion |
| Address: | 25 HaOman St., Bar Ami Bldg., 2nd floor, Jerusalem |
| Phone: | 972-2-6796610 |
| Fax: | 972-2-6482044 |

Company Executives

About Be'Emuna Development & Management projects Ltd.
Be'Emuna Ltd. is a leading property developer and organizer of purchasing groups which was founded by Mr. Israel Zeira, one of the prominent figures in the Israeli real estate community who has many years of experience in the field. The company has been active in the real estate market since 1995, in three main channels: Marketing, Organizing and managing Purchasing Groups, and Property Development. The company grew rapidly over the past decade, when it managed purchasing groups of more than 1,000 apartments, alongside its core operation of promote building of more than 1,500 residential units.
Over the past few years, the company has been focusing on property development, among others the price for resident of a new housing complex – (Mehir LaMishtaken - government price-capped) program, as well as additional operations in the purchasing groups segment. Furthermore, the company recently launched its urban renewal division, where several projects in this segment are being planned.
Be'Emuna operates solely as a developer, and the construction is executed through external contractors. We at Be'Emuna believe that development requires its own specialized professionalism and knowledge, while maximizing the company's capabilities and experience in building excellent projects, with an emphasis on an attractive price, a high technical specifications, high construction quality and construction companies reliability.
The company employs close to 20 permanent employees including project managers, in addition to dozens of freelance workers and subcontractors, including execution contractors, supervision companies and architecture firms. Be'Emuna benefits from financial strength, whereas all of the projects it builds are accompanied by Israel's largest banks.
Taking care of the Religious Zionist public
The company particularly emphasizes the development of high-quality construction projects for the Religious Zionist public outside of Judea and Samaria. The company's executives recognized the high importance of building religious Zionist neighborhoods across Israel for families seeking community projects in mixed cities. Most of the company's employees belong to this sector, and their direct affinity to it, with in-depth understanding of the customers' needs, enables the company to create high-quality projects with particularly high buyers' satisfaction levels. The company allocates extensive resources in order to establish the communities that it accompanies as live communities through various activities aimed at building strong communities. The projects' public spaces emphasize the playgrounds, relaxation areas, neighborhood synagogues etc., while all apartments include dual sinks, two Sabbath timers, electric roller blinds with Sabbath timers, Sukkah balconies, Sabbath elevators, etc.
Residential Solutions at Reasonable Prices
Be'Emuna specializes in creating excellent housing solutions at affordable prices, which are also available for young couples, brought by an understanding of its significant responsibility as a leading company in a market that experiences ever-increasing prices which average Israeli families find more and more difficult to pay. The lower-than-average prices never come at the expense of the quality of the construction and the service, and are achieved through the focused, efficient and optimal managerial skills.
This is how we have set up projects at great prices, with more than 4,000 apartments that were marketed and "sold out" quickly by our target population.
Prominent Projects
The company is currently leading three large-scale projects in the city of Beit Shemesh, with a total of 860 apartments, of which 40% would be sold on the free market, in the framework of two subsidiaries ('Shaarei Beit Shemesh' and 'Beit Shemesh Soho').
In addition, the company is currently at the final construction stages of a 1,500-apartments project in the city of Harish, in a development and purchasing group model, including Israel's largest purchasing group with 744 apartments. Most of the projects were concluded to be very successful and the apartments were delivered to the buyers.
In Kiryat Gat, the company is leading the construction of 364 apartments in the framework of the master agreements for the new quarter, Karmei Gat. The project is in the initial construction stages.
Executive Team
The company is headed by its CEO and founder Mr. Israel Zeira, who graduated from the "Shavei Hevron" Yeshiva and later even served as its CEO. Mr. Zeira has vast experience and in-depth understanding of the various aspects of the real estate markets, and he boasts the successful marketing, management and development of more than 4,000 apartments. By education he has a diploma in construction contracting and a B.A., Business Administration.
Alongside Mr. Zeira, Mr. Ronen Weil (Lieutenant Colonel [res.]) serves as the company's chief marketing and development officer. Mr. Weil has extensive experience in developing and marketing real estate projects, and the pair steers the company with authority and skill while being as available and accessible for the customers as possible.
Integrity and Fairness as Ultimate Values
The strategic principle that has been guiding the company since its establishment, both in the selection of contractors and suppliers and in the selection of projects, is to remain fair, transparent, uncompromisingly professional and customer-oriented from beginning to end.
Be'Emuna vowed to maintain its reputation and good name, and for this purpose it works to upgrade the wellbeing and living quality of the residents in each and every one of its projects. Thus, despite the scale of its constructed projects, the company's professional team aims to provide a professional, personal and respectful attitude to every customer, with a straightforward, fast and efficient service.
The Company's Vision
Be'Emuna aims to expand its real estate activities, while making it in the future to a public company. In addition, Be'Emuna is already expanding its services into the construction of community projects, not only for the religious Zionist public but also for any community that requires a personal, close, professional and devoted project management.

Photo Gallery