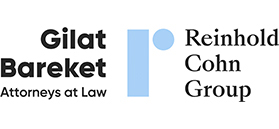 Gilat, Bareket & Co., Reinhold Cohn Group
Intellectual Property Law Patents, Trademarks, Designs, Enforcement, Copyrights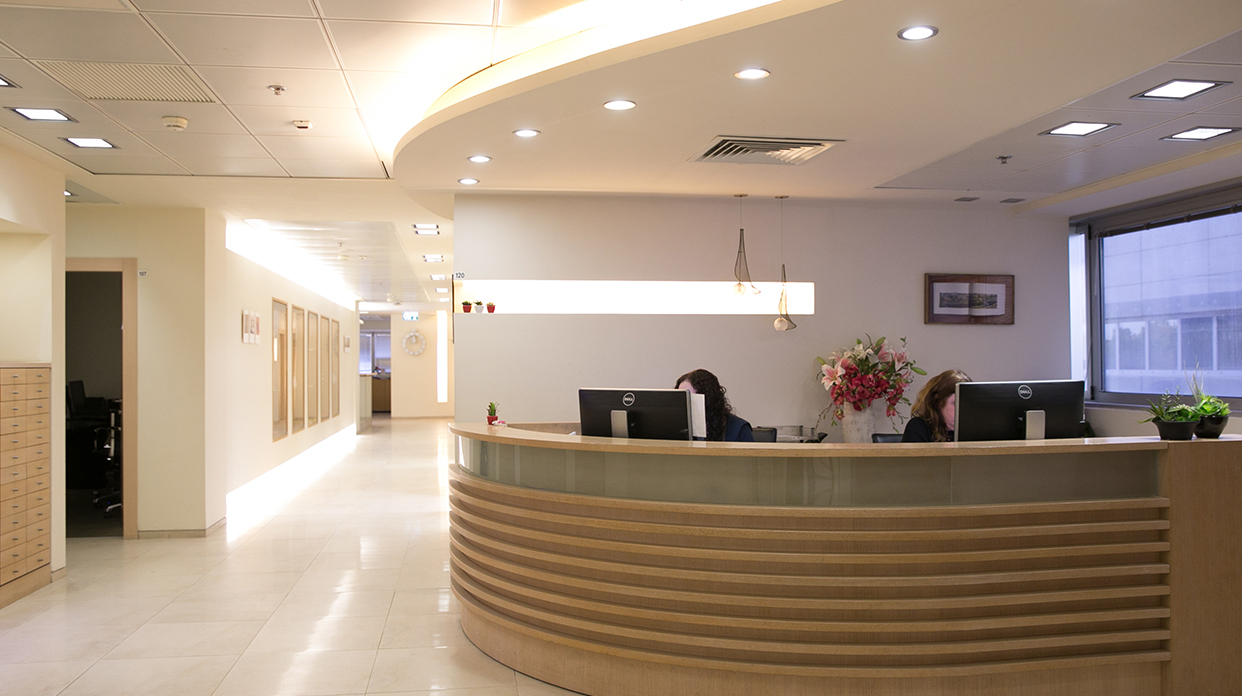 Company's Profile
| | |
| --- | --- |
| Established: | 1995 |
| Line of Business: | Intellectual Property Law, Patents, Trademarks, Designs, Enforcement, Copyrights |
| Address: | 26 A Habarzel St., Tel-Aviv 6971037 |
| Phone: | 972-3-5672000 |
| Fax: | 972-3-5672030 |

Company Executives
Partners (Alphabetical order)
Blanc Luiz
Glassman Lior
Goldenberg Lihi
Gonen Orit
Peled Rakefet
Yahalom Yair

About Gilat, Bareket & Co., Reinhold Cohn Group
Gilat, Bareket & Co. is one of the leading intellectual property law firms in Israel, specializing in litigation and legal protection of intellectual property rights in patents, technologies, brands, designs, creative works, and inventions.
The firm is ranked top tier in leading international and local guides, such as:
Managing Intellectual Property - IP Stars, Legal 500, Chambers & Partners, WTR1000, IAM Patent 1000, Who's Who Legal, Expert Guides, WIPR, D&B, and BDI.
The firm's lawyers took part in many landmark cases in Israeli courts, in the field of intellectual property, including those argued before the Supreme Court. Several of them also hold academic degrees in sciences.
As part of the Reinhold Cohn Group, the firm works in close cooperation with the patent and trademark attorneys - Reinhold Cohn & Partners. With years of professional experience, Gilat, Bareket & Co. garners recognition for successfully litigating landmark cases and representing domestic and international clients in the areas of its expertise, including patent and trademark litigation, protection of designs and copyright, structuring and negotiating IP-related contracts and transactions, R&D agreements, license agreements, knowledge acquisition and technology transfer agreements and agreements vis-à-vis collective rights management societies, enforcement of brand owners' rights to prevent import and distribution of counterfeits and imitations, investment agreements, obtaining financing from the governmental Office of the Chief Scientist and other institutional investors, non-disclosure agreements, distribution agreements, internet law and strategic cooperation with foreign companies.
In addition, the firm provides general legal assistance in other fields, e.g., company law, competition law, antitrust and property law, and successfully represents its clients before the courts in Israel and before the Patents, Designs and Trademarks Registrar.
In addition to legal practice, the firm's partners lecture at universities and at professional forums, publish articles and advance intellectual property issues in governmental committees and professional organizations around the world.
Areas of Expertise
Patents & Designs
• Filing suits for patent & design infringement.
• Defense against lawsuits for patent & design infringement.
• Representation before the Patents Registrar in opposition proceedings to registration, applications to revoke a patent, applications for patent term extension, applications to indicate the name of an inventor, and applications to amend specifications.
• Rendering opinions regarding infringement and freedom to operate.
• Strategic counseling regarding the protection of technologies.
• Counseling on service inventions.
Trademarks and Appellations of Origin
• Representation in court in lawsuits for the infringement of registered trademarks, passing off, dilution of reputation, unfair competition and unjust enrichment, including applications for injunctive relief and other interim remedies.
• Handling oppositions and applications for the revocation or cancellation of trademarks before the Trademarks Registrar.
• Handling disputes pertaining to the protection of internet domain names.
• Strategic counseling regarding planning and managing a trademark portfolio in Israel and abroad.
Enforcement (Anti-Counterfeiting)
Handling the enforcement of intellectual property rights including representation in the courts. This department operates in close cooperation with governmental authorities to prevent the importation and distribution of counterfeits and imitations in Israel and the Palestinian Authority and has acquired international recognition. Its clients include prestigious brand owners and world-renowned corporations.
Copyrights
• Offering a broad range of legal services to internet and media companies, to printers and publishers, and to authors, musicians, and artists. These services pertain to musical, literary, artistic, dramatic, and cinematic works protection, and general advice on a variety of legal copyrights issues. Practice in this field includes:
• Representation in courts in copyrights infringement cases.
• Ongoing counseling regarding copyrights protection or infringement.
• Ongoing advice and representation in connection with agreements with collective rights management societies and organizations.
Plant Breeders' Rights
The firm has vast experience in the protection of plant breeders' rights, including the protection in Israel of new plant varieties in accordance with the Plant Breeders' Rights Law of 1973 and the UPOV Convention. The firm represents one of the largest companies in the world that specializes in developing and cultivating new varieties of deciduous fruits and grapes.
Trade Secrets
The firm counsels and represents in regards to all aspects of the protection of trade secrets and in lawsuits filed against infringers or assists in defending claims filed by third parties.
Licensing & Trade in IP
The combination of scientific understanding and business insight enables the firm to provide proficient, top-level transactional support to clients interested in granting or acquiring intellectual property rights.
Open Source
Offering various services, including litigation and consultancy services in connection with Open Source. These services include assessment of Open Source usage, Open Source Due Diligence processes and preparation thereto and development of comprehensive tailor-made Open Source Policies for our clients.

Facebook Updates

Company Rankings

Publications

Facts & Numbers