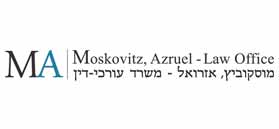 Moskovitz, Azruel - Law Office
Savings in Mandatory Payments to Local Authorities

Company's Profile
| | |
| --- | --- |
| Established: | 2013 |
| Line of Business: | Savings in Mandatory Payments to Local Authorities |
| Address: | 2 Menorat HaMaor St., Tel Aviv |
| Phone: | 972-3-6326000 |
| Fax: | 972-77-5558582 |

Company Executives
Adv. Adi Moskovich

Partner

Moskovitz, Azruel - Law Office

View Profile

Adi Moskovich

Adv. Tal Itzhak Azruel

Founder and Partner

Moskovitz, Azruel - Law Office

View Profile

Tal Itzhak Azruel

About Moskovitz, Azruel - Law Office
Moskovitz, Azruel - Law Office is a leading boutique firm that specializes in a specific niche: reduction of payments to local authorities. The firm handles, inter alia, municipal tax, bet-terment charges, development charges and other mandatory fees to the local authorities. The firm is ranked as a leading firm in its area by BDi and D&B. The firm is a trailblazer in supporting legislation, regulation and exceptional approval procedures, and also specializes in water and sewage charges. Its track record includes a series of groundbreaking rulings on city tax, development charges, signage, water and sewage charges, wastewater, waste removal fees, firefighting fees and more. The firm has been re-cently selected by the Ministry of Finance to accompany and supervise city tax, development charges and other mandatory fees that local authorities charge State's, ministries and government's assets.
The firm's founders, Adv. Adi Moskovitz and Adv. Tal Yitzhak Azruel, have 20 years of experience in the municipal tax field. Throughout the years, they represented Israel's largest companies and institutes including government ministries, the Coordinating Bureau of Economic Organizations, the Manufacturers Association, Mekorot, The Airports Authority, the refineries, Intel, Tnuva, Gas companies, banks, retail chains, HMOs, education networks, communication companies, utilities, universities, colleges and construction companies.
The partners are involved in each case, and unreserved loyalty to clients is their motto. The synergy between the personal service from the partners and the creativity and out-of-the-box thinking, for which the firm is renowned, create the added value from which the clients benefit.
The firm's particular specialization is in complex proceedings and principle issues, it is highly experienced in handling extremely complex legal disputes and frequently appeals to the Supreme Court, and a series of cornerstone rulings are on its credit.
The firm often supports and counsels law firms and representative associations, such as the Manufacturers Association and the Chamber of Commerce regarding municipal taxes. The firm doesn't represent municipalities or local councils. The firm has an expertise in class actions against local authorities and water and sewage corporations, with a track record of more than 60 class actions that were filed.
The Partners
Adv. Tal Itzhak Azruel: Has more than 20 years of experience in practice of municipal taxes, local authorities, general city tax, development charges, betterment charges and administrative law, and vast experience in representation, litigation and legal management of municipal taxation cases.
During her years of experience Tal successfully handled tax assessment amounting to billions of NIS and millions of square meters. Her former clients include government ministries, organizations and association, education institutes and universities, HMOs, retail chains, industrial companies and large business corporations.
Adv. Yitzhak Azruel leads and manages administrative appeals and monetary claims concerning city tax demands and large development and betterment charges, experienced and skilled in representing taxpayers before the ministry of interior, by meditations before the district commissioners or by attacking tariffs and exceptional increases. Tal has a particular expertise and vast experience in negotiations with local authorities and representation in real estate transactions. Tal is a certified notary and a member of the Israel Bar Association arbitration institute.
Adv. Adi Moskovitz: Has a certification of the Institute for Experts Opinions and Arbitrators and has been handling municipal taxation for more than two decades. Amongst his nu-merous achievements are a precedential rulings and leadership of material changes concerning municipal mandatory charges. Adv. Moskovitz, was involved in most of the major municipal taxation disputes in Israel, such as the city tax updating mechanism, the annexation of refineries compound in Haifa, the establishment of the Intel factory, trash removal within the framework of city tax services, the expansion of the exemption for destroyed properties, the composition of appeal committees, VAT on water prices, city tax charging for empty properties and more. He lectures, writes, commentates, advises and represents in all aspects of municipal taxation.
Adv. Moskovitz also specializes in class actions against local authorities and water and sewage corporations, with an emphasis on development charges, betterment charges; sign-age, water and sewage claims, and the precedents he achieved also include rules concerning class actions law.
Practice Areas
City Tax: The firm's expertise is both in analysis. of municipal plans and schemes, and in mastering the relevant legislation and rulings and by understanding judgmental dynamics and common interests, and so lead the firm to numerous successes in this field, both through settlements with the local authority and through court decisions and rulings.
Betterment Charges: A betterment charge is a tax on the real-estate's value. Many betterment charges are flawed due to a lack of legal liability of the taxpayer. Such a situation is possible, for example, when the liability is addressed to the wrong entity, or when the event that created the liability isn't taxable. The firm handled large betterment charges and achieved principle decisions at the appeal committees.
Water and Sewage: In 2010, the water reform came into effect. The establishment of water and sewage corporations led to an increase of the water tariffs. The firm has a particular expertise in enabling real savings in water and sewage charges. The firm specializes in "Establishment Fees" and water and sewage development charges.
Development Charges: Reviewing development charges is mainly research-based, and requires in-depth reviewing of each detail, corroboration of every detail from the planning institutes, aerial photos, rulings and previous settlements. The firm has mastered this area and reaches many achievements, including precedents in the Supreme Court and lower courts.
Class Actions: The firm handles class actions against local authorities and water and sewage corporations. The fees of the lawyer and the plaintiff are determined exclusively by the court.
Waste Removal: Adv. Moskovitz was the first to lead a legal decision concerning the local authority's liability to remove trash in the framework of the city tax services.
Signage: The firm specializes in signage charges to large entities, such as billboards advertisers, banks, retail chains, shopping centers etc. As a result of class actions that were filed by the firm, resulting changes in the conduct of local authorities including Tel-Aviv and Hod HaSharon.

Company Rankings