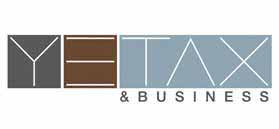 Yaron-Eldar, Paller, Schwartz & Co. Law Offices
Tax (Civil and Criminal); Trusts and Family Wealth Management

Company's Profile
Established:
2013
Line of Business:
Tax (Civil and Criminal) Trusts and Family Wealth Management
Address:
Central Branch:
13th Floor, HaShahar Tower, 4 Ariel Sharon St., Givatayim 5320045
Haifa Branch:
33 Hanamal St. P.O.B. 33966, Haifa 3133901
Phone:
074-7339222
Fax:
074-7339223

Company Executives
Tali Yaron-Eldar

Managing Partner

Yaron-Eldar, Paller, Schwartz & Co. Law Offices

View Profile

Tali Yaron-Eldar

Roy Paller

Partner

Yaron-Eldar, Paller, Schwartz & Co. Law Offices

View Profile

Roy Paller

Rany Schwartz

Partner

Yaron-Eldar, Paller, Schwartz & Co. Law Offices

View Profile

Rany Schwartz

Gilad Ben-Ami

Partner

Yaron-Eldar, Paller, Schwartz & Co. Law Offices

Ohad Bouganim

Partner

Yaron-Eldar, Paller, Schwartz & Co. Law Offices

Yossi Baruch

Partner

Yaron-Eldar, Paller, Schwartz & Co. Law Offices

About Yaron-Eldar, Paller, Schwartz & Co. Law Offices
Yaron-Eldar, Paller, Schwartz & Co., Law Offices is a boutique firm which specializes in various tax branches in Israel and Globally. Our guiding concept in founding the firm was based on our view that the provision of high-quality legal tax counsel requires a different perspective. Our law firm thinks of tax creatively from a business perspective. Our goal is to be attentive to our clients, and we can provide the right legal solution for their BUSINESS needs with an analysis of the tax implications of every move. Our tax expertise alongside with our in-depth familiarity with the business world, in Israel and globally, combined with our extensive litigation experience, provides us with the ability to present to our client's unique tax solutions which express a broad perspective of the right way to work vis-a-vis the tax authorities. We believe in high-quality and thorough tax planning, in reviewing the essence of every transaction and in harnessing the vast knowledge that we acquired throughout the years in order to provide first-class, high-quality and responsible legal counsel, support and representation for our diverse clientele: public and private companies, international corporations, start-ups, individuals, and third sector entities.
Practice Areas
Corporate Tax - The firm supports, advises and represents companies and provides solutions for unique tax issues. New companies including startups are assisted in all stages of organizing operations and actual establishment with the best tax structure examined while leading the thought process at the international level. The firm provides ongoing services for public and private companies in their normal course of business and in reviewing transactions, mergers, and reorganizations. The firm has rich experience in all areas of the business tax world including employee options, structural changes, M&A, Inter-company transactions and transfer prices, foreign trade, deduction assessments, and revenue assessments.
International Tax - The firm has major experience and proven ability in setting up complex international tax structures that require deep knowledge of international tax covenants, foreign tax systems and familiarity with the changes and updates in the different tax regimes. This ability allows presenting effective, creative and safe solutions, tailored according to the client special needs. In addition, the firm has numerous work relationships with colleagues abroad which enable us in implementing and executing operations abroad, Tax for Individuals - comprehensive facilitation of the correspondence vis-a-vis the tax authorities. The firm handles voluntary disclosure proceedings, rights of returning residents and new immigrants, relocation procedures and forming tax opinions.
Indirect tax issue - VAT, purchase and excise taxes. The firm has expertise in indirect taxes. We provide legal counsel on matters concerning international trade, customs, and purchase tax. Our longstanding familiarity with the tax authorities and our vast experience in the tax realms enable us to provide legal counsel that integrates and takes into account the indirect tax implications for our clients' ongoing operations as well as a direct tax implication.
Trusts and Family Wealth Management – The firm has pioneered this field in Israel specializing in setting up trusts, drafting interpersonal agreements, planning and transferring assets between family generations while considering the range of aspects from inheritance law to family law. We find unique solutions for ongoing family wealth management and provide current and future recommendations that may lead to significant savings and efficient management and control options.
Real-estate taxation – planning and facilitation of residential and industrial real-estate transactions, private purchasing, purchasing groups, combination transactions, urban renewal, and real-estate development projects. The firm provides extensive tax advisory for all real-estate taxes, such as betterment tax, purchasing tax, and tax planning for individuals who purchase properties. In addition, the firm supports urban renewal including "clearance and construction" and TAMA 38 transactions.
Customs - The firm has extensive experience in negotiations with the customs on import and export taxation of commodities. The firm deals with the classification for customs purposes, international trade, and customs disputes both in the civil and criminal sphere.
Tax-offenses - legal counsel throughout criminal proceedings for tax evasion offenses, voluntary fine applications, voluntary disclosures, confiscation proceedings, hearings and representation in criminal court proceedings.
Litigation - Representation before all courts and tribunals. The firm has vast experience and proven knowledge in representing clients before all courts, from a magistrate to the Supreme Court. The firm represents clients in assessment appeals and lawsuits against the tax authorities, both criminally and civil actions. We believe in a to-the-point and well-focused litigation which aims to reach a just and efficient solution.
The Partners
Adv. Tali Yaron-Eldar formerly served as Income Tax and Real Estate Tax Commissioner and led the most extensive and significant tax reform since the establishment of Israel. She also served as legal counselor of the Customs & VAT Division. Following her retirement from public office, she gained extensive business and legal experience in the private sector. In recent years, she developed unique expertise in managing family wealth and trust planning.
Adv. Roy Paller and Adv. Rany Schwartz bring extensive experience in representing clients vis-a-vis the tax authorities and before the courts. Adv. Paller has extensive experience in civil and commercial tax planning and aspects; Adv. Schwartz has unique expertise in handling tax offenses and indirect tax issues.
Adv. Gilad Ben Ami and Adv. (CPA.) Ohad Bouganim bring extensive experience in complex tax planning. Adv. Gilad Ben Ami has special expertise in international tax planning and representation in international transactions; Adv. Bouganim has unique expertise in Israeli taxation and real-estate taxation.
Adv. Yossi Baruch brings extensive experience and legal creativity in civil and criminal litigation concerning tax law and economic offenses. He won several principle rulings which became milestones in the tax realm. With offices in Givatayim, Haifa and Be'er Sheva and extensive experience with various departments of the Israeli tax authorities, and in-depth familiarity with international treaties, we provide personal support for our business and private clients and meticulously maintain our service quality and excellence. We always prioritize the business needs of our clients and take care to be accessible and available for them at all times.
Pro Bono
In addition to legal services for those unable to afford them, the firm assists "Shikum Acher" which handles disadvantaged populations, support the "Association for the Promotion of Education in Math," and supports "Hatzer Nashit," which assists women, and "Etgarim."