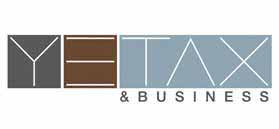 Yaron-Eldar, Paller, Schwartz & Co. Law Offices
Tax (Civil and Criminal); Trusts and Family Wealth Management

Company's Profile
Established:
2013
Line of Business:
Tax (Civil and Criminal) Trusts and Family Wealth Management
Address:
Central Branch:
13th Floor, HaShahar Tower, 4 Ariel Sharon St., Givatayim 5320045
Haifa Branch:
33 Hanamal St. P.O.B. 33966, Haifa 3133901
Phone:
074-7339222
Fax:
074-7339223

Company Executives
Tali Yaron-Eldar

Managing Partner

Yaron-Eldar, Paller, Schwartz & Co. Law Offices

View Profile

Tali Yaron-Eldar

Roy Paller

Partner

Yaron-Eldar, Paller, Schwartz & Co. Law Offices

View Profile

Roy Paller

Rany Schwartz

Partner

Yaron-Eldar, Paller, Schwartz & Co. Law Offices

View Profile

Rany Schwartz

Gilad Ben-Ami

Partner

Yaron-Eldar, Paller, Schwartz & Co. Law Offices

About Yaron-Eldar, Paller, Schwartz & Co. Law Offices
Yaron-Eldar, Paller, Schwartz & Co. Law Offices is distinct in Israel's law office landscape and stands out in its tax practice by bringing a creative approach to planning, consultancy, and managing tax procedures in Israel and abroad. Alongside a naturally deep understanding of the tax world, the firm is oriented to the business market and offers comprehensive services for practical needs of clients: companies, international corporations, startups, individuals, importers, and NPOs. The firm's employees work in a pleasant, comfortable atmosphere while providing excellent, professional, accessible and quick service with 14 lawyers, 4 interns, and 8 administrative staff in Givatayim and Haifa.
Practice Areas
Corporate Tax – The firm supports, advises and represents companies and provides unique tax solutions. New companies including startups are assisted in all stages of organizing operations and actual establishment with the best tax structure examined while leading the thought process at the international level. The firm provides routine advice to public companies in ongoing business operations in terms of deals, mergers and structural changes. The firm has rich experience in all areas of the business tax world including employee options, structural changes, M&A transactions between companies and transfer prices, foreign trade, deduction assessments and revenue assessments.
Tax for Individuals – The firm has ongoing contacts with the tax authorities in handling taxpayers' assessments at the filing stage and in court appeals, voluntary disclosure procedures, rights of returning residents and new immigrants, relocation procedures and forming tax opinions.
Indirect Taxes – The firm has major experience in handling aspects of indirect tax (VAT, purchase tax, customs) of major companies, large exporters, manpower service providers, fuel producers, diamond companies, technology companies etc. The firm provides legal opinions on international trade, customs, VAT and purchase tax issues for importers and exporters.
International Tax – The firm has major experience and proven ability in setting up complex international tax structures that require a deep knowledge of international tax covenants, foreign tax systems and familiarity with the many changes and updates in this world. This ability allows presenting effective, creative and confident solutions that are tailored according to the special needs of each business.
Trusts and Family Wealth Management – The firm has pioneered this field in Israel specializing in setting up trusts, drafting agreements of trusts, planning and transferring assets between family generations while relating to the overall range of aspects from inheritance law to family law.
Litigation – The firm has the major know-how and proven experience in representing clients in all courts and acting in tax assessment appeals, and civil and criminal suits against the Tax Authority. Long and good work relations with the tax authorities and thorough examination of the details of every case ultimately lead to a solution to disputes by managing the case until the ruling is given or a compromise found.
Customs – The firm has extensive experience in negotiations with the customs authorities on all matters related to the import and export of commodities. The firm deals with the classification for customs purposes, international trade, and various customs disputes both in the civil and the criminal sphere.
Firm's Clients
Public and private companies, Alony Hetz, Orpak, NPO organizations (Jewish Agency, Amigur Public Housing, Association for IDF Soldiers Welfare), Ocif Group, UTI Logistics, Emek Ayalon Group, Rassco Isras Group, Strauss Group and more.
Overseas Activities
The firm assists Israeli clients operating abroad in international tax and methods of incorporation to plan opitimal liability of tax. The firm has many connections with overseas colleagues allowing it to assist clients in applying and implementing overseas operations including drafting agreements, founding foreign companies and more.
Legal Precedents
Shufersal case: Repayments for amending reports for previous years. The firm persuaded the District Court that repayments apply to the regular statute of limitations but do not expire. Magistrates Court decision that collecting tax debts from the public is restricted by the statute of regular limitations rules, instead of those listed in the ITA's order.
Aviv Rais District Court's decision – ruled in favor of the taxpayer where the court preferred the economic substance over the formality of the legal structure.
The Partners
Adv. Tali Yaron-Eldar – Formerly served as Income Tax and Real Estate Tax Commissioner, legal advisor to the Customs & VAT Division, CEO Arazim Investments, income producing assets, Senior Partner, she set up and managed the tax department at Tadmor & Co. Law Firm. Senior Partner in Cohen, Cohen, Yaron-Eldar & Co. Law Firm. She is currently Managing Partner at Yaron-Eldar, Paller, Schwartz & Co. Law Offices.
Adv. Roy Paller – Formerly the owner of the Roy Paller Law Office, a lawyer in the Legal Department of the Income Tax Commissioner's Office in Jerusalem, Deputy Director of the Fiscal Department in the Haifa District Attorney's Office.
Adv. Rany Schwartz – Formerly Partner and Head of Indirect Taxation & Litigation at Tadmor & Co. Law Office, Associate in the Tax, Criminal – Civil Litigation Department at Cohen, Yaron-Eldar, Herzog Law Firm, Attorney in the Tax Authority. Publicly active as a Member of the National Council of the Israel Bar Association, Chairman of the Indirect Tax Committee, Ethics Committee Member, Finance Committee Member, Member of the Audit Committee of the Israel Volleyball Association.
Adv. Gilad Ben Ami - brings to the table an extensive experience in tax planning with special expertise in international tax planning and advising on multi-national M&A transactions including to investment funds, multi-national corporations, start-up companies on various tax matters. Additionally, Gilad Ben Ami has an extensive experience in representing clients in front of the tax authorities in disputes regarding tax matters.
Pro Bono
In addition to legal services for those unable to afford them, the firm assists "Shikum Acher" which handles disadvantaged populations, and supports the "Association for the promotion of Education in Math," and supports "Hatzer Nashit," which assists women, and "Etgarim."
You may also like
Real Estate

Humans at the Center of Things

Humans at the Center of Things

DUN'S 100

Construction & Real Estate Sector

In 2015-2016, several regulatory steps were taken by the government and the banks in order to affect the industry's supply and demand. For example, demand-curtailing steps were taken aimed both at young couples (an increase of the mortgages interest rates by the banks) and at investors (governmental increase of investment apartments purchasing tax and taxation of third apartments). From the supply aspect – the "Mehir La'Mishtaken" (government price-capped) program was expanded, and the marketing of tens of thousands of reduced-price apartments for eligible candidates has begun.

Construction & Real Estate Sector