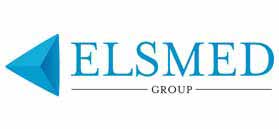 Elsmed Healthcare Solutions
Establishment and Operation of Imaging Centers Worldwide, Development and Building of Advanced Medical Centers Worldwide, Development and Building of Oncology Centers Worldwide

Company's Profile
| | |
| --- | --- |
| Established: | 2003 |
| Line of Business: | Establishment and Operation of Imaging Centers Worldwide, Development and Building of Advanced Medical Centers Worldwide, Development and Building of Oncology Centers Worldwide |
| Address: | 20 Hamagshimim St. Petach Tikva 49250 |
| Phone: | 972-3-5584839 |
| Fax: | 972-3-5589858 |

Company Executives
Ronen Bechor

CEO and Owner

Elsmed Healthcare Solutions

View Profile

Ronen Bechor

Yosi Zafrani

VP

Elsmed Healthcare Solutions

View Profile

Yosi Zafrani

About Elsmed Healthcare Solutions
Elsmed Healthcare Solutions is dedicated to establishing outstanding medical and oncology facilities around the world. Building upon more than 25 years of experience, we partner with public and private institutions to create turnkey healthcare projects that are tailored to local needs and adhere to the highest international standards.
Our organization offers a holistic approach, enabling us to provide all of the professional know-how necessary for a "one-stop" solution in healthcare projects
We also pride ourselves on understanding the client's requirements, and always strive to achieve the most efficient, profitable, and cost-effective solutions.
From concept to inauguration, our team of experts transforms your health care project into a reality. Elsmed Healthcare Solutions operates and maintains quality management system standards: ISO 9001:2015, ISO 13485:2016 & ISO 27001:2018.
Serving Healthcare Worldwide
We know that health care services are among the most important factors in determining quality of life in modern society. That's why we strive to provide patients with the best possible care, while offering the most cost effective and successful solutions. Since health systems vary greatly around the world, Elsmed works closely with clients in the public and private sectors to tailor the project to local health needs and client requirements. Elsmed adheres to the highest international standards. We respect budgetary and scheduling frameworks and are committed to saving time and costs in the execution of all of our projects. We know that the success of the project is the success of our client, and therefore our success as well.
Experience and Professionalism
Elsmed's most important advantage in creating successful healthcare projects is the quality of our team. We have assembled the best and most qualified professionals in all disciplines throughout the value chain. Each of these experts – consultants, architects, engineers, project managers, financial experts, technologists and medical technicians -- has a proven track record in the establishment of model healthcare projects internationally.
Our team of top quality professionals is hands-on and on-site throughout the entire process to ensure the success of a project. We employ a multicultural team that speaks seven different languages, who are at home in almost all parts of the world. Our people have no geographic limitations and provide service 24 hours/7 days a week.
Bringing Excellent Healthcare to the Global Village
Globalization has caused our world to shrink. People around the world all desire quality healthcare delivered in modern, patient-friendly facilities. Elsmed answers that need, creating state-of-the-art turnkey medical projects in locations on all continents. In each location we partner with the public and private sectors -- from Miami to Perm, from Angola to Vietnam – to design, construct and equip hospitals and medical facilities worldwide. With offices in the USA, Africa, Middle East, Russia and Ukraine, we have no geographical limitations. No location is too remote or out of bounds.
A multicultural company, our team can function competently and effectively anywhere in the world. Elsmed has completed over 250 turnkey projects in 52 countries.
Superior Turnkey Solutions
Elsmed specializes in providing tailor-made turnkey solutions for all types of medical facilities. As a "one-stop-shop" we offer a complete chain of services from concept through planning, design, construction, installation, maintenance and technical service support.
Our flexibility means that we can apply our expertise to all healthcare challenges. We can create an entire medical center, or set up a specialized clinic. We can expand and upgrade an existing facility, or only provide advanced medical equipment and on-going service support.
• Concept and Consultation
• Planning and Design
• Construction and Project Management
• Equipment
• Management and Support
Your needs are our challenge; our solution is your key to success.
Partnering for Success
Elsmed is committed to working together with our partners to ensure the success of their healthcare ventures. Our superior expertise in the healthcare field, professional experience, reputation for efficiency and attention to your needs enable us to provide you with the most appropriate and cost-effective solution. We strive to increase your company's value, ensuring that your project is completed on time and within budget. Our responsibility extends beyond the opening of the medical facility. We undertake a continued responsibility to our partners to ensure the project's long-term effective operation with professional training, maintenance and support.
Follow the Elsmed Group on LinkedIn for more updates
www.linkedin.com/company/elsmed-group