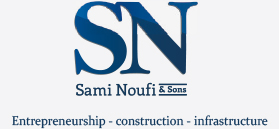 Sami Noufi & Sons Ltd.
Initiation, Construction and Infrastructures

Company's Profile
| | |
| --- | --- |
| Established: | 2009 |
| Line of Business: | Initiation, Construction and Infrastructures |
| Address: | 2 HaAdrichal St., Eilat 8819001 |
| Phone: | 972-8-6229988 |
| Fax: | 972-8-8563195 |

Company Executives
Sami Noufi

Owner and CEO

Sami Noufi & Sons Ltd.

Nissim Noufi

Owner and Vice President

Sami Noufi & Sons Ltd.

About Sami Noufi & Sons Ltd.
Sami Noufi & Sons Ltd. is one of Israel's leading infrastructures companies. The company, which was founded several years ago, is owned and managed by Mr. Sami Noufi and his son, Mr. Nissim Noufi. The company's areas of expertise include earthworks, development, infrastructures, initiation and construction. Since its establishment, the company executed dozens of projects with great success, while building its reputation as a first-tier execution contractor. Currently, the company's work backlog for 2020-2021 amounts to NIS hundreds of millions for projects it won.
Knowledge, experience, skills and reputation
Mr. Sami Noufi is one of Eilat's most senior contractors. Since arriving to this city from Haifa in 1976 and until this very day he has been accumulating knowledge, skill and extensive reputation in a variety of segments including earth and development works, construction initiation and infrastructures including water lines and sewage, tunneling, road and sidewalk paving, lighting and communication and also marine works.
Mr. Sami Noufi is renown as a person who executed works for some of the largest organizations in Israel, including the National Roads Company, Ministry of Housing, Airports Authority, Eilat-Ashkelon Pipe Company, Eilat Economic Company, Eilat Municipality, Arava Drainage Authority, Electra Ltd., Eilot Economic Development Company and many more, owing to his longstanding experience and the uncompromising work quality in every project in which he is involved.
At the Cutting Edge of Technology
The company's offices are located in Eilat's new industrial zone, Sh'horet, with another branch in 9 Ofir St., Haifa. The company employs leading professionals, and owns cutting-edge heavy mechanical equipment for development and infrastructure works. The company is registered in the Contactors Registrar with a C5 (unlimited) classification in the segments Construction, Roads, Infrastructures and Development, Sewage, Drainage and Water.
It is ISO 9001:2000 certified with a quality management system that complies with Israeli and international standards.
Thoroughness and Excellence with a Unique Specialization in the city of Eilat
As appropriate for a company with first-class management, each project is thoroughly reviewed by the company's economic department and engineering department, prior to submitting a tender, both from the profit margins aspect (including unexpected expenses, finance etc.) and from the aspect of who ordered the works and the company's ability to fully comply with the project's execution requirements. The unique strength of Sami Noufi & Sons Ltd. stems from its focus on the city of Eilat, from its status as a contracting company that is able to perform integrated works in several separate fields simultaneously, and from its residential real estate initiation activities. The company takes care to maintain appropriate and satisfactory profit margins in every project it considers, and this is eminent in its recorded growth rates alongside with consistent and improving profitability. The company maintains optimal financial planning through current control and monitoring reports with systematic profit\loss statements by professional bookkeepers, and comprehensive details of the project's status, profitability, cash flow and other analyses, as required.
Initiation and Construction Projects
Construction Projects
The company purchased lots in Haifa and Eilat for residential construction. The projects are at the approvals stages, and execution is yet to begin.
1. HaRofeh St., Haifa
At the heart of the street which is named after the physician ("Rofeh") Theodor Zlocisti, the company is building a 7-story upscale residential project overlooking the green slopes of Mt. Carmel and blue horizons of the Mediterranean Sea. The building includes external paneling which combines stone panels with colored architectural coating, an architecture lobby, an elevator for all of the floors, a closed-circuit intercom and a balcony for every apartment, which includes glass-covered rails.
2. HaZalbanim St., Haifa
This street is located at the upper part of Upper Hadar, adjacent to the beginning of HaNasi Av., and Yeffe Nof St. (one of Haifa's most expensive streets).
The street is characterized by low-rise buildings with a spectacular bay-view and one of its hallmarks is the Suidan House – a historical castle building at the beginning of the street which belongs to the Suidan family.
3. Construction in Eilat
additionally, the company is a partner in an 111-units construction project in Eilat's HaMa'afia neighborhood. This combined residential and commercial luxurious project is located at the heart of the city.
A Partial List of Projects under Construction
• Infrastructure, earthworks, road paving, subterranean systems, transformers rooms and water and sewage works for Eilat's 2nd Quarter – EEC.
• Building the Eilat Precinct Police Station – Electra – The State of Israel.
• Roads Separation and Jersey Barrier in Road 383 – Kfar HaRif - The National Roads Company of Israel.
• Works in Road 232 Nitzanim Junction and Entrance to Regional School - The National Roads Company of Israel.
• Development works in the 6th Quarter – open public space – Mivnei Ta'asia Ltd.
• Expansion of Six Days Road from Toronto Square to the Golani Brigade St, traffic circles and a parking lot (Eilat) – EEC.
• Development and Construction works in the Eilat Birdwatching Park – The Governmental Company for Tourism.
• Diversion of the Kint Tunnel – The Arava Streams Drainage Authority.
• Building a training ground, development and maintenance activities in Eilat's Sports City - Eilat Economic Company.
• Performing infrastructure developments in the 11 Shachmon, Eilat - Eilat Economic Company.
• Earthquake and structure retrofits in Eilat - New Amidar.
• Execution of works on Route 383 at the entrance to the "Haruvit" military camp - Israel's National Transportation Infrastructure Company Ltd.
• Making safety modifications on Route 224 between Yeruham Junction and "Tzur" military camp - Israel's National Transportation Infrastructure Company Ltd.
• Terminal Park, execution of road works and development in Eilat's old airport area - Eilat Economic Company. And many other projects in preparation stages.

Photo Gallery