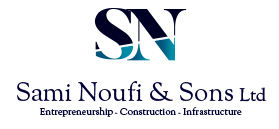 Sami Noufi & Sons Ltd.
Initiation, Construction and Infrastructures

Company's Profile
| | |
| --- | --- |
| Established: | 2009 |
| Line of Business: | Initiation, Construction and Infrastructures |
| Address: | 2 HaAdrichal St., Eilat 8819001 |
| Phone: | 972-8-6229988 |
| Fax: | 972-8-8563195 |

Company Executives
Sami Noufi

Owner and CEO

Sami Noufi & Sons Ltd.

Nissim Noufi

Owner and Vice President

Sami Noufi & Sons Ltd.

About Sami Noufi & Sons Ltd.
Sami Noufi & Sons Ltd. is one of Israel's leading infrastructures companies. The company, which was founded over a decade ago, is owned and managed by Mr. Sami Noufi and his son, Mr. Nissim Noufi. The company's areas of expertise include earthworks, development, infrastructures, marine work, initiation and construction. Since its establishment, the company executed dozens of projects with great success, while building its reputation as a first-tier execution contractor. Currently, the company's work backlog for 2021-2022 amounts to NIS hundreds of millions for projects it won.
Knowledge, Experience, Skills and Reputation
Mr. Sami Noufi is one of Eilat's most senior contractors. Since arriving to this city from Haifa in 1976 and until this very day he has been accumulating knowledge, skill and extensive reputation in a wide variety of segments including earth and development works, construction initiation and infrastructures including water lines and sewage, tunneling, road and sidewalk paving, lighting and communication, as well as marine work.
Mr. Sami Noufi is renown as a person who executed works for some of the largest organizations in Israel, including the National Roads Company, Ministry of Housing, Airports Authority, Eilat-Ashkelon Pipe Company, Eilat Economic Company, Eilat Municipality, Arava Drainage Authority, Electra Ltd., Eilot Economic Development Company etc., owing to his longstanding experience and the uncompromising work quality in every project in which he is involved.
At the Cutting Edge of Technology
The company's offices are located in Eilat's new industrial zone, Sh'horet, with another branch in 9 Ofir St., Haifa. The company employs leading professionals, and owns cutting-edge heavy mechanical equipment for development and infrastructure works. The company is registered in the Contactors Registrar with a C5 (unlimited) classification in the segments Construction, Roads, Infrastructures and Development, Sewage, Drainage and Water.
It is ISO 9001:2000 certified with a quality management system that complies with Israeli and international standards.
Thoroughness and Excellence with a Unique Specialization in the city of Eilat
As appropriate for a company with first-class management, each project is thoroughly reviewed by the company's economic department and engineering department, prior to submitting a tender. The review is carried out both from the profit margins aspect (including unexpected expenses, finance etc.) and from the aspect of who ordered the works and the company's ability to fully comply with the project's execution requirements. The unique strength of Sami Noufi & Sons Ltd. stems from its focus on the city of Eilat, from its status as a contracting company that is able to perform integrated works in several separate fields simultaneously, and from its residential real estate initiation activities. The company takes care to maintain appropriate and satisfactory profit margins in every project it considers, and this is eminent in its recorded growth rates alongside with consistent and improving profitability. The company maintains optimal financial planning through current control and monitoring reports with systematic profit\loss statements by professional bookkeepers, and comprehensive details of the project's status, profitability, cash flow and other analyses, as required.
Initiation and Construction Projects
The company purchased lots in Haifa and Eilat for residential construction.
1. 30 HaZalbanim St., Haifa
Over the past year, the company developed "The Ambassador's House". This prestigious project consists of a 7-story building and 14 residential units located at 30 HaZalbanim St., Haifa, which is located with close proximity to the Bahai Gardens and enjoys a breathtaking view overlooking the Haifa Bay. This boutique building with 4-5 rooms apartments, garden apartments and penthouses, is characterized with low-rise construction in order t maintain the natural land scape of the hills and its surroundings.
2. 9 HaRofeh St., Haifa
At the heart of the street which is named after the physician ("Rofeh") Zlocisti, the company began building a 10-story and 33 apartment upscale residential project, overlooking the breathtaking view of Mt. Carmel and the blue horizons of the Mediterranean Sea. The land's change of designation was recently approved.
3. Ha Tishbi, Haifa
An evacuation and construction project in Ha Tishbi neighborhood in Haifa. The company will demolish a 5-apartment building and build a new prestigious 15 apartment building and a parking lot.
4. Construction in Eilat
The company is a partner in several construction projects in Eilat:
The first is a 114-units construction project in Eilat's HaMa'afia neighborhood. This combined residential and commercial luxurious project is located at the heart of the city, which is called "Neve Tzedek".
The second project is an evacuation and construction project of 450 residential units in Eilat's HaMa'afia neighborhood, the purpose of which is to change the negative immigration trend from the neighborhood, and to appeal to young residents who are interested in settling down in the city. The plan will include a mixed area for residence and tourism.
The third project is an evacuation and construction project of 350 residential units in Eilat's HaDekel neighborhood, an urban renewal residential project that includes renewal of the neighborhood, usage of areas for public use, parking solutions, a varied apartment mix, and more.
Partial List of Projects under Construction
• Road work on road 246 Bet Kama - Grar stream - Mishmar HaNegev - Netivei Israel - National Transport Infrastructure Company.
• Building a training ground, development, and maintenance activities in Eilat's Sports City - Eilat Economic Company.
• Execution of works on Route 383 at the entrance to the "Haruvit" military camp - Israel's National Transportation Infrastructure Company Ltd.
• Infrastructure work in Ben Gurion University in the Negev – Ben Gurion University – Electra.
• Reconstruction work of the northern and southern shore in Eilat – The Dead Sea Preservation Government Company Ltd.
• Work in Gezer Junction, route 44 - Israel's National Transportation.
• Infrastructure and development work in the evacuating airport - Eilat Economic Company Ltd./Y. Lerer.
• Work on route 60, Eli Junction, phase 2 - Israel's National Transportation.
• Construction of "The Sport's Hall of the Yemin Hertzog School" in Eilat - Eilat Economic Company Ltd.
• Construction of an advising clinic Yoeftal Hospital in Eilat – Clalit HMO.

Projects
Red Sea Public Area, Eilat

Israel Police Station, Eilat

Yam Suf Sports Field, Eilat

Zion to Hanania Beach, Eilat

Sailing Club Beach, Eilat

Light House (Migdalor) Beach, Eilat

The Separate Beach, Eilat

Company Rankings