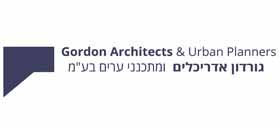 Gordon Architects and Urban Planners Ltd.
Architecture and Urban Planning


Company's Profile
Established:
1970
Line of Business:
Architecture and Urban Planning
Address:
15 Keren Hayesod St. Tirat Carmel, 3902634
3 Bialik St. Haifa, 3311210
Phone:
972-4-8580077
Fax:
972-4-8580066

Company Executives
Uzi Gordon

Founding Partner

Gordon Architects and Urban Planners Ltd.

View Profile

Uzi Gordon

Shaul Leibovitch

Partner

Gordon Architects and Urban Planners Ltd.

View Profile

Shaul Leibovitch

Yoram Shitrit

Partner

Gordon Architects and Urban Planners Ltd.

Dorit Spinat

Partner

Gordon Architects and Urban Planners Ltd.

View Profile

Dorit Spinat

Dorit Dar

Partner

Gordon Architects and Urban Planners Ltd.

View Profile

Dorit Dar

Yonatan Herman

CEO

Gordon Architects and Urban Planners Ltd.

About Gordon Architects and Urban Planners Ltd.
Gordon Architects and Urban Planners Ltd. was founded in 1970 by Architect Uzi Gordon and currently employs 65 staff members. The firm operates through two divisions:
• Planning & Urban Design • Architecture Design
The firm is committed to practicing high professional standards and it is well known for its ability to manage and coordinate complex projects while applying advanced construction methods.
The firm specializes in promoting applicable re-zoning plans within efficient schedules and has gained an excellent reputation among clients and officials of the planning authorities in Israel.
Local, Regional & National Planning
National Plans - TAMA10/B/11 - locating sites for power plants; TAMA/24 - locating sites for detention facilities; TAMA/47- super-infrastructure plan for residential complexes replacing IDF bases; TAMA/70 - TAMA 70 - National plan for mixed use areas above Metro depos.
National Infrastructure Plans - National Infrastructure Plan/29, National Infrastructure Plan/34, National Infrastructure Plan/55 - Natural Gas Private power plants, National Infrastructure Plan/18 - Electrification of the National Rail array; National Infrastructure Plan/105 - Oron thermic facility for waste management and energy recovery; Ayalon Railways 5-6, LRT Beer-Sheva - Likit, Transportation hubs in the metro
Policy documents, masterplans and strategic plans - Policy document for the Israel Maritime Space - Mediterranean; Masterplan for Tel Aviv district and Central district cemeteries; Strategic plans for engineer infrastructure and transport for the Tel Aviv metropolis; Strategic examination document for Nahariya; Western Galilee regional masterplan, triangular Kfar-Saba - Raanana.
Municipal and local regional Masterplans - Kiryat-Motzkin, Kiryat-Bialik, Shfaram, Isfia, Dalyat-Al-Carmel, Jiser-A-Zarka, Nesher, Binyamina Givat-Ada, Kfar Kana, Megiddo, Emeq Israel Bnei Ayish and Elabun.
Urban Renewal masterplans - Or Akiva and Kiryat-Motzkin.
Detailed Urban Renewal plans - Berl Katznelson St., Haifa; Yoseftal complex, Kiryat-Motzkin, Kiryat-Yam Cooperative; Brandies neighborhood, Hadera; the Yugoslav complex, Hadera.
Residential quarters plans - Or Yam, Or Akiva; Sha'ar Tivon, Tivon; neighborhoods in Fureidis; Yirka Rabin neighborhood ;Yavne St., Ramat Hasharon; Eastern neighborhood, Jiser-A-Zarka; Kfar Kara; Beduin neighborhoods in the Negev - Hura, Abdee and more.
Architecture Design
Various project planning: employment centers, complex multi-system buildings, commercial centers, hospitals, residential neighborhoods, industry buildings, logistic buildings, education buildings, education, culture and transportation centers.
Healthcare hospitals - masterplans - Rambam, Hillel Yaffe and Kaplan; hospitalization department planning, research labs and institutes; planning Poriya Rehabilitation center. Nursing departments: Dor Carmel, Dor Tivon, Mishan Givatayim; Mishan Haifa; Bnai-Brith; Zichron Ya'acov Beth-El, Elderly Residence - Tirat Carmel.
Workplaces and Hi-Tech centers - Intel Haifa; Science Park, Beer Sheva, Bar Lev Park, Sandisk Tefen, Omer High-Tech Park; Amdocs Ra'anana; Sela Binuy Building.
Transportation Centers - Bus terminal and train station - Hof Carmel, Haifa; Lev Hamifratz - 2 train stations, Metronit bus system, buses, cable-car; Hadera Hub; Dimona Hub.
Education, Culture and Commerce buildings - Hugim high school, Haifa; Faculty of Education, Haifa University; Emek Izreel College; Technion dormitories; Carmiel Culture Hall; Commercial Lev Hamifratz mall and "Yes Planet" Haifa.
Residence - thousands of residential units throughout the country, luxury residence, urban renewal, discounted housing projects, apartments for rent.
Logistics and Industry - logistic centers; The Klalit HMO; Egged-Offices and repair shop; Overseas warehouse; Tefen - Industrial Park.

Photo Gallery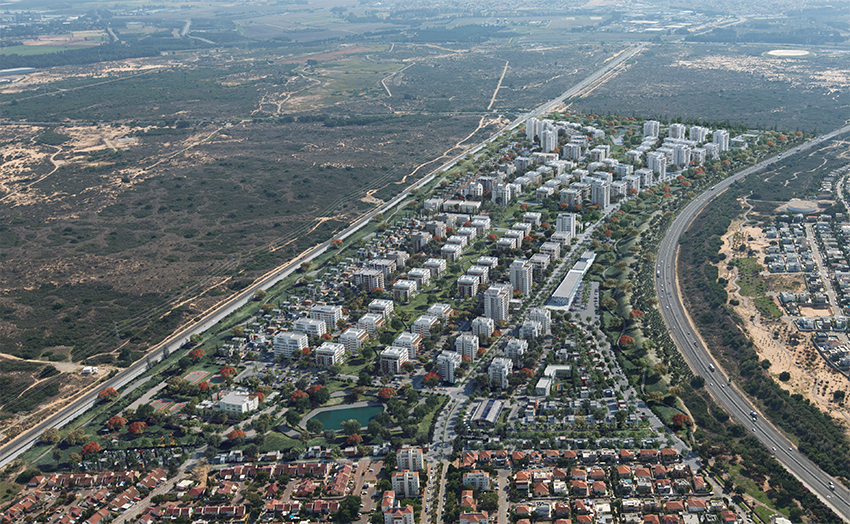 "Or-Yam", a residential neighborhood in Or-Akiva
PR Photo