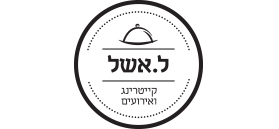 L. Eshel
Event and institutional catering

Company's Profile

Company Executives
Sharon Zelikovich

Operations Manager

L. Eshel

Yaron Fischer

CEO L. Eshel Catering

L. Eshel
Leading Executives
Aizik Zelikovich CEO, President, Chairman of the Board
Ilan Zelikovich
Zvika Yudkovich

About L. Eshel
The L. Eshel group, established in 1989, is one of the three leading companies of the institutional catering market.
The L. Eshel group includes two companies, L. Eshel Food Services Jerusalem Ltd., and L. Eshel Catering and Events. The L. Eshel group is a family business, run by the Zelikovich family for about three decades.
L. Eshel Food Services Jerusalem Ltd.
L. Eshel Food Services Jerusalem Ltd., which is active since 1989, specializes in institutional catering for big and leading companies in the Israeli economy. Among its clients are the Israel Aerospace Industry, the Israel Electric Corporation, Paz Oil Company, Cisco Jerusalem and Elbit Systems.
L. Eshel is meticulous about the quality, freshness, and flavor of its food.
The added value for company clients stems from its home meal experience: the familial nature of the company, as expressed in its organizational practices, also finds its way into every meal enjoyed by its clients.
Moreover, since the cooking is performed on-site, in the client's kitchen, its freshness reflects the uncompromising quality L. Eshel Food Services Jerusalem is known for.
L. Eshel is particular about the little details while emphasizing high-quality, nutritious, and healthy food, suitable for all dietary practices, including vegetarianism among others.
Comprehensive service by the company includes preparation, serving, and all other services necessary for every meal.
L. Eshel grants its clients solutions for breakfast, lunch, supper, canteens and convenience stores.
L. Eshel Catering and Events
L. Eshel has been active for over 30 years in restauranteering, institutional catering, and events. The company offers catering services and solutions to leading companies in the Israeli market, to public institutions and factories all over the country.
L. Eshel offers a variety of services in every style and quality level on the market. We grant our clients the best catering options, with guaranteed personal care from day one, all through till the fulfillment of the contract while keeping in mind long-term planning.
Among our clients: First International Bank of Israel, Oil Refineries, NICE Systems Ltd., ECI Telecom Ltd.
Quality, Personal Service, Availability
L. Eshel supplies roughly 40,000 personal, varied, kosher daily rations with spotless professionality while taking extra care to account for availability and personal treatment every client.
The company is run by a talented team of chefs and managers, among the best in the country, who are personally involved in drawing special and varied work plans for each client. L. Eshel and its management see the observance of high standards as a supreme goal in all of their activities. The company takes care to give personal and hands-on accompaniment to each client, along with around-the-clock availability and a direct real-time line to the field, from the choice of produce to the dish served to ever client. This is how L. Eshel retains its status as a national leader in catering and foodservice. In addition, the company takes particular care to vary the menu for each client permanently, to improve constantly. The building and refurbishment of menus are done under the personal supervision of a food technologist and a clinical dietician, to ensure that food served in the mess hall is delicious, varied, healthy and nutritious.
Specialties
Alongside catering service in the meat-serving mess hall, L. Eshel offers additional catering services and operates, if need be, dairy cafeteria services in a "café" style, or coffee carts in the company lobby, a fast food stall with a variety of sandwiches, brick-oven pizzas, home-made hummus and more.
Institutional Catering
L.Eshel has three decades of experience in institutional catering to a wide variety of clients all over the country.
Its institutional clients find in L. Eshel a perfect solution to a wonderful culinary experience and nutritious meals at all times of the day.
Cafeterias and Cafés
L. Eshel operates cafés and cafeterias according to its clients' needs. Inside its cafés, one can enjoy varied dairy meals, prepared from the best produce available in the country, by market-leading manufacturing companies.
Event Catering
L. Eshel provides event catering services to its clients and offers gourmet catering services as per their demands and with full accommodation to their unique needs for every event.Complimentary Services
L. Eshel provides its clients additional complementary services, including refreshments for internal meetings regularly, refreshments for company events and special occasions such as ethnic food festivals or family days attended by thousands of guests, foreign delegation events and the like.
L.Eshel Catering and Events is also responsible for supplying products for company mini-kitchens. It enjoys an excellent reputation in its field, which it takes care to preserve and nurture daily, with an uncompromising insistence on produce quality and menu quality and variety.
Prominent Clients
IEC (Israel Electric Company), Paz Oil Company, IAI, Intel, Cisco, Coca-Cola, Kodak, Policity, and more.

Our Customers
IEC (Israel Electric Company)