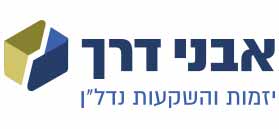 Avney Derech Y.Y Ltd.
Residential Construction and Development

Company's Profile
| | |
| --- | --- |
| Established: | 2009 |
| Line of Business: | Residential Construction and Development |
| Address: | 67 Sokolov St., Ramat HaSharon |
| Phone: | *9663 |
| Fax: | 972-3-5499421 |

Company Executives
Yair Cohen

CEO

Avney Derech Y.Y Ltd.

Yedidya Pearl

Deputy CEO and Business Development Manager

Avney Derech Y.Y Ltd.

Yaron Haim

CEO Gal Ariel

Avney Derech Y.Y Ltd.

Roi Weinberg

Avney Derech Y.Y Ltd.

Ariel Edelstein

Chief Marketing and Sales Officer

Avney Derech Y.Y Ltd.

About Avney Derech Y.Y Ltd.
Since its incorporation in 2009, Avney Derech set itself the goal of promoting Israel's real-estate field as a key for the economic growth of thousands of families in Israel.
The company is implementing a unique and original business perspective, which combines business thinking with creative and rational social thinking, and focuses on locating properties in high-growth-potential locations and turning them into economics safety nets. The numerous customers of the company serve as a living proof for its success and evidently, many of them return to buy another apartment from Avney Derech and join family members and friends in the customer base.
The Company's Operations
Avney Derech focuses on development and construction of residential projects from start to finish, most of which are located in northern Israel. It manages all of the stages, from land acquisition, through all of the planning, construction, development, marketing and sales and occupation stages, and it benefits from financial stability which enables it to locate opportunities while maintaining a robust cooperation with the Israeli banking system.
Existing and Future Projects
Avney Derech has several projects in planning and execution stages, through the execution arm of its subsidiary, Gal Ariel, amounting to more than 1,400 apartments, in the cities of Tiberias, Afula, Harish, Be'er Sheva, Beit El, Yokne'am, Alfei Menashe, and Karnei Shomron.
Alongside with bolstering the residential development and according to market trends, the company recently expanded its fields of operations and entered new activities, including extensive urban renewal operations in Tel Aviv, Holon, Bat Yam, Jerusalemת Lod and more, as well as price-capped ("Mehir LaMishtaken") projects in Harish, Be'er Sheva, Beit El, Alfei Menashe, and Yokne'am. The company completed 400 residential units and, by the end of 2019, will complete price capped units as well.
The Urban Renewal Department
The company specializes in promoting Tama 38 and demolition and reconstruction (Pinui-Binui) projects, while utilizing existing building rights and including rights under Tama 38 as amended, from the initial feasibility checks, through the submission of concrete planning proposals, support from professional expert consultants, support through the statutory process, and up to the project's construction, while providing the residents with personal guarantees, peace of mind, compliance with schedules and a secure and valuable purchase.
Gal Ariel Ltd.
Gal Ariel is a subsidiary of Avney Derech, which serves as its execution arm. It has an "Unlimited" constructor classification. The company employs leading and very experienced professionals, including engineers, project managers, execution engineers, construction supervisors, all types of construction subcontractors, and also Construction, Schedules and Control QA teams.

Projects
Yahalom, Afula HaYeruka, Afula

Topaz, Jezreel Quarter, Afula

Bareket, Mizpe Rakat, Tiberias

Shoham, Jezreel Quarter, Afula

Sapir, HaPrachim Neighborhood, Harish

Company Rankings