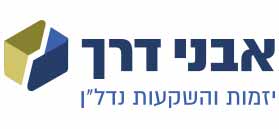 Avney Derech Y.Y Ltd.
Residential Construction and Development

Company's Profile
| | |
| --- | --- |
| Established: | 2009 |
| Line of Business: | Residential Construction and Development |
| Address: | 67 Sokolov St., Ramat HaSharon |
| Phone: | *9663 |
| Fax: | 972-3-5499421 |

Company Executives
Yair Cohen

CEO

Avney Derech Y.Y Ltd.

Yedidya Pearl

Deputy CEO and Business Development Manager

Avney Derech Y.Y Ltd.

Yaron Haim

CEO Gal Ariel

Avney Derech Y.Y Ltd.

Roi Weinberg

CFO

Avney Derech Y.Y Ltd.

Ariel Edelstein

Chief Marketing and Sales Officer

Avney Derech Y.Y Ltd.

Boaz Yaakov

VP Operations

Avney Derech Y.Y Ltd.

About Avney Derech Y.Y Ltd.
Since its incorporation in 2009, Avney Derech set the goal of promoting Israel's residential real-estate field as a key for the financial growth of thousands of families in Israel.
Avney Derech is a professional, leading real estate company that values integrity, credibility and grace as its cornerstones. The company strives to build the country, enabling financial and personal growth for families while presenting values for its clients and employees. The group's numerous clients serve as a living testament of its success, and evidently, many of them return to buy another apartment from Avney Derech and add family members and friends to the company's customer base.
The Company's Operations
Avney Derech focuses on development and execution of residential projects, located throughout Israel. The group enjoys financial stability which enables it to work on large scale projects which are completely owned by the company (100%).
The company's subsidiary – The execution branch, Gal Ariel Ltd.
Gal Ariel maintains an unlimited constructor classification. The company employs leading and highly experienced professionals, including engineers, project managers, execution engineers, construction supervisors and all types of construction subcontractors, in addition to Construction, Schedules and Control QA teams.
Current and Future Projects
Avney Derech maintains numerous apartments in both planning and in execution projects. In recent years, alongside its residential entrepreneurship, the company enlarged its scopes of activity according to market trends, and entered new activity fields, among which are many urban renewal projects. In addition, the company specializes in discounted housing projects. In 2020 the company planned and constructed 2500 residential units located in Jerusalem, Beit Shemesh, Tiberias, Afula, Harish, Be'er Sheva, Beit El, Yokne'am, Alfei Menashe, Lod, Tel Aviv, Holon and Bat Yam. During the year, 1000 residential units will be delivered.
The Urban Renewal Department
Avney Derech specializes in promoting urban renewal projects, providing the apartment owners with comprehensive services in order to improve the residents' quality of life. The de-partment provides cooperation and collaboration between the residents and the authorities in order to effectively promote the projects. Avney Derech Group, as well as the department, emphasize personal service, transparency and true cooperation, while implementing advanced technological tools.

Projects
Yahalom, Afula HaYeruka, Afula

Topaz, Jezreel Quarter, Afula

Bareket, Mizpe Rakat, Tiberias

Shoham, Jezreel Quarter, Afula

Sapir, HaPrachim Neighborhood, Harish

Odem by the park, Beer Sheva

10-16 Gonen St., Tel Aviv