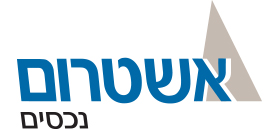 Ashtrom Properties Ltd.
A leading company for the development, construction, purchasing, and management of income producing properties in Israel and abroad

Company's Profile
| | |
| --- | --- |
| Established: | 1990 |
| Line of Business: | A leading company for the development, construction, purchasing, and management of income producing properties in Israel and abroad |
| Address: | 10 Johann Kremenezky Str., Tel Aviv, 6789910 |
| Phone: | 972-3-6231435 |
| Fax: | 972-3-6231332 |

Company Executives
Avraham (Rami) Nussbaum

Chairman of the Board

Ashtrom Properties Ltd.

Yaron Rokman

CEO

Ashtrom Properties Ltd.

View Profile

Yaron Rokman

Dudu Dola

CFO

Ashtrom Properties Ltd.

Eyal Cohen

VP of Engineering

Ashtrom Properties Ltd.

Netta Luxenbourg Naamani

Deputy CEO Business Development

Ashtrom Properties Ltd.

Idan Sigal

CMO

Ashtrom Properties Ltd.

Benny Osmo

Executive Vice President

Ashtrom Properties Ltd.

Avi Shucman

Property Division Manager

Ashtrom Properties Ltd.

About Ashtrom Properties Ltd.
Ashtrom Properties, part of the Ashtrom Group, is a leading company for the entrepreneurship, construction, acquisition, and management of yielding properties in Israel and abroad. It manages income-producing properties totaling approximately 750,000 square meters in offices, commerce, industry, and logistics that are spread across the country as well as in major cities worldwide. The company has accumulated many years of knowledge and experience in its operations, and it enjoys a great reputation and a solid financial base. Ashtrom Properties implements a long-term investment strategy, which is reflected in the self-management of its assets and ensures quality assets with a high level of maintenance for many years to come.
Ashtrom Group
Ashtrom Group is one of Israel's largest, most longstanding, and leading construction and real estate companies, which was founded in 1963 and has been traded in the Tel Aviv Stock Exchange in Tel Aviv 35 index. The group is active in 7 main fields, including contracting, franchising, industries, properties, housing, renewable energy, and international activity.
Ashtrom Properties – Areas of Activity
Offices and Employment - the company holds and manages a wide range of office buildings and employment complexes, among which are Hi-Tech, technology, and pharma sites whose tenants cover the entire professional spectrum as well as leading, global companies.
Commerce - the company holds and manages properties across the country in the fields of commerce and retail. The rich portfolio of properties includes urban commercial centers, malls, and projects combining commercial elements which are an example of the company's long-term managerial strategy.
Industry and Logistics - Ashlad Company, owned 100% by Ashtrom Properties, develops, manages, and rents about 200,000 square meters of industrial and logistics buildings around the country.
ASHTROM PORT - a project established as part of the management and service vision of Ashtrom Properties, which manages joint workspace complexes in the company's major projects.
ASHTROM PORT provides a first-of-its-kind work experience with a range of unique services that redefine the balance between life and work: business lounge, conference, and events center, FITNESS complex, which includes a gym and studio classes and well-equipped meeting rooms in a variety of sizes.
ASHTROM PROPERTIES GERMANY - the company has been operating in Germany for over a decade and holds an impressive portfolio that includes 15 properties totaling approximately 180,000 square meters in Germany's central cities, including Dusseldorf, Hamburg, Wolfsburg, Leipzig, Böblingen, Mannheim, Dortmund, and Hessen.
ASHTROM PROPERTIES UK - Ashtrom Properties' operations in the UK began in May 2019, and since then the company has completed the acquisition of three office buildings, totaling approximately 60,000 square meters, located in Liverpool, Manchester, and Birmingham.
Selected Active Properties
Hod HaSharon Towers - "Hod HaSharon Hi-Tech Park" covers an area of some 30 dunams in the Neveh Ne'eman Industrial Area. The park includes five office buildings in an overall, built-up area of some 70,000 SqM.
Outlet Center Hotzot HaMifratz - the largest commercial complex In Israel, covers an area of about 150,000 SqM, including a rich mix of stores covering all commercial categories.
Bat-Yam Mall - the largest and most significant mall in Bat Yam, owned by Ashtrom Properties and the BIG Group, includes approximately 30,000 SqM of commercial areas covering three floors and some 1,000 parking spaces.
Beit Hagavish, Netanya - located in the northern part of the industrial area in Netanya and has a unique internal space in the shape of a rotunda. The property offers a mix of uses and combines commerce, offices and storage over four floors, each covering about 3,000 square meters.
Rosh Pina Mall - located in the north of Israel, and is a special and authentic architectural gem. The shopping center has an area of 7,500 square meters with two indoor commercial floors.
Planned Properties and Properties under Construction
LYFE - the new and largest business center is located at the BBC complex and led by Ashtrom Properties and Dan Real Estate. It has a strategic location, opposite HaYarkon Park, and close to the light rail, with second to none management and services.
ASHTROM CAMPUS, Yavne - an advanced and innovative office project, designed as a "green" campus and created for employees and end-users of the leading companies in the Israeli economy. The project offers approximately 85,000 square meters of employment space in three main buildings with easy-to-divide floor areas, combining operating areas and clean production.
HaYetzira Ramat Gan - a prestigious office tower at the heart of The Stock Exchange complex in Ramat Gan, located at Aba Hillel street and HaYetzira street junction, in an overall area of 50,000 sq.m.
THE CAPITAL, JERUSALEM - the first mixed-use project of its kind in Jerusalem, which combines offices, residences, and commerce. THE CAPITAL complex was built in partnership with the Balelius Group, Eka Real Estate, and Drori Real Estate.
ASHTROM COMM-U Talpiot, Jerusalem - an innovative business complex located at the heart of revitalized Talpiot, and covers an area of about 50,000 square meters. The project provides a unique and balanced combination of business, quality, and user experience and allows you to enjoy an advanced work environment.
OLIO, Bat Yam - alongside Bat Yam's renovated mall, an advanced, mixed-use complex will be constructed, combining a residential tower, an office tower, and commercial units. Combining the new and the existing creates a synergistic mix that can appeal to a wide range of tenants, including those in medicine, aesthetics, and young professionals.

Photo Gallery