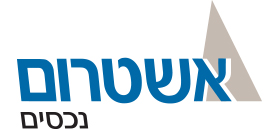 Ashtrom Properties Ltd.
A leading company for the development, construction, purchasing, and management of income producing properties in Israel and abroad

Company's Profile
| | |
| --- | --- |
| Established: | 1990 |
| Line of Business: | A leading company for the development, construction, purchasing, and management of income producing properties in Israel and abroad |
| Address: | 10 Johann Kremenezky Str., Tel Aviv, 6789910 |
| Phone: | 972-3-6231435 |
| Fax: | 972-3-6231332 |

Company Executives
Yaron Rokman

CEO

Ashtrom Properties Ltd.

View Profile

Yaron Rokman

Dudu Dola

CFO

Ashtrom Properties Ltd.

Eyal Cohen

VP of Engineering

Ashtrom Properties Ltd.

Netta Luxenbourg Naamani

Deputy CEO Business Development

Ashtrom Properties Ltd.

Benny Osmo

Executive Vice President

Ashtrom Properties Ltd.

Avi Shucman

Property Division Manager

Ashtrom Properties Ltd.

Idan Sigal

CMO

Ashtrom Properties Ltd.

About Ashtrom Properties Ltd.
Ashtrom Properties, which is an integral part of the Ashtrom Group, is a leading company for the entrepreneurship, construction, acquisition, and management of yielding properties in Israel and abroad. The company has accumulated extensive knowledge and significant experience from its activities, and it enjoys an excellent reputation and a sound financial foundation. These advantages can be seen in the quality of the company's investments in Israel and abroad which have proven themselves over the years. The company operates in local and international markets pertaining to the betterment of the company's existing properties, identifying and establishing new entrepreneurial projects and acquiring yielding properties in Israel, Germany, and the United Kingdom. The company has yielding properties approx. 510,000 SqM. spread across Israel's major cities, and major German and English cities, used by tenants needing offices, commercial, industrial, and logistical facilities. Ashtrom Properties is a public company, and has been traded on the Tel Aviv Stock Exchange (as ASPR) since 1991.
Ashtrom Group
Ashtrom Group is one of Israel's largest, most longstanding and leading construction and real estate companies, which was founded in 1963 and is managed and held by generations of several families. The Group leads vast and diverse activity in the construction and real estate field, and maintains construction companies, construction industry companies, and companies in the fields of franchising, residence and property. In addition, the Group is active in the international arena via large-scale activity in Africa, East Europe and the US. Over the years, the Group has maintained financial stability and economic strength, and has been traded in the Tel Aviv Stock Exchange in Tel Aviv 125 index.
Ashtrom Properties – Areas of Activity
Offices and Employment - the company holds and manages a wide range of office buildings and employment complexes, among which are Hi-Tech and technology sites whose tenants cover the entire professional spectrum as well as leading, global companies in the fields of Hi-Tech, pharmaceuticals, and more. Investments in this area focus on environmental development in order to enable urban open spaces (green spaces), access routes, a dynamic work environment, and more.
Commerce - the company holds and manages properties across the country in the fields of commerce and retail. The rich portfolio of properties includes urban commercial centers, malls, and projects combining commercial elements which are an example of the company's long-term managerial strategy.
Industry and Logistics - Ashlad company, which is held by Ashtrom Properties (100%), develops, manages and rents industry and logistics buildings, located across the country, mainly in the periphery. The company has diverse renters and it enjoys long term rentals due to its professional excellence.
Properties in Germany - the company has been operating in Germany for over a decade and holds an impressive portfolio of properties covering some 150,000 SqM. in Germany's central cities, including Dusseldorf, Hamburg, Wolfsburg, Leipzig, Dortmund, Leipzig, and Hessen. The companies using the properties include Deutsche Telecom, the electric company, and more. Amongst the more prominent deals completed by the company is the purchase of three office buildings in Dusseldorf, Böblingen, and Mannheim with an overall value of 335 million shekels.
Ashtrom Properties UK - in May 2019 the company completed its first acquisition of an office building of 34,000 sq.m., located in Liverpool's' business area.
Selected Properties – Existing Properties
Hod HaSharon Towers - "Hod HaSharon Hi-Tech park" covers an area of some 7.5 acres in the Neveh Ne'eman Industrial Area. The park includes five office buildings in an overall, built-up area of some 70,000 SqM.
Outlet Center Hotzot HaMifratz - The largest commercial complex In Israel, covers an area of about 150,000 SqM, including a rich mix of stores covering all commercial categories.
Bat-Yam Mall - The mall was established in 1992 by the company and its partners at the time and includes approximately 30,000 SqM of commercial areas covering three floors and some 1,000 parking spaces.
Planned Properties and Properties under Construction
LYFE - Ashtrom and Dan Business Center - the project is located at the heart of the BBC complex and combines first-class design and a strategic location, opposite HaYarkon Park, with second to none management and services. The complex includes two office towers and commercial areas covering an area of over 100,000 SqM.
Yavne Hi-Tech Park - an advanced, innovative office project, designed as a "green" campus for hi-tech companies, with some 80,000 SqM of workspace in three central buildings.
The Stock Exchange complex in Ramat Gan - the company is building a prestigious office tower at the heart of The Stock Exchange complex in Ramat Gan, located at Aba Hillel street and HaYetzira street junction, in an overall area of 50,000 sq.m.
Jaffa-Jerusalem Road - a mixed-use project constructed in partnership with the Balelius family, Eka Real Estate, and Dori, which combines residential, offices and commercial sections..
Talpiot, Jerusalem - a project combining car showrooms, commercial, and residential units on a 2.5-acre plot on the Pierre Koenig route, strategically located in Talpiot.
Liberty Tower, Bat Yam – Alongside Bat Yam's renovated mall, an advanced, mixed-use complex will be constructed, combining residential units, commercial units, and offices that will include a residential tower and an office building above a commercial ground floor center.
The company is promoting several new urban building schemes in various locations, in order to add rights and change the designation of 300,000 sq.m. (for employment, commerce and residential purposes).

Photo Gallery