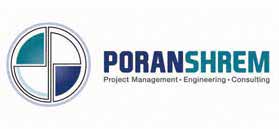 Poran Shrem
Project management; Monitoring and control of projects; Quality control and quality assurance

Company's Profile
| | |
| --- | --- |
| Established: | 2005 |
| Line of Business: | Project management Monitoring and control of projects Quality control and quality assurance |
| Address: | 5 Kineret St., BSR Tower 3, Bnei Brak |
| Phone: | 972-3-6167030 |
| Fax: | 972-3-6197145 |

Company Executives
Ami Poran

Owner & Co CEO

Poran Shrem

View Profile

Ami Poran

Shlomy Shrem

Owner & Co CEO

Poran Shrem

View Profile

Shlomy Shrem

Einat Rozen

V.P.

Poran Shrem

View Profile

Einat Rozen

About Poran Shrem
Poran Shrem specializes in management, supervision, coordination, quality control and assurance of large, complex and unique engineering projects (mega-projects); projects of national and international scale, in the fields of civil and industrial engineering, worth over NIS 30 billion. The company has taken upon itself to promote and manage projects according to PMI PMBOK (Project Management Book of Knowledge) while maintaining excellence, innovation, and efficiency. It has accrued vast knowledge and experience over the last 15 years in unique fields, through the various projects in which it has engaged. This has allowed Poran Shrem to lead and manage projects through all stages of planning, design, and construction culminating in delivery to the client. In addition, the company offers engineering consulting and realty actuary services to many bodies which require their unique services. The company was established by Ami Poran and Shlomi Shrem, now serving as joint CEOs, in 2005, and employs a staff of about 70. It is certified by the Israeli Standards Institute and meets the international ISO 9001 standard for project management and realty actuary.
Methodology
Poran Shrem has developed a unique methodology and work process at all project levels, including among other things, PMO, schedule and risk management, in support of the project manager, allowing him the time to deal with core engineering issues including all the components required for success. This methodology allows for organic integration in every project with optimal quality for clients. This combination is part of the DNA paving the road to Poran Shrem's success and prosperity.
Fields of Expertise
Poran Shrem provides, alongside the familiar elements of project management and coordination, the following additional services: • Timetable management and control • Risk management • Project contents management • Integration management • Budget management and control • Project quality management • Quality Control (QC) Quality Assurance (QA) • Procurement and contracts management • Claims management • Safety management • Environmental management – meeting "Green" building standards • Management and engineering support of funding bodies (LTA – Loaner Technical Advisors) • Full planning and management as a One Stop Shop.
Central projects
IDF Training Campus in the Negev – A DBOT project totaling 250,000 sqm, covering 2500 dunams, half of which has been developed for NIS 2 billion. As part of this project the company serves as an end-to-end project planner and control manager
The National Library in Jerusalem – A unique national building for which the company serves as project manager from planning until full delivery to the customer. The project is located in Jerusalem near the Knesset. Designed by the HDM international architects firm, the building encompasses 45,000 sqm.
Bezalel Campus, Jerusalem – This project, designed by international architects firm SANAA, in coordination with Israeli consultants is located in the heart of Jerusalem covering more than 40,000 sq.m.
Jerusalem Light Rail – The company provided the EPC contractor planning and supervision management services for building the depot, passenger stations, and transformer stations, including preparing technical literature and building a training system.
IDF Communications Campus (Kiryat Hatikshuv) – A DBOT project totaling 200,000 sqm, covering 200 dunams and worth NIS 2 billion. As part of the project, the company serves as planning manager.
Zoning plan 3,700 in Tel Aviv – A project, valued at more than NIS 1 billion involves the planning, establishing and development of a new Tel Aviv neighborhood, comprising over 20,000 housing units and over 14 km of roads and associated infrastructure.
Transit projects – The company holds diverse experience in road paving, rail laying, bridge building, tunneling and airport construction including an operations center for Israel Railways worth more than NIS 300 million, the Rosh Ha'ayin interchange and highway no. 5 public transport lanes worth more than NIS 500 million.and more.
Defense Industry Projects – The company has experience in management, planning, and control of large and complex projects for all branches of the defense establishment, computing high tech facilities, and infrastructure.
Private Sector Projects – The company has experience in building logistic centers, residential and office buildings, laboratories and data centers.
PPP Projects – In recent years the company has gained vast and unique knowledge in PPP, PFI and DBOT tender projects in design, planning, execution and maintenance stages. The company is experienced in providing services to Franchises and EPC in managing offers and planning, assurance and control.
Foreign Currency Assistance Projects – Services to the defense establishment, managing FMS projects with the U.S. Corps of Engineers (C.O.E.).
Clients
Among company clients are government ministries, public bodies and private clients, including: The Prime Minister's Office, Ministry of Defense, local authorities, the National Roads Company, Israel Railways, the Weizmann Institute, Bank Hapoalim, Discount Bank, the Israel Airports Authority, Israel National Gas Lines, Dead Sea Protection Co., Mabat Lanegev Hakama, Allied Group, CityPass, UJIA UK, Maccabi Healthcare Services, Clalit Health Services, The Fairs and Congress Center, Ahuzat Hof, Tel Aviv-Jaffa Development Co.
Green Construction and Protecting the Environment
Poran Shrem's project managers are certified to support Israel standard 5281 green building projects, and the U.S.A LEED standard.
The Human Element
The company employs engineers, architects, systems analysts, economists, assessors, administrators and IT personnel' creating a synergy that contributes towards an efficient high-quality service and end-product/ for clients. The company invests vast resources in training and manpower development to ensure its employees are the top leaders in their fields.
Partners
Ami Poran – B.Sc., Civil Engineer, Technion. Real Estate Appraiser, registration number 1240, qualified by world PMI organizations as PMP – Project Management Professional; committee member, Israel Engineers Association for Construction and Infrastructure.
Shlomy Shrem – B.Sc., Civil Engineer, Technion. Real Estate Appraiser, registration number 1459; MBA, Ben Gurion University; qualified by world PMI organizations as PMP – Project Management Professional.

Facebook Updates

Projects
TAMA 38 - 6th Chlenov St., Tel-Aviv

Leadership School "Desert Stars"

IDF Unified Supply Center

Bezalel Academy of Arts and Design

National Library of Israel

Weitzman School, Ramat Gan

Israel Railways (operational buildings in Be'er Sheva and Ashkelon)

Our Customers
Israel Airports Authority

Bezalel Academy of Arts and Design

Economic Development Company Ltd. Ramat-Gan

Maccabi Healthcare Services

Tel Aviv-Yafo Municipality

Housing & Construction Holding Company Limited

Moriah Jerusalem Development Corporation

National Roads Company of Israel

Weizmann Institute of Science

Economic Development Authority Tel Aviv Ltd.

United Jewish Israel Appeal

Company Rankings