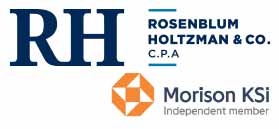 Rosenblum Holtzman & Co., Certified Public Accountants
Accounting, Taxation, Internal Auditing, SOX, Investigative Auditing, Proceedings, Information Security and Risk Surveys, Special Auditing, Arbitrations and Evaluations, Comptroller and Reports

Company's Profile
Established:
1981
Line of Business:
Accounting, Taxation, Internal Auditing, SOX, Investigative Auditing, Proceedings, Information Security and Risk Surveys, Special Auditing, Arbitrations and Evaluations, Comptroller and Reports
Address:
4 BSR Tower, 7 Masada St., Bnei Brak
Jerusalem Branch: 11 Beit HaDfus St., Givat Shaul
Tel: 972-2-6251199
North Branch: Kibbutz Tel Katzir 
Tel: 972-4-6962781
Phone:
972-3-6092020
Fax:
972-3-6091113

Company Executives
Shmuel Rosenblum

Managing Partner CPA, LL.M., CIA, CFE,

Rosenblum Holtzman & Co., Certified Public Accountants

Uri Holtzman

Managing Partner CPA, LL.M., CIA,

Rosenblum Holtzman & Co., Certified Public Accountants

Gali Gana

PA, CIA, CISA, M.A. Internal Auditing, CRMA,

Rosenblum Holtzman & Co., Certified Public Accountants

Meir Ilya

CPA, MBA, LL.M.

Rosenblum Holtzman & Co., Certified Public Accountants

Yossi Ernest

CPA (CIA)

Rosenblum Holtzman & Co., Certified Public Accountants

Haya Dagan

CPA, B.Sc.

Rosenblum Holtzman & Co., Certified Public Accountants

Hagit Kamash zluf

CPA , LL.B., CIA

Rosenblum Holtzman & Co., Certified Public Accountants

About Rosenblum Holtzman & Co., Certified Public Accountants
ISO 9001:2015
ISO 27001:2013
Rosenblum Holtzman & Co., Certified Public Accountants, founded in 1981. The firm extends a diverse range of services to its clients in the following fields - commerce and services, insurance, hi-tech, kibbutzim, kibbutz industries, banks, industry, foundations, NPOs, financial institutions, authorities, hotels, and tourism. The firm is an independent member of Morison KSi, a global network based in London and the U.S., which is ranked as one of the top ten accounting firms in the world. Its 160 branches around the world serve RH's clients. Our diverse range of services provides clients with a "one-stop-shop", assuring maximum convenience and benefit for the client organization.
Diverse Services
The firm provides a diverse range of services: audits of annual financial statements, representation before the tax authorities, taxation issues, internal auditing, information systems - risk management, cyber, information security and consultation, SOX assistance, forensic accounting, business plans, arbitration, corporate valuation, receiverships, trusteeships, due diligence, liquidations, risk management and acting as court-appointed in various issues.
Audits of Financial Statements and Representation before the Authorities - Audit of annual financial statements for companies, partnerships, kibbutzim, NPO's, municipal authorities, and government entities, and review of periodic reports, as may be required by the entity.
Tax Planning and Consulting - Keeping abreast of developments in taxation, jurisprudence, and legislation for the benefit of our clients, enabling them to take maximum advantage of tax benefits, using access to the firm's international network for global tax planning as may be required.
American Taxation - Provides American Taxation Services managed by an Authorized Tax Advisor (EA), also authorized to issue American Tax IDs (EIN/ ITIN). The dept. provides consultation and representation services concerning US authorities.
Internal Auditing - Internal audits for public companies, institutional entities, financial institutions, foundations, kibbutzim, and private corporations. Audits are carried out in accordance with Companies Law, the Internal Audit Law and other laws applicable to the audited entity. Providing assistance to internal audit departments in public corporations and entities.
Special Forensic Accounting - Designated audit, of financial and management matters, investigations, suspected misconduct, and misrepresentations. The investigations are carried out for owners and/or various authorities, after which reports are provided. If needed, testifying before the courts, support legal claims, and participation in legal proceedings.
Court Appearance in Legal Proceedings - Assistance for attorneys in accounting matters, including writing expert opinions on matters in dispute (presentations, accounting settlements, liquidations, and receiverships).
Internal Audit in Foreign Corporations - Substantial experience in conducting internal and forensic audits for foreign companies, partnerships, and entities abroad (subsidiaries, branches, joint ventures, etc.).
Risk Management and Surveys - Expertise in financial, operational and information systems risk surveys, including surveys for prevention of fraud and embezzlement, and executing enforcement and compliance plans under Israeli Securities Authority directives.
Due Diligence - Conducted jointly with the firm's finance department, which specializes in this area. This includes, amongst other things, an economic analysis of business and verification of accounting and taxation data, identifying potential exposures of the unit being surveyed.
Cyber and Information Technology - Performs information systems audits, cyber consultations, information technology, risk management, information security, computer auditing and consulting on developing information systems. The firm is ISO 27001:2013 certified (data security).
Organization and Procedures - Expertise in defining, writing and editing internal work procedures for complex organizations. Formulating internal procedures for foreign subsidiaries of Israeli corporations.
Available Services: • Enforcement programs (compliance) • Corporate valuations • Qualitative audits for internal audit departments (IIA certification)
• Information systems - audits and consultations
• Corporate assistance (incorporations/registrations/follow up) • Salaries department (salaries for senior personnel) • Ongoing consultation for corporations in financial difficulties • Arbitrations and expert professional accounting opinions
• Bookkeeping and controllership services • drafting procedures • Retirement planning • Registrations and / or liquidation of companies.
Sectorial Expertise
Industry, Commerce, and Tourism - RH has numerous clients in the industrial commercial, high-tech and tourism sectors, providing auditing services, professional and taxation advice.
Finance, Investments and Capital Markets - Professional department, focused on auditing issues related to the capital and investment market for government bodies, government ministries, investment banks, Stock Exchange members, etc. In the head of the department is a partner, licensed investment manager with vast expertise, in internal auditing and compliance.
Government Sector, Municipalities, NPOs, and Public Corporations - The firm performs audits for government agencies, government ministries, associations, and NPOs. The firm serves as an auditing CPA and as an internal auditor in nonprofits, public institutions, and several colleges, and auditor to ministries / agencies and municipalities.
Kibbutzim and Moshavim - RH provides services to kibbutzim and kibbutz factories and has extensive experience in the implementation and assistance to corporations in the kibbutz, tax planning of the kibbutz and its representation before the tax authorities. RH has a special department for internal auditing of kibbutzim and cooperatives societies.
Real-Estate and Infrastructure - Expertise in auditing (external and internal) real-estate, construction and related projects (tenders, payments, budget, etc.).
Self-Employed Parties - A consulting department for the self-employed, guidance, personal tax returns, capital declaration reports, representation vis a vis various authorities and bookkeeping services. RH also guides investors and executives on personal reporting matters and retirement issues.
Trusteeships - Representation of investors and management of trusts.

Company Rankings