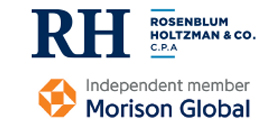 Rosenblum Holtzman & Co., Certified Public Accountants
Accounting, Taxation, Internal Auditing, SOX, Investigative Auditing, Proceedings, Information Security and Risk Surveys, Special Auditing, Arbitrations and Evaluations, Comptroller and Reports

Company's Profile
Established:
1981
Line of Business:
Accounting, Taxation, Internal Auditing, SOX, Investigative Auditing, Proceedings, Information Security and Risk Surveys, Special Auditing, Arbitrations and Evaluations, Comptroller and Reports
Address:
4 BSR Tower, 7 Masada St., Bnei Brak
Jerusalem Branch: 5 Nahum Heftzadi St., Givat Shaul, Jerusalem
Tel: 972-2-6251199
North Branch: Kibbutz Tel Katzir 
Tel: 972-4-6962781
Phone:
972-3-6092020
Fax:
972-3-6091113

Company Executives
Shmuel Rosenblum

Founding Partner CPA, LL.M., CIA, CFE,

Rosenblum Holtzman & Co., Certified Public Accountants

Uri Holtzman

Founding Partner CPA, LL.M., CIA,

Rosenblum Holtzman & Co., Certified Public Accountants

Gali Gana

Managing Partner, PA, CIA, CISA, M.A. Internal Auditing, CRMA,

Rosenblum Holtzman & Co., Certified Public Accountants

Meir Ilya

CPA, MBA, LL.M.

Rosenblum Holtzman & Co., Certified Public Accountants

Yossi Ernest

CPA (CIA)

Rosenblum Holtzman & Co., Certified Public Accountants

Haya Dagan

CPA, B.Sc.

Rosenblum Holtzman & Co., Certified Public Accountants

About Rosenblum Holtzman & Co., Certified Public Accountants
Leading Executives
Eyal Basch MBA, CIA, CRMA, Economic and Risk Management
Itzik Popper CPA Manager of the North Branch
Reut Eviatar CPA, Director of Accounting and Tax Consulting
Yiftach Alon CPA, CIA Director of Internal Audit in Kibbutzim
Eran Rave Robichek MA, CSA, CISA, ARISC, CDPSE, Information System Consultant, and Internal Auditor
Sandra Berladian BA, MA, CPA Internal Audit Director
Noam Assaf CPA, MBA, CICO Director of Information and Cyber-Systems Activities
Moriah Zivoni CPA, CISA Director of Internal Audit and Consulting
David Kaniel CPA, Manager of the Jerusalem branch, financial consulting and resource balancing
Ohad Weizmann CPA, MBA Director of Investigative Auditing
ISO 9001:2015
ISO 27001:2013
Rosenblum Holtzman & Co., Certified Public Accountants, was founded in 1981. The firm provides a variety of services to its clients in various fields: trade and services, insurance, high-tech, kibbutzim, banking, associations, and non-profit organizations, financial institutions, government bodies, real estate, and infrastructure, holding companies, corporations, public sector, transportation, government-owned companies, agriculture, hospitality, and tourism. Rosenblum Holtzman & Co., Certified Public Accountants is a member of Morison Global International, an association of independent accounting firms situated in London and the US, ranked in the top ten of the world's accounting firms. 160 branches worldwide are available to the firm's clients. The firm's main offices are in Tel Aviv, with additional branch offices in Jerusalem and Tel Katzir. Services are provided in Hebrew, English, Spanish, Russian, and French.
In addition to traditional accounting, we offer a full range of accounting services in one package to guarantee maximum benefit for the customer. For example, our expertise in accounting investigations assists in a task related to valuation. Assisting in the field of risk management may also be useful for detecting risks and exposures. Additionally, the analysis control of information systems adds value to all areas of the customer's business.
Wide range of services
Auditing annual financial statements, representing clients before the tax authorities, tax planning, internal auditing, information systems – risk management, information security, cyber, financial consulting, Sarbanes Oxley implementation, and evaluating corporate governance, Due Diligence, forensic accounting, financial valuations.
Auditing and accounting – Financial Reports- Preparing financial statements for companies, partnerships, kibbutzim, associations, NPOs, and local municipalities.
Taxation and tax reports – Update on tax innovations, rulings, and legislation, maximizing tax benefits. International tax planning according to the client's needs. Representation before the tax and social security and pre-rolling authorities. Our firm specializes in accompanying and advising on voluntary disclosure procedures.
U.S. Taxation – Department of U.S. Taxation Services led by a licensed tax advisor (EA) who is authorized to issue U.S. tax identification numbers (EIN / ITIN). Consulting and representation services with the American authorities.
Internal Audit – Providing internal audit services to public companies, institutional bodies, corporations in the capital market, associations, kibbutzim, and private corporations. The audit is performed in accordance with the Companies Act, the Internal Audit Act, and the laws applicable to the audited corporation. Assistance to internal audit departments in corporations and public bodies.
Forensic Accounting – Special investigations into financial and administrative issues, in case of suspicions of irregularities, and misrepresentations. The inspections are performed for the owners and/or for various external bodies, and at the end of them, general reports are submitted.
Representation in courts and assistance in legal proceedings – assistance to attorneys in accounting matters, including providing expert opinion on disputed matters (presentations, settlements, assistance in liquidations).
Corporate Audit abroad – extensive experience in conducting internal and investigative audits in companies, partnerships, and corporations abroad (subsidiaries, branches, joint ventures, etc.).
Risk management, risk surveys, and ESG – specialization in conducting risk surveys in the financial and operational areas, and risks in information systems, including risk surveys to prevent fraud and embezzlement and implementation of enforcement and compliance plans according to the Securities Authority's guidelines. The firm also advises corporations on ESG and the implementation and enforcement of its principles, and assistance in implementing SOX and Goshen guidelines.
Due Diligence – is performed in collaboration with the finance department of the firm. The tests include, among other things, an economic analysis of the business activity and verification of the accounting data and taxation, while pointing out potential exposures in the unit under review. The firm is prepared to conduct special audits after the investment dates to verify the presentations made.
Cyber and information systems – information systems audit, cyber consulting, risk management, information technology management, information security services, compliance with law and regulation, implementation of information systems, computer auditing, and information systems development consulting. The firm has 27001: 2013 ISO certification (information security).
Organization and procedures – specialization in outlining, writing, and editing internal work procedures for complex organizations, formulating internal procedures for corporations abroad owned by Israeli companies.
Financial consulting and valuation – the firm has a professional finance department that provides consulting services in a variety of areas, such as valuation, consulting in merger and acquisition proceedings, preparation of business plans, submission of expert opinions in legal proceedings, and more.
Private sector consulting
Consulting for self-employment, training, personal reports, capital declarations, accompaniment with the authorities, and accounting services. Accompanying investors and company managers in matters of personal reporting and retirement.
Additional services
• Enforcement plans (compliance) • Quality audit for internal audit departments (QA certification by the World Bureau of Auditors IIA) • Assistance in establishment/registration/accompaniment of a firm • Salary department (senior salaries) • Arbitration and accounting opinions • Accounting services • Wage checks • Preparation of procedures • Retirement planning • Registration/liquidation of companies • Trusts.

Company Rankings