Leonardo Group
Initiation, Construction, Urban Renewal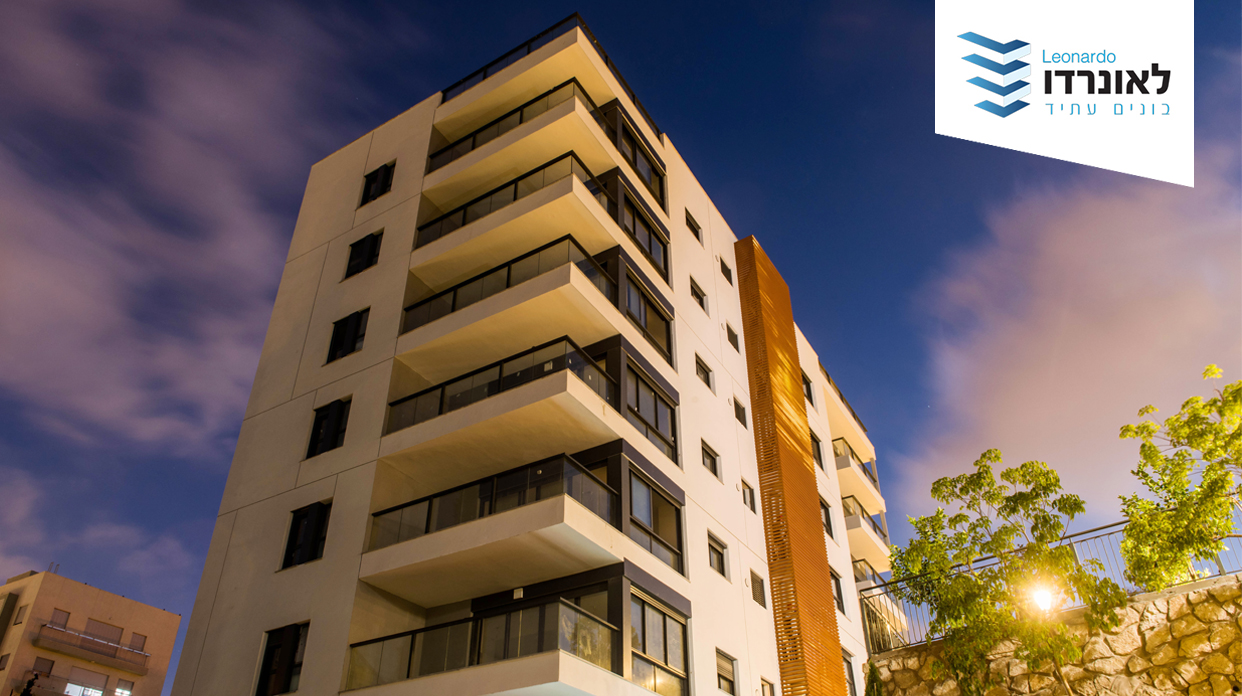 Company's Profile
| | |
| --- | --- |
| Established: | 2006 |
| Line of Business: | Initiation, Construction, Urban Renewal |
| Address: | 8th HaSadna St., Ra'anana |
| Phone: | 972-77-5306100 |
| Fax: | 972-77-5306101 |

Company Executives
Sahaf Cohen

Co-CEO

Leonardo Group

Yair Mark

Co-CEO

Leonardo Group

Zeev Mark

Chairman

Leonardo Group

Moshe (Shika) Cohen

CFO

Leonardo Group

About Leonardo Group
Leonardo redefines the urban renewal sector in Israel. As a development company that has been active since 2006 regarding development and construction. The group has taken part in hundreds of high quality projects of private, public, and commercial construction, while offering new apartments of plentiful technical detail and implementing its core values in a wide array of projects: precision, innovation, excellent service and uncompromising ambition to provide its clients with the best product in the market.
Leonardo – A Synergy between Active Development and Excellent Execution
The group's execution branch executes hundreds of residential units annually for Israel's largest development companies. The company's longstanding experience and excellent reputation doubles its power in urban renewal projects, which require much knowledge, professional experience and an activation concept which provides its clients with added value. "Leonardo"'s quality mark symbolizes its core values: precision, innovation, and uncompromising ambition to better ourselves and raise the bar of the projects in which we partake. As a part of this concept, we keep our workers safe anywhere, anytime. In addition, we ensure exceptional construction quality by choosing the best professionals in Israel, with whom we have been working for many years continually.
Dreaming and Building Big
Currently, the group's execution branch constructs large scale projects with hundreds of units being planned and constructed, both for the company's development branch, as well as for leading development companies, such as Africa Israel, Ashdar, Sufrin Group, Metropolis and others.
As the company views its human asset as highly significant, the company's team includes leading experts from various disciplines, among whom are engineers, project managers and foremen, who have been meticulously chosen and enable a chain of efficiency, excellence and devotion. All are highly experienced and uncompromisingly professional.
Leonardo on the Map
Leonardo develops and constructs projects throughout Dan Region and the Sharon area, while emphasizing development and construction in demand areas, including the cities of: Tel Aviv, Giv'atayim, Kefar Sava, Herzliya, Ra'anana, and Ramat Gan, cities in which real estate companies face real challenges, requiring vast knowledge and experience and the use of unique technological tools, which diminish the unpleasantries that accompany urban renewal projects.
Leonardo – People Who Make the Difference
The company's team and its executives view the profession as a mission that combines building the country with partaking in its development and prosperity. As a company that is a third generation to the builders of the country, the company is driven by passion and love for the Israeli construction realm. Engineer Zeev Mark, a partner, is the chairman; Sahaf Cohen - Partner- Co-CEO; Engineer Yair Mark - Partner - Co-CEO and CPA Moshe (Shayke) Cohen - CFO.
Selected Projects
45 Ben Yehuda St., Tel Aviv - Along the light railway line and several steps away from Tel Aviv's beach and promenade, Leonardo is constructing an 8-story exclusive and modern boutique building with 38 residential units.
4 Geva, Giv'atayim - At the heart of pleasant Givatayim, Leonardo is constructing a unique urban exclusive project of a 10-story building with 43 residential units, near green parks and neighborhood cafes.
5 Simtat HaMaalot St., Ramat HaSharon - In Ramat HaSharon's quiet center, among the green trees and urban greenery, a unique boutique project consisting of a 9-story building of 35 residential units.
42 Rambam, Ra'anana - Near the renowned Ostrovsky high school and within walking distance from the city center, Leonardo is constructing an 8-story building with 43 residential units.
32 Rembrandt St., Tel Aviv - In the prestigious 4th quarter near Kikar Ha Medina, Leonardo is building an exclusive 7-story boutique building with 20 residential units.
41 Macabbi, Ra'anana - In the longstanding coveted Ra'anana, in a green and pleasant street, in excellent location near education institutes and Ahuza street, Leonardo is building 2 boutique buildings with 27 residential units.
41 Herzel, Kefar Sava - A street at the heart of Kfar Sava that tells the story of this lovely city, the intimacy of a little street which is located at the heart of one of the most coveted cities in the center, a unique 7-story building with 22 residential units is being meticulously planned and constructed.
24 Etzion, Ramat Gan - a 9-story building with 30 residential units.
17 Moriah, Ramat Gan - an 8-story building with 25 residential units.
7 Klauzner, Ra'anana - a 7-story building with 23 apartments.
35 Igal Alon, Herzliya - In Green Herzliya, a building with 22 residential units.
31 Gordon, Giv'atayim - an 8-story building with 22 residential units.
7 KKL, Giv'atayim - a 9-story building with 29 residential units.

Facebook Updates

Projects
31 Gordon St., Giv'atayim

Simtat ha-Ma'alot 5, Ramat HaSharon