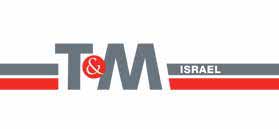 T&M Protection Resources Holdings Israel Ltd.
Security, Cleaning and Electronic Call Center

Company's Profile
| | |
| --- | --- |
| Established: | 2008 |
| Line of Business: | Security, Cleaning and Electronic Call Center |
| Address: | 7 La Guardia St., P.O.B. 1260 Tel Aviv 6101201 |
| Phone: | 972-1700-707-799 |
| Fax: | 972-3-6376939 |

Company Executives
Leading Executives
Shimon Talmor, Owner & CEO
Robert Tucker, Chairman of the Board

About T&M Protection Resources Holdings Israel Ltd.
T&M Israel Group of companies is one of Israel's foremost providers of cyber security, physical security, cleaning, electronic & monitoring as well as outsourcing services.
The Group is owned by Mr. Shimon Talmor together with T&M Protection Resources (USA) a leading N.Y. based Security Company - one of the longest-established and leading US companies, which provides security services to public institutions, companies, and individuals. T&M (USA) is owned by Mr. Robert Tucker, Pegasus Capital Advisors, and Mr. Nathaniel Rothschild.
Since its establishment, the company has acquired numerous companies in its field and with its strong & continuous organic growth has turned into one of Israel's largest suppliers in the field. T&M Israel has an annual revenue of NIS 800 million and nearly 9,000 employees throughout the country. It has six branches in Jerusalem, Sharon, Tel Aviv, Ben-Gurion Airport, Beer Sheva, and Haifa.
About the Company
T&M Israel has been established to provide expert services in Israel in its areas of operation taking advantage of its vast experience and thorough understanding of the world of security, cleaning and outsourcing.
Since its inception the company's leaders have striven to apply the highest standards of operations in every department from hiring and assigning employees, training them and the routine management.
Due to the expansion in areas of its activity over the years and the market demand, the company provides customers with an overall solution under one roof, including advanced security services, cyber protection, service center connection and low voltage installation, cleaning and maintainance and outsourcing.
The company's customers include Government Ministries, shopping malls and commercial centers throughout the country, Israel Airports Authority, the Old City of Jerusalem, the Ministry of Defense, Health Funds, Israel Gas Lines, hospitals, and sensitive security installations.
Selected & Professional Manpower
The challenges of security in Israel require a special preparedness, acquaintance with areas of activity and precise training of employees. The company's security personnel and guards undergo professional training at boarding schools where they learn security strategy which is later applied in practical training and in action.
The length of training is adapted according to the role's requirements with the more complex and sensitive jobs requiring rich and long-term training.
Cleaning division employees undergo professional training on acceptance to the staff, which is implemented regularly over time.
Employee Focused Management Values
T&M Israel believes that the quality of services provided to customers is a consequence of worker satisfaction. With this employee-focused approach, the company develops enrichment, incentive and promotion plans for its employees.
Physical Security Division
The division provides security and guarding services throughout the country through six branches managed as independent units with a professional management structure led by former commanders and security forces personnel. T&M Israel's security division is known for its proven ability to provide security services individually adapted to each customer and every requirement.
Staff includes professional security personnel, guards, security examiners, and patrols, many of which are army veterans who have undergone special training in schools authorized by Israel Police.
Cyber Security
T&M Israel has joined forces with IBM Security to offer innovative and comprehensive managed cyber security services worldwide.
At our one-of-a-kind integrated Security Operation Center T&M Israel (SOC) IBM's world leading Analysts operate IBM's latest Security Information and Event Management Technology (the QRadar) to continually monitor, detect and respond to threats.
Cleaning and Maintenance Division
T&M's cleaning and maintenance division provide an optimal response to the cleaning and maintenance requirements in commercial centers, institutions, and companies.
The division is comprised of two main departments:
Institutional Department
This department provides cleaning services to malls and commercial centers, HMO's, hospitals, government institutions, and many others. T&M Israel's cleaning and maintenance department is frequently updated regarding national and international trends and innovations in this field. The department's team is fully available in order to provide comprehensive solutions to any challenge. The department's team undergoes training, is highly oriented in customer service, dignified visibility and a high work-ethic.
Professional Department
Provides unique cleaning services including cleaning at heights through osmosis, cleaning of car parking, elevators and more. This is carried out by cleaning workers specializing in their fields of combined cleaning activities with first-rate technologies.
Institutional Department
Monitoring & Electronic Security Division
T&M Israel's Monitoring & Electronic Security Division provides 24/7 comprehensive solutions nationwide, including call center solutions, low voltage installation and technical support. The division provides high-quality and professional services to some of the leading institutes in Israel, including Bezeq, Paz Group, Dor Alon, Clalit HMO, government offices and retail chain stores.
T&M Israel's monitoring and electronic security division plans and executes large scale projects pertaining to low voltage systems installation in the electronic security and fire alarm and shielding field, including control and supervision software, recording and viewing systems, entrance control systems, intercoms and breaking and entering alarms, including according to 1337 standards.

Company Rankings