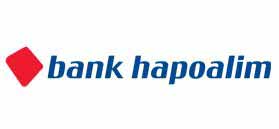 Bank Hapoalim B.M.
Poalim in the Community – When You Give with All Your Heart it Enriches Your Life

Company's Profile
| | |
| --- | --- |
| Established: | 1921 |
| Line of Business: | Commercial Bank |
| Address: | 50 Rothschild Blvd., P.O.B. 27, Tel Aviv 6100001 |
| Phone: | 972-3-5673333 |
| Fax: | 972-3-5607028 |

Company Executives
Arik Pinto

President & CEO

Bank Hapoalim B.M.

View Profile

Arik Pinto

Oded Eran

Director

Bank Hapoalim B.M.

View Profile

Oded Eran

About Bank Hapoalim B.M.
Bank Hapoalim, Israel's leading financial services group, offers diverse services ranging from basic banking to complex financing of large scale projects. During over 90 years of existence, the Bank has developed a branch network and extensive commercial activity in all areas of banking. With about 12,000 employees, the Bank Group is the leader in the Israeli banking industry in terms of corporate lending, retail and internet banking and credit card activities.
The Group also operates abroad via branches, representative offices and subsidiaries, as well as through relationships with correspondent banks worldwide.
The Bank published its financial statements for 2015 on February 29, 2016.
The net profit of the Bank Group rose to 3,082 NIS million, compared with NIS 2,713 million in 2014.
Net return on equity reached 9.6%, compared with 9.1% in 2014.
Total capital adequacy ratio in Basel 3 terms totaled 14.63% at the end of 2015, Tier 1 Capital Ratio stood at 9.63%.
For long term foreign currency activity, international rating agencies have positioned the Bank as follows: Moody's: (A2), Standard & Poor's: (A-), Fitch: (A-). In Israel, S&P Maalot, Israel Securities Rating Company Ltd., issued an (AAA) rating, and Midroog (a subsidiary of Moody's) issued an (AAA) rating.
Operations of the Bank Group in Israel
Bank Hapoalim has all the benefits of a large, solid, financial services group. The Bank's activities with the majority of its customers are handled mainly by two areas: Retail and Corporate. The Retail Area serves households, private banking and small business customers, and also provides consumer credit and mortgages through a network of about 245 branches located throughout Israel and through direct channels: Poalim Online, Poalim Mobile and Poalim by Telephone.
The Corporate Area provides service to most business customers; activities with large corporate clients are conducted by the Bank's industry-specific banking experts in its Head Office, while middle market business clients are handled in coordination through seven Business Centers and 22 specialized Business branches located throughout Israel.
The Group's subsidiaries include:
The "Isracard Group" - issues (together with the Bank), operates and markets credit cards within and outside the Bank Group, for use in Israel and abroad.
Peilim – Portfolio Management Company Ltd., operates within the Bank Group, managing investment portfolios for institutions and individuals.
"Poalim Capital Markets," operates within the Bank Group, providing a broad range of investment banking services, such as participation in private investment funds, including venture capital funds, and investments in capital funds and in knowledge and technology intensive companies.
Poalim Trust Services Ltd. – Provides trust services.
Operations of the Bank Group Abroad
The Group operates abroad via banking subsidiaries, financial companies, the Bank's overseas branches and representative offices.
Internationally, the Bank is focused on two business segments: Global Private Banking, centered in Switzerland, and Commercial Services for Israeli companies working abroad and local Middle Market customers, based in New York, with offices in Miami and Los Angeles. The Bank also serves as the gateway to the Israeli financial markets for international customers investing and doing business in the country.
Global Private Banking – The Bank provides its customers abroad with advanced professional services and products, including investment products and global asset management. This activity currently encompasses Israel, Europe, Latin America, Canada and Hong Kong through banking subsidiaries, branches, representative offices, and asset-management subsidiaries.
Commercial Banking: Most of the Bank Group's international business activity is conducted through the New York branch: Comprehensive banking services to large Israeli companies operating in the US as well as to local companies and clients, including credit, foreign trade, investments, and dealing-room services; as well as participating in syndicated credit lines organized by leading banks.
The branch is also developing its activity in the middle-market segment in the United States, by developing relationships with and granting direct credit to local commercial clients, with a clear business focus on specific geographical regions and areas of activity.
Poalim Asset Management (PAM) companies operating out of the U.K. are responsible for selecting, marketing, and providing professional support for investment products offered to Global Private Banking customers worldwide, in cooperation with leading international financial companies in these fields.
The Bank maintains ties with correspondent banks worldwide, through which it conducts international activities. These activities include foreign currency trading through dealing rooms, cooperation in foreign trade and financing of international trade transactions, project finance, clearing arrangements and capital markets services.
Poalim in the Community
The Bank's report on Sustainability and Corporate Responsibility was rated by the Global Reporting Initiative (GRI) at the highest grade of A+.
In line with its corporate vision, strategy and values, the Bank Hapoalim Group is committed to taking a leading and active role in the community alongside its business leadership and economic entrepreneurship. This activity for the benefit of the community is centered within the "Poalim in the Community" framework.
Part of this activity is also directed via the "Poalim in the Community" foundation. This commitment is reflected in numerous projects: "Poalim Volunteers" – employee volunteer projects; the "Read and Succeed" project; sponsorship of social welfare activities; donations of computers and equipment; the "Poalim for Culture and Nature in Israel"; support for cultural activity and the arts; the "From Three to Five" project; and "Matan – Your Way of Giving." The monetary value of these and other contributions to the community amounted to approximately 43 NIS million in 2015.