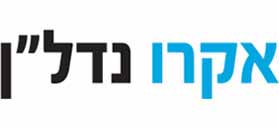 Acro Real Estate
Real Estate Development

Company's Profile
| | |
| --- | --- |
| Established: | 2006 |
| Line of Business: | Real Estate Development |
| Address: | 2 Hamanofim St., corner of 11 Hasadna'ot St., Hertzlia Pituach |
| Phone: | 972-9-9718900 |
| Fax: | 972-9-9718901 |

Company Executives
Zahi Arabov

Owner, Founder and Chairman

Acro Real Estate

Ilan Kapon

Partner

Acro Real Estate

Adv. Ziv Yacobi

CEO and Partner

Acro Real Estate

Gidi Mozes

Manager of the Urban Renewal Division

Acro Real Estate

CPA Shmulik Siman Tov

VP, Finance and Partner

Acro Real Estate

View Profile

Shmulik Siman Tov

Amir Malach

VP, Engineering

Acro Real Estate

View Profile

Amir Malach

Adv. Vered Lazar Arbiv

VP, General Counsel

Acro Real Estate

Michal Zada

VP, Properties

Acro Real Estate

About Acro Real Estate
Acro Real Estate is a leading entrepreneur real estate companies in Israel that specializes in identifying attractive investments in prime locations and upgrading them by means of branding and differentiation of the projects, thereby assuring their increased value. The company has initiated and constructed a wide array of prestigious residential, commercial, office and hotel projects, whether pertaining to classical buildings and restoration and conservation, residential neighborhoods and innovative towers, both in Tel Aviv and in prime locations in the US. One of the company's shareholders is Phoenix Insurance Ltd., which provides the company with economic and financial strength.
The vision - Acro Real Estate aims to further establish itself as one of the real estate industry's premier firms by offering the highest standards of planning, management, and execution of each project everywhere in Israel and abroad.
Management - Behind Acro Real Estate's prolonged growth and success is a progressive team of skilled professionals with expertise in finance, law, design, marketing, planning, construction, development, community relations, and property management. Working in perfect synergy, maximizing and realizing the potential of any project
Acro's Projects in Israel
• The Da Vinci Project - the company's project includes two luxurious residential towers with a total of 400 apartments, on the corner of Kaplan and Da Vinci Streets, with an additional innovative commerce and offices buildings with an area of 30,000 sq.m.
• GOLF - in the heart of the Neot Afeka neighborhood, over an area of 20 sq.m. Acro Real Estate is building a residential complex alongside commercial and office buildings. The project will include 200 apartments in 4 residential towers.
• 17 Rothschild St. - A 20-story buildings with 64 luxury apartments as part of a complex which integrates conservation and restoration buildings with office spaces and a residential tower.
• The Gymnasia Tower - in the quiet, old northern part of Tel Aviv, the project includes 30 floors and 108 apartments featuring a unique and luxurious design.
• Tel Aviv Cinema - a luxurious complex located on the former Tel Aviv Cinema site. The project covers 2 dunams and has 36 "Bauhaus" style apartments and retail spaces.
• Oro - At the highest point in Jaffa, is a 12-story building with 53 apartments. The entire building is a golden work of art, which provides its residents with a living experience combining luxury and quality of life with a modern setting and design.
• NOYA - Residential and commerce complex with 131 apartments in six buildings and preservation buildings with commerce areas.
• ALPHA TLV - A residential and hospitality tower currently under construction in the Yitzhak Sadeh complex with 200 rooms on 32 floors, a business hotel at the lower floors and 120 apartments of varying sizes at the top floors.
• Florentin Village - Acro is building a unique residential project at the eastern corner of Florentin neighborhood. The project will include approx. 170 apartments. Next to the residential project, the old building of Shuk Ha'aliya would become a unique urban country club.
• ACRO VIEW - A project in a neighborhood of north Tel Aviv, an 11-floor tower with 31 sea-view apartments.
• Sea View - An innovative business center on the western edge of Herzliya's Industrial Zone. The project has a total area of 16,000 sq.m. of commercial and office spaces, and the top floor is the house of Acro offices.
• Sea View 2 - A business center that is spread over 16,000 sq.m. and includes a tower eight floors high, with commercial and office space.
• Tower One - In Ramat Gan, on the central Abba Hillel Street, Acro is building an upscale 36-story office tower on an area of 36,000 sq.m., with a commerce floor.
• Microsoft Campus - on an area of 10 dunams in the south of the Herzliya Pitu'ach Industrial Zone, a 10-story complex with a built area of 45,000 sq.m. is being built, and leased to Microsoft Ltd.
• Acro Tower - A modernly-designed 31-floor office and commercial tower. The area is a central, strategic location in Tel Aviv on the corner of Yitzhak Sadeh and HaMasger.
• The Tel-Aviv towers, Nahalat Yitzhak - two 34-floors luxury towers with a modern, unique design, with 240 apartments.
• A Tower - At the heart of Ra'anana's industry and high-tech zone, Acro is building an 11-story office and commerce tower for a variety of uses and professions. The tower will include about 1,000 sq.m. of commerce areas.
• Leumi Tower - On the corner of Yehuda Halevi and Herzl St., Acro will build a 40-story tower, which would include residential, commercial areas, and offices. With a perfect combination of architectural luxury and modernism.
• Acro Taiber Campus - At the heart of the Kiryat Arye, Petach Tikva Industrial Zone, on an area of 50 dunams, Acro will build an office campus in a unique and advanced building.
• Visotsky - The prestigious 6 Visotsky project will be constructed in Tel Aviv's classic and enchanted neighborhood, Shikun Tzamaeret and will include 2 15-story buildings with a wide array of high-standard apartments.
• Parzon - 4 8-story designed buildings will be constructed in Yad Elihyahu neighborhood in the up and coming area of Tel Aviv, with a green garden between them.
• Acro Business Campus - is being constructed currently in the new entertainment and commerce quarter in Kiryat Ono, MY ONO quarter, and includes 3 high-standard office buildings on a 13.5 dunam area. Approx. 45,000 sq.m. of office and employment space and aprox. 4,500 sq.m. of commerce and entertainment space.
• YARD - Tel Aviv's YARD residential complex in the renewing Neve Sharet neighborhood, close to Kiryat Atidim and Ramat HaHayal. The complex will include 2 25-story towers and 2 8-story buildings, and in between, a large yard. 370 residential units will be constructed, next to 1,000 sq.m. of commerce on the ground floor.
• Bart - the new residential complex in Green Ramat Aviv, in which Acro will construct 3 5-story boutique buildings, exquisitely designed by architect Gidi Bar Orian.

Projects