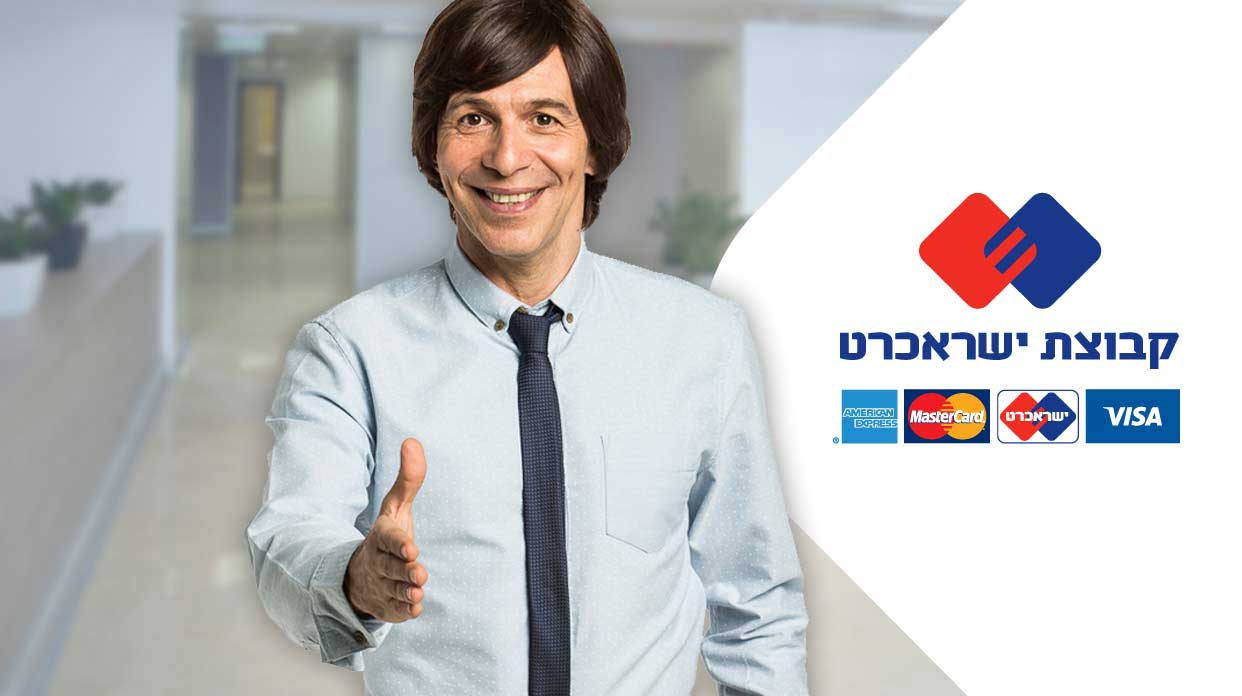 Company's Profile
| | |
| --- | --- |
| Established: | 1975 |
| Line of Business: | Credit Cards Issuance and Clearing, Credit |
| Address: | 40 Hamasger St., P.O.B. 62030, Tel Aviv 6162001 |
| Phone: | 972-3-6364636 |
| Fax: | 972-3-6895526 |

Company Executives
Eyal Deshe

Board Chairman

Isracard Ltd.

Dr. Ron Wexler

CEO

Isracard Ltd.

About Isracard Ltd.
Isracard Group is the largest and leading group in the Israeli credit cards sector. With its 44 years of experience, Isracard benefits from continuous growth in recent years, while implementing innovative products and services for both its business and private customers.
Isracard Group Issue and acquire four major payments brands – Isracard, MasterCard, Visa and American Express – which are accepted in about 100,000 businesses in Israel.
Leading in Co-Branded Credit Cards
Isracard is the Israeli leader in co-branded credit cards and manages a wide variety of retail and consumer clubs, including some of Israel's largest clubs. These collaborations include unions in companies such as Amdocs, Rafael and IAI, and the clubs of Hever, Rami Levy, Lifestyle, Hot, Ashmoret, Victory and more. This year, the Maccabi Tel Aviv Soccer Club was launched and would provide unique and experiential benefits for fans that would join the club.
Isracard operates a digital platform for creating membership cards, managing dynamic and fixed benefits, branding, advertising, and marketing. The company also has some of Israel's leading digital infrastructures for effective and focused activities for driving target populations and formulating customized value offerings.
Leading in Digital Solutions for Private Customers
Isracard is committed to meet its customers highest expectations, constantly developing new solutions thus enabling convenient, efficient, accessible and fast service at all times, anywhere, and according to their needs.
A website and an app for private customers: offers a variety of digital services, including online pin number recall, online issuance of credit cards, card loss reporting, debit order renewal and transactions review.
In 2019, Isracard launched a first-of-its-kind cooperation with Yad2 and WeCheck – an innovative venture that enables landlords to receive background checks on their tenants, guarantee rent payments and even cash them in advance.
Leading in Digital Solutions for Business Customers
A business management support website and app: Provides useful business information, such as activity trends analysis for various timeframes, businesses segmentation and more. This information enables business customers to focus their marketing efforts on accurate target populations in accordance with the analysis' conclusions.
Ezmatch: A business matching service in collaboration with E.Z. Match Ltd. The service is based on the understanding that credit clearing is a complex challenge for any business and requires business managers to navigate between various entities. The company offers a system that streamlines, improves and controls business activities, as to enable, among other things, credit card transactions monitoring and matching.
360: Isracard developed a single-platform that includes a payment page, a management interface and a fast connection to the clearing center, which is in fact an open payments platform which includes product and customer management and enables self-employed persons to present a new standard of professionalism with their clientele: send payment demands in advance, in real-time or after the transaction in any method, with a digital invoice.
Payware – Mobile Card Reader
In 2019, Isracard launched the new version of Payware, which integrates a smartphone app with a new card reader the supports the advanced CL and EMV technologies. The product enables every business to charge customers anytime, anywhere, in a secure transaction. Thus, for example, a delivery person can charge the customer on delivery.
Leading in the Variety of Credit Products
Isracard provides private and business customers with a variety of credit products to satisfy their needs and create added-value in its value offering.
Leading in Service
Isracard set itself a strategic goal: to lead in service excellence, out of an in-depth understanding of its importance to the company's business success. For this purpose, organized mechanisms of learning, improvement, and control were set, and they measure the customer satisfaction, conduct quality control and handle complaints. All in order to provide the best customer service, in response to the customers' various needs.
Expansion of Self-Service Applications and Availability in Social Networks
Isracard is investing in the development of a variety of self-service channels. Thanks to advanced digital services, customers are now able to self-service more activities than ever. Simultaneously, Isracard is integrating advanced technologies to guarantee a comprehensive service experience, anytime, anywhere, through any channel: the website, the app, social networks, interactive voice response, human response and frontal service. Soon, service through WhatsApp would also be launched.
Investing in Human Resources and the Community
Isracard Group is constantly aiming to create a pleasant, supportive and results-oriented work environment. The company prioritizes its employees and invests heavily in cross-organizational activities. In addition, the company initiates many events & activities that present to the employees their significant contribution to the business results, including pro-active encouragement of employee engagement. As an industry-leader, Isracard is committed to community service and dedicates special attention to future generations, empowering women and helping underprivileged and poor populations in Israel, as expressed in a wide variety of community service activities. The company believes that the added value of community service is strengthening is "Esprit de Corps" and the identification of the employees with the company and its values.

Company Rankings