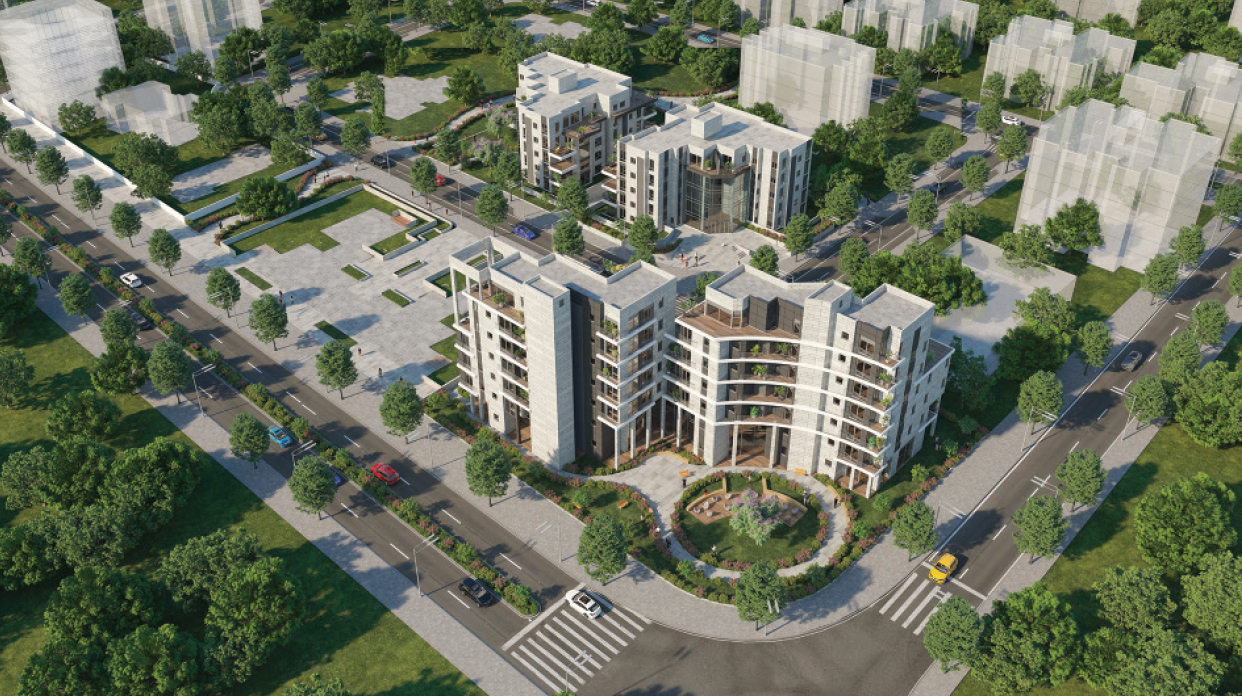 Company's Profile

Company Executives
Tal Kedar

CEO

Kedar Mivnim

View Profile

Tal Kedar

Yuval Kedar

VP

Kedar Mivnim

View Profile

Yuval Kedar

Sagie Pipskovitz

Chief Marketing and BizDev Officer

Kedar Mivnim

View Profile

Sagie Pipskovitz

About Kedar Mivnim
Kedar Mivnim is a leading private developer and construction company, founded in 1965 by Avraham Kedar (Dec.) who had more than 50 years of experience in the construction industry and received the title "Master Contractor" from the Israel Builders Association. Nowadays, the company is led by Tal Kedar, CEO and Owner, third generation of the family, together with the VP Yuval Kedar.
The company has a C5 (unlimited) construction classification, extensive proven experience with the construction of thousands of high-density apartments, upscale cottages, sports halls, and mobile structures over the past five decades. The company's unique strength stems from its status as both a developer and a contractor, that guarantee quality, responsibility and professional excellence in every project.
Financial Stability and Professional Excellence
The company, which uses advanced materials, has a backlog of lands in approval and permits proceedings, that guarantee its financial strength. Kedar Mivnim won awards, including the construction excellence and design mark awards.
The family-owned company is renowned for its warm and personal attention to its customers, its professional excellence and ubiquitous first-class standards, for which it won these awards. The combination of the financial strength with the complete responsibility as a developer/constructor guarantees the customers' peace of mind.
Construction Excellence + Design Mark
The company won the Construction Excellence Award and 1st place (nationally) for a Tama 38/1 project in Ra'anana, and a commendation and 2nd place in the Luxury Residences Category for a project in Herzliya. The company won the Design Mark Award in the Architecture category for a 4-builidng luxury project in Herzliya.
Notable Projects
Kedar Neve Zemer: Ra'anana's cutting edge, 22 buildings, 362 apartments, of which 95 are populated, 215 in active construction and 52 would be built over the next year, in a neighborhood with innovative subterranean sanitation, parks and public spaces. The municipality aims to turn this neighborhood into the new face of Ra'anana.
Kedar Glil Yam, Herzliya: A project with two 10-story luxury buildings with a total of 88 apartments. One of the few non-Mehir-LaMishtaken projects, all of its apartments are luxury apartments with a view of the neighborhood's large park. The Project is currently in marketing stages.
Kfar Saba City Center: The company built hundreds of apartments in the city's center over the past few years, and it is currently building different urban renewal and asset-swap projects as well. Some of which include: the upscale 11-apartmetns project on 2 Trumpeldor St. (3,4-room and garden apartments, luxury penthouses), projects under construction on 4 HaBanim, 4+12 Dov Hoz, 6 Aharonovich and 5 Trumpeldor Streets as well as the 3 Sokolov, 12 HaTchiya, 10-12 Rupin Streets projects, etc. that are in marketing stages, pending permits. The projects are expected to renew older areas of the city, and are located in central high-demand locations.
Herzliya City Center: The company has about 100 apartments under construction in Herzliya, on the Ibn Gabirol, Pinsker and HaSharon streets, as well as a 44-apartmetns project on 9 Gordon St.
Ra'anana City Center: The company is currently renewing the face of the city of Ra'anana. Kedar is building and will continue to built several projects over the next few years in the following streets: 28 Henkin, 1-7 Gartz, 53 Ahuza, 35 Bialik, HaYarden, 2 HaChoresh, 31 Borochov, 4 Jabotinsky, 34 Chankin, etc. Kedar also owns land reserves designated for hundreds of residential units in several areas of the city, and will lead the construction process throughout Ra'anana over the next few years.
Urban Renewal
The company, which specializes in urban renewal and particularly in demolition and reconstruction, has more than 30 projects with a total of over 1000 apartments in process which are expected to be built over the next few years in Israel's highest demand cities, including Ra'anana, Kfar Saba, Herzliya, Tel Aviv, Ramat HaSharon and Hod HaSharon. The company is promoting about 8 additional projects in Tel Aviv, including in the streets of Sharet, David Yalin, Bezalel, HaZohar, Bnei Ephraim, Kehilat Varsha and Rashi, and is expected to expand its operations in Tel Aviv. The project in 15 Rashi is a luxury project at an upscale area between HaBima and King George, in active construction (pending second floor completion), offering luxury apartments priced at NIS 6-7 million. The project on Kehilat Varsha St. includes 52 apartments with 5-room apartments with huge balconies, 3-4-room apartments, garden apartments and penthouses, in marketing with construction expected soon.
Executive Team
The CEO, Tal Kedar, has a B.A., Economics and Business Administration and is a Construction Practical Engineer (Planning and Management), and joined the company in 2006. Tal has vast experience in developing, planning, managing and executing complex real estate transactions. The Vice President, Yuval Kedar, joined the company in 2014, and is a Construction Practical Engineer (Building Management and Planning). The Chief Marketing and BizDev Officer, Sagie Pipskovitz, joined the company in 2011, and has a B.A., Economics and an M.B.A. from Bar Ilan University, and vast experience in leading investment houses.

Facebook Updates

Photo Gallery