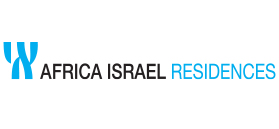 Africa Israel Residences Ltd.
Development and Construction of Residential Projects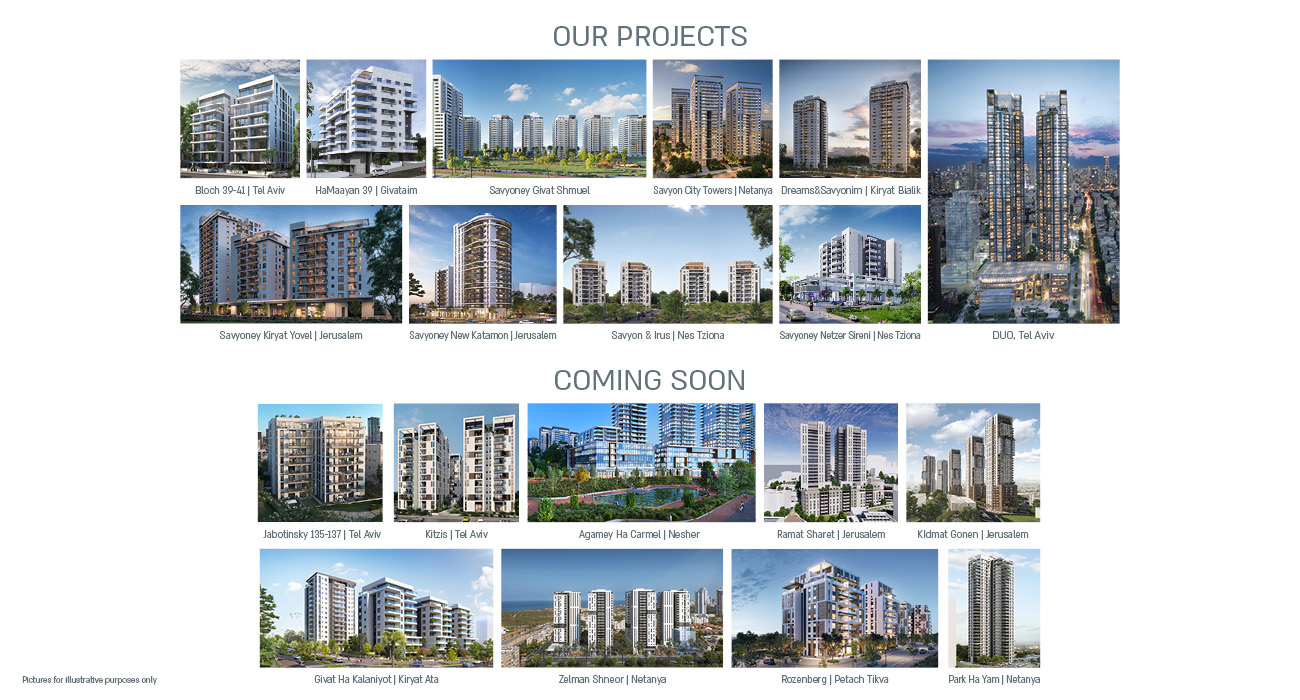 Company's Profile
Established:
1960, Public Company – IPO 2006
Line of Business:
Development and Construction of Residential Projects
Address:
1C Yoni Netanyahu St.,
P.O.B. 715, Or Yehuda 6025602
Phone:
972-3-7402555
Fax:
972-3-6339170

Company Executives
Jacob (Luxi) Luxembourg

Chairman

Africa Israel Residences Ltd.

Micha Klein

CEO

Africa Israel Residences Ltd.
Leading Executives
Aharon Frenkel CFO
Inbar Weiss VP Planning
Yossi Ben-Eliezer VP Engineering
Tamir Lulu VP Marketing and Sales
Yossi Fallach VP Chief Legal Counsel
Ronit Eshed Levy CEO Africa Urban Renewal

About Africa Israel Residences Ltd.
Africa Israel Residences has been the leader in the residential real-estate sector in Israel since it went public in 2006.
The company's activity focuses on all stages of residential project development and construction, from land acquisition through all the planning, construction, public area development, marketing, apartment sale and occupancy stages. Africa Israel Residences changed the residential culture in Israel with the creation of the Savyonim brand, meticulously planned community residential neighborhoods throughout the country under the umbrella concept of "a neighborhood that is a city". Savyonim neighborhoods offer advanced community services and landscaped surroundings, while providing residents personal security, peace of mind and a safe and worthwhile purchase. This is the reason Savyonim neighborhoods attract quality residents and ensure the asset's long-term value.
The company has also succeeded in combining prudent management and sound financial planning with a high-quality and wide-ranging project portfolio. The company's strategy is based on activity in all residential real-estate areas - from "conventional" real estate development in the Savyonim neighborhoods, through the Mehir Lemishtaken apartment purchase program, to extensive activity in the various government initiated residential programs, among them long-term rental apartments, various National Outline Plan projects (TAMA) and a focus on large evacuation-construction urban renewal projects (pinui-binui).
The company decided to concentrate a large share of its activity on luxury housing. This includes the DUO TEL AVIV project located between Ibn Gabirol, Arlozorov and Ben Saruk streets. The company also chose to expand its activity to income yielding properties, including commercial and office real-estate in various cities, among them Jerusalem, Modiin, Tel Aviv, Givat Shmuel and Netanya.
The Savyonim Brand
The Savyonim brand, Africa Israel Residences home brand that is identified with the company's activity, emerged from the understanding that customers are not only looking for a beautiful apartment at an attractive price, but rather for added value reflected in quality of life and a rich residential experience. At the heart of the Savyonim brand is the goal of building meticulously planned residential neighborhoods that provide a high-quality community residential experience. Not just a single building, but rather dynamic and vibrant neighborhoods with expansive public spaces that provide access to community services within walking distance, quality residents, a green park, a safe space for children to play and much more.
For their residents the Savyonim neighborhoods are synonymous with a high-quality residential experience and meticulous high standard construction, alongside uncompromising service. Therefore, to this day the Savyonim neighborhoods are considered to be one of the transformational factors in several cities in the Ono Valley area, the most notable of which are the longstanding neighborhoods of Neve Savyon in Or Yehuda and Kiryat HaSavyonim in Yehud.
Current and Future Projects
Africa Israel Residences has an abundance of projects in the planning and construction stages in the scope of about 3,300 residential units throughout the country (including the partners' share), from which the company is currently building and marketing about 2,400 residential units. Last year the company continued to focus on diversifying the mix of apartments it markets. Thus it markets in high demand cities such as Harish, Kfar Yona, Givat Shmuel, Netanya and Rishon Lezion, while beginning additional stages in the Savyoney Harish, Givat Shmuel and other projects. It also markets Mehir LaMishtaken (Government Price-Capped) projects in Rishon LeZion, Glil Yam and Shoham, as well as entering the income yielding properties market through investments in areas planned for commercial and office uses. While strengthening the Savyonim brand, and in line with market trends, the company expands its product offering from time to time by locating new development and investment niches. Thus it entered the Mehir LaMishtaken program in the Glil Yam neighborhood in Herzliya, Rishon LeZion, Shoham and Nes Ziona, and long-term rental housing with the Savyoney Glil Yam project in Herzliya. It is beginning a rental housing project in Shoham and purchased land for an additional rental housing project in the Mordot Arnona neighborhood in Jerusalem.
The company also operates in the urban renewal field through its subsidiary, Africa Urban Renewal, and the Savyonei Ha'ir brand. Based on its business strategy the company continuously looks for new plots of land in order to build additional residential neighborhoods and commercial and office projects, as well as to expand its activity, and will continue to broaden its activity in the coming years.
Africa Urban Renewal
African Urban Renewal, a fully owned Africa Israel Residences subsidiary, specializes in promoting evacuation and construction (pinui-binui) projects as well as National Outline Plan (TAMA) 38/2 demolition and rebuilding/ evacuation-construction/partial sale combination projects, while taking advantage of existing building rights, including rights by virtue of TAMA 38 regulations and their amendments.
Africa Urban Renewal leads the renewal field owing to the extensive experience and professional knowledge it has gained, and the overall scope of its current projects is among the largest in the Israeli market. The company has at its disposal vast professional knowledge in a wide range of areas, among them financing, licensing, engineering and construction, as well as extensive financial resources and high-quality human capital. This in addition to a resident service department that personally accompanies the residents of a complex, from start through post-occupancy. Africa Urban Renewal currently markets about 10 TAMA (National Outline Plan) demolition and construction projects, as well as the first evacuation-construction project in Netanya. In total the company is promoting more than 40 projects, among them in Netanya, Herzliya, Jerusalem, Ramat Gan, Givatayim, Tel Aviv, Haifa and Be'er Sheva, of which 8 projects have already been populated. The company recently expanded its activity in Jerusalem with its entry into the Kidmat Gonen project in the Katamon neighborhood with more than 1,000 residential units.
Success Factors
Africa Israel Residences is considered the best and most reliable real-estate company in Israel year after year owing to its size and long-standing experience, providing the advantages it needs in order to operate in a competitive environment. The company enjoys financial robustness alongside cash liquidity, and has tens of projects and land reserves in high demand areas. This alongside a professional and skilled team dedicated to quality, innovation and creativity in all areas: marketing, planning and engineering, and is committed to the company's success and to providing the utmost benefit to its customers.
Contribution to the Community
The company is part of the community in the neighborhoods and cities in which it builds and acts to promote activities for the benefit of the public.

Projects
Savyoney Glil Yam, Herzliya

Savyoney New Katamon, Jerusalem

Savyoney HaSharon Kfar Yona

HaSavyonim Complexes, Rishon LeZion

Savyon City Towers | Netanya

Savion's Hills | Kiryat Ata

Jabotinsky 135-137 | Tel Aviv

Dreams&Savyonim | Kiryat Bialik

Savyoney Netzer Sireni | Nes Tziona

Savyon & Irus | Nes Tziona

Savyoney Kiryat Yovel | Jerusalem

Savyon Boulevard, Petah Tikva

Company Rankings