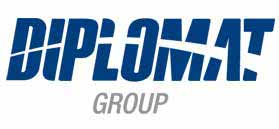 Diplomat Distributors (1968) Ltd.
Distribution of FMCG - Personal & Household Care Products, Food and Beverages.

Company's Profile
Established:
1968
Line of Business:
Distribution of FMCG - Personal & Household Care Products, Food and Beverages.
Address:
Hahermon St., Airport City 7019900,
P.O.B. 124, Ben Gurion Airport 7010000
Phone:
972-3-9766666
Fax:
972-3-9766715

Company Executives
Noam Weiman

President & CEO Diplomat Group

Diplomat Distributors (1968) Ltd.

View Profile

Noam Weiman

About Diplomat Distributors (1968) Ltd.
Diplomat is a global Sales and Distribution company working in the FMCG sector. From a local company, Diplomat has grown to become a global concern. Its rapid successful global expansion was facilitated by Procter&Gamble's invitation to partner with them. Diplomat has five fully owned Business Units, operating in Israel, Georgia, South Africa, Cyprus and New Zealand. All Business Units began operating as the official and exclusive distributors of P&G, expanding into other FMCG categories, such as Food and Beverages. All Business Units are built on the proven customer-centric strategies, best in class processes and experience, adapted to the different market structure and needs, utilizing the Group to leverage the operational and organizational excellence. Most of the Business Units use SAP's business management enterprise system, to ensure maximum efficiency in the distribution process and resource management.
In March 21, the company went public and traded in Tel Aviv stock exchange (TASE).
Diplomat Israel
Diplomat Israel is the leading Sales and Distribution Company in Israel, for Fast-Moving Consumer Goods (FMCG), including Personal and Household Care, Food products, frozen and chilled products, a dedicated culinary division for the HoReCa segment, and an operation for Value Added services. Since 1968, the company has been officially distributing an impressive portfolio of international and domestic brands, while offering the most advanced processes in Supply Chain management, full or partial, by a highly skilled staff and sophisticated IT and logistic infrastructure, ensuring the highest quality standards. The company offers marketing capabilities in developing brands and adapting global strategies to the local markets.
Diplomat Culinary specializes in the restaurants, hotels and catering fields, offering its customers a large variety of quality products and materials from around the world. The Division provides an added value of culinary and commercial expertise, based on years of knowledge, experience and understanding, in order to best address each customer's needs and improve their culinary experience. The distribution set up covers around 3,000 retail sale points and about 900 customers in the institutional market (HoReCa). Diplomat Israel uses SAP system and EWM software. In Diplomat, there is a Value-Added services operation that provides leading solutions in the field of packaging and wrapping, with the highest quality and speed of execution. The operation includes the most advanced machines in the field, innovative technology and a professional team. The company has one huge distribution center of 30,000 sq.m., located in Airport City, adjacent to Ben-Gurion Airport and major highways.
Key business partnerships:
P&G, Mondelez, Kellogg's, Star-Kist Food d'Or, Upfield, Pringles, JDE-Jacobs coffee, Heinz, Wella, Duracell, Nutrilon Teva-babyfood by Nutrichia, Kikkoman, Lotus Bakers, Hormel Skippy, Bio Pet.
Diplomat Georgia
Diplomat Georgia, started its journey in 2008 with passionate team of professionals, P&G portfolio and small selection of local vendors. Within several years Diplomat Georgia has become one of the largest and most advanced distribution companies in the market. New distribution center in Tbilisi opened in 2014, consolidating supply chain operations into large distribution space on the area of 10,000 square meters.
The center is fully equipped with superior logistics infrastructure and modern functionality. Diplomat Georgia uses SAP system and WM software.
Since then company progressed astoundingly with a driven team of 600+ professionals and two branches, one in Tbilisi, the east and another in Samtredia, the west. Through pre-selling sales channel, the distribution layout reaches 8,500 customers directly. With the costumer centric and result-oriented approach, company delivers quality results with integrity and transparency. It makes Diplomat Georgia trusted partner for international vendors, as well as for local brands.
Key business partnerships:
P&G, Nestle, Blue Drinks International, Kellogg -Pringles, SIA Karavela-Kaija, Sucrazit, Badagoni, Glavproduct, Global Spirit Group, Gomi alcohol company, Dugladze Wine Company, Kula, Geoplant - Gurieli Tea, private label Henry's Kitchen's tuna, Thai Union Manufacturing, Elino,Wella, Fater - ACE & Comet, Duracell.
Tel: + 995 32 291 9293
Diplomat South Africa
In 2010, Diplomat entered South Africa's huge market. The company has four distribution centers across the country, designed to provide full coverage of market needs: In Johannesburg, an advanced logistics center of 10,000 sq.m., With the balance of distribution centers located in Cape Town (6,500 sq.m) Durban (3,900 sq.m.) and Port Elizabeth (1,300 sq.m.) The total storage capacity of the warehouses combined is 18,000 pallets. The company currently employs over 800 employees. Diplomat South Africa uses SAP system. The distribution layout goes to approximately 2,000 direct customers and 20,000 indirect customers in the Independent and Traditional trade, and limited Modern trade.Mondelez, P&G, Glenryck, JDE-Jacobs Douwe Egberts Coffee, Red Bull, Philips, Promasidor, HYPE.
Key business partnerships:
P&G, Mondelez, JDE-Jacobs Coffee, Philips, Red Bull.
Tel: + 27 27 87 284 2700
Diplomat Cyprus
In October 2011, Diplomat started its operation in Cyprus, through one distribution center located in Nicosia reaching about 900 points of sales directly, as well as sub-distributors to key supermarket chains, pharmacies, grocery stores nationwide, convenient stores &kiosks. Diplomat also runs Van-sell operation in small PM stores focus on tourist areas.
Diplomat Cyprus's vision is to further expand in the market, by offering high-quality standards of service to its customers in order to become the leading distribution company in Cyprus.
Key business partnerships:
P&G, Duracell, Manna - Rusk manufactures, Mutti - canned tomatoes. Smart food – popcorn, Mezete Humus.
Tel: + 357 22 210900
Diplomat New Zealand
In April 2016 Diplomat started its operations in New Zealand as the exclusive distributor for P&G. The organization has a full local leadership team, to provide high flexibility to satisfy customer needs at Store and Head Office level. The sales and category management teams are built to provide a full customer-centric understanding , as well as continuous insights and data analysis. The company covers directly the Grocery and Pharmacy channels with a weighted coverage of 85%.
Key business partnership:
Procter & Gamble, Duracell, Mezete, Lotus,.
Tel: + 64 9 477 6400
A Commitment to Growth
The Diplomat Group has made a commitment to grow,wherever it operates, by expanding to new categories, sectors and territories, mergers and acquisitions, identifying new business opportunities, across the globe.

Company Rankings