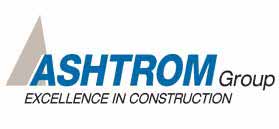 Ashtrom Group
• Construction of Large Scale Building Complexes and Infrastructures Including P.P.P, D.B.O.T, B.O.O and P.F.I Schemes in Israel and Overseas • Real Estate Development, Marketing and Sale of Residential and Commercial Projects • Initiation, Procurement and Management of Income Generating Properties in Israel and Overseas • Planning, Manufacturing, Marketing and Sale if Industrialized Elements, Raw Materials and Complementary Products for all Construction Industries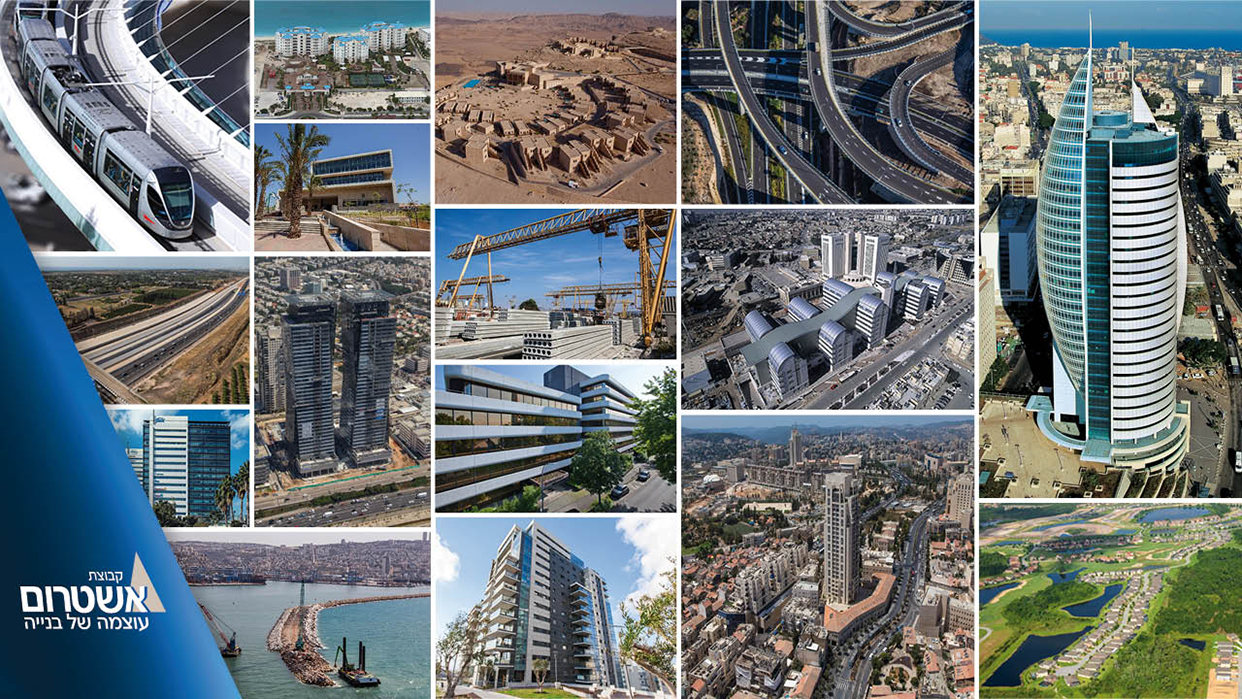 Company's Profile
| | |
| --- | --- |
| Established: | 1963 |
| Line of Business: | • Construction of Large Scale Building Complexes and Infrastructures Including P.P.P, D.B.O.T, B.O.O and P.F.I Schemes in Israel and Overseas • Real Estate Development, Marketing and Sale of Residential and Commercial Projects • Initiation, Procurement and Management of Income Generating Properties in Israel and Overseas • Planning, Manufacturing, Marketing and Sale if Industrialized Elements, Raw Materials and Complementary Products for All Construction Industries |
| Address: | 10 Kremenetski St., Tel Aviv 6789910 |
| Phone: | 972-3-6231212 |
| Fax: | 972-3-6231213 |

Company Executives
Avraham (Rami) Nussbaum

Chairman of the Board

Ashtrom Group

Gil Gueron

Managing Director

Ashtrom Group

Yaron Meshorer

Deputy Managing Director - Construction & Concessions

Ashtrom Group

Alex Lifshitz

Deputy Managing Director - Industries & Administration

Ashtrom Group

Oren Nussbaum

Deputy Managing Director - Finances & Business Development

Ashtrom Group

About Ashtrom Group
The ASHTROM GROUP, one of Israel's leading construction and real estate companies, has set as its cornerstone a commitment to the provision of professional and comprehensive solutions for its customers, from top to bottom. Ashtrom, traded on the Tel Aviv Stock Exchange (ASHG) and TA-125, was founded in 1963, and since then has been running its subsidiaries in an optimal manner to generate the utmost value for its varied activities in Israel and worldwide.
Excellence in Construction
For 55 years the ASHTROM GROUP has been a leader in the construction and real estate fields and its history is intertwined with the development of the State of Israel as well as other parts of the world. In the course of five and a half decades, Ashtrom has built around 115,000 housing units, some 1,000,000 sq.m. of commercial areas, offices, hotels and public facilities, about 1,800,000 sq.m. of business and industrial buildings, together with national and international infrastructure mega-projects. Right from the outset, the ASHTROM GROUP has been nurturing in its employees the aspiration for initiative and innovation, reliability and professionalism, based on high and uncompromising standards. The spirit of excellence instilled in generations of Ashtrom employees combined with its substantial and continued financial robustness are at the bottom of the Group's vigor for many years to come.
Ashtrom Construction in Israel
The ASHTROM GROUP operates in Israel directly and through companies involved in all aspects of construction and infrastructures, holding all required classifications and possessing financial capabilities for the entire range of such projects. Ashtrom construction companies adhere to a scale of values based on a high standard of construction by employing skilled and professional personnel, with a firm commitment to meeting budgets and schedules, undivided attention to customer satisfaction, and strong environmental awareness.
Construction
The Group operates countrywide and via companies such as Ashtrom Engineering and Construction, Ashtrom Jerusalem and Ashbat, handling a wide range of projects including luxury towers, residential developments, office buildings, hotels, commercial and industrial facilities. The ASHTROM GROUP is a pioneer in industrialized construction in Israel. Its Ashcrete Plants in Ashdod produce prefabricated elements for a wide range of private and public companies in the construction, infrastructures, logistic and defense industry fields. The plants also manufacture transportable structures and various industrialized elements for M.L.T, which specializes mainly in the design and construction of all types of educational buildings to tight and efficient schedules. The ASHTROM GROUP also specializes in complex underground operations through Base-Pile, which carries out all types of foundation construction and groundwork.
Selected Projects: Alon Towers and Suzuki Tower, Tel Aviv; Gymnasia and 17 Arlozorov Towers, Tel Aviv; Carmei Gat, Kiryat Gat; Carmei Hasharon, Kfar Yona; Trio Project, Haifa; Saidoff Houses, Jerusalem; Beresheet Hotel, Mitzpe Ramon; Orient Hotel, Jerusalem; High Tech Park, Hod HaSharon; Tara Plant, Netivot.
Infrastructures
The ASHTROM GROUP undertakes major land, air, and maritime transport infrastructure projects for governmental and private entities such as Israel Ports Company, Israel Airports Authority, Israel Railways, Netivei Israel, Highway 6, local authorities and B.O.T projects in all parts of the country.
The ASHTROM GROUP is participating in the construction of HaMifratz Port in Haifa, with a budget of some NIS 4 billion.
Through its Drachim subsidiary, the Group has laid the apron and runway system at the new Ramon Airport in Timna, as well as roads and interchanges around the country.
Selected Projects: Highway 531 North; Netivot Goral Rail alignment section; Carmel Tunnels; Jerusalem Light Rail Project; HaYovel Port, and Marina Projects in Ashdod, sections of Highways 6, 4 & 90.
Ashtrom Industries
Ashtrom Industries, through its subsidiaries, is engaged in the production, marketing and sale of specialized raw materials, products, and supplements for the construction industries.
Ashtrom delivers to its customers high-quality materials and professional and technical solutions, all meeting SII standards.
Companies Operating in this Field:
• Israbeton - One of Israel's leading companies in the manufacture and supply of ready-made concrete products, owning a fleet of mixers and concrete production facilities countrywide.
• Netivei Noy — Offers a wide range of environmental development products, including all types of interlocking paving stones, kerbstones and garden pavers, cladding elements and special decorative concrete.
• Ashkalit 268 — Markets white blocks for green construction, light in weight and having a high level of thermal and acoustic insulating properties.
• Ashbond — Manufactures and supplies gypsum blocks for advanced interior partitions of prestigious residential and business projects.
• B.G Technologies — Specializes in the development, manufacture & marketing of supplementary products for finishing and painting operations, providing solutions for adhesion, cladding, decorative coatings and concrete additives.
• Itumit — Supplies sealing and insulation products and concrete spraying solutions for all types of complex projects and structures.
• Netivei Edomit & Sorek Quarrying — Providing a wide range of quarried and crushed materials for concrete and asphalt blends for the construction and infrastructures industries.
• Zahavi Atzmon — Imports and markets stone, marble and ceramic products, parquet and a variety of sanitary ware countrywide.
Ashtrom Concessions
The ASHTROM GROUP carries out large-scale transport enterprises, public and governmental buildings and rental housing schemes specializing in P.P.P, D.B.O.T, B.O.O & P.F.I type concession projects. These projects are based on close cooperation between the private and the public sectors and the financing entities. Ashtrom Concessions owns about 1,200 residential units for rent in various stages of completion, in Israel's three major cities: Neot Peres in Haifa, The Gadna and Mashtela projects in Tel Aviv and Kiryat Yovel in Jerusalem.
Ashtrom is about to complete the courthouse in Bat Yam-joining 4 other courthouses which the Company has already built and maintains. Ashtrom is also in the final stages of the Ben-Gurion University students' halls of residence.
The Company usually undertakes the planning and construction of these large-scale concession projects, such as the Jerusalem Light Rail Project and the Carmel Tunnels, as well as operation and maintenance throughout the concession period.
Ashtrom International Operations
The ASHTROM GROUP has been active for about 50 years in a variety of construction and infrastructure projects overseas, through subsidiaries incorporated under Ashtrom International.
Main activities abroad:
Construction & Infrastructure – Ashtrom has a wide range of projects in the construction of housing, offices, hotels, hospitals and public buildings. The Company has gained experience in large-scale infrastructure projects, such as the construction of highways, bridges, airports, water and sewage treatment facilities and fuel depots.
Ashtrom has begun the construction of some 120,000 sq.m of housing units and public facilities in Zambia and a major hospital in Zambia's capital. The Company is also endeavoring to win further projects in other countries.
Residential Development – Ashtrom is highly active in entrepreneurship and the development of housing estates in the USA; its flagship project is the Oakhills development in Orlando, Florida, including land for thousands of residential units, in advanced stages of development, construction and marketing of luxury houses and self-building lots.
The Company has also started a unique housing development in Porto, Portugal.
Income Generating Real Estate in Eastern Europe – Ashtrom opened a luxurious commercial center and hotel complex, in the center of Belgrade, Serbia.
The Company also owns and manages several income-generating properties in Romania and Bulgaria, such as the Hali market in Sofia.
Ashtrom Properties
Ashtrom Properties, part of the ASHTROM GROUP, traded on Tel-Aviv Stock Exchange (ASPR) and TA-125, leads in the initiation, procurement, and management of yield bearer properties both in Israel and Germany. The Company procures and develops income generating properties accommodating commercial, industrial and hotels facilities covering a total of 510,000 sq.m. Ashtrom Properties has a long-term reputation and has one of the most stable financial positions in the sector, providing high quality and efficient management and maintenance services for assets in its possession. The Company also holds an investment in the Jerusalem Light Rail Project.
Selected projects: V-Tower and "LYFE" Complex, Bene Berak; Bat Yam Mall; Hutzot HaMifratz Outlet, Haifa; Hod HaSharon Hi-Tech Park; Government Complex, Beer Sheba; Amdocs Park, Negev.
Properties in Germany: Ashtrom Properties possesses an extensive 180,000 sq.m. of office buildings in Germany. The Company acquires, develops and manages properties mainly in Dusseldorf, Leipzig, Frankfurt, Hamburg, Wolfsburg, Boblingen, Mannheim, Dortmund & Essen.
Ashdar
Ashdar, part of the ASHTROM GROUP, is a leading development firm engaged in the initiation, marketing and sale of high-quality residential projects countrywide. Ashdar sells hundreds of units per year and has thousands of units in various planning stages. The Company places great emphasis on planning its buildings with high environmental orientation. Ashdar is a leader in urban renewal projects, participating in the initiation, planning, and marketing of a wide range of Pinui-Binui and Tama 38 projects - carried out by "Ashdar Boutique".
Selected Projects: Ashdar Harish; Ashdar in Tirat HaCarmel; Agamim Project, Netanya; Ashdar, Kfar Yona; Ashdar Monoson; Lev Ganei Tikva; New Krinitzi, Ramat Gan; Ashdar Kiryat Motzkin; Ashdar Kiryat Eliezer, Haifa; Recanati and Tagore, Tel Aviv.

Projects
Arlozorov Tower, Tel Aviv

Twin Cities Park, Rishon Lezion

Rental Complex, Kiryat Yovel, Jerusalem

Office Complex, Essen, Germany

Mall & Hotel, Belgrade, Serbia

Company Rankings