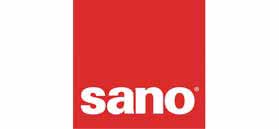 Sano-Bruno's Enterprises Ltd.
Manufacture, Development and Marketing of: Cleaning Products for Household, Industrial and Personal Use; Pesticides; Insect Repellents; Diapers; Toiletries and Cosmetics; Household Papers

Company's Profile
| | |
| --- | --- |
| Established: | 1965 |
| Line of Business: | Manufacture, Development and Marketing of: Cleaning Products for Household, Industrial and Personal Use; Pesticides; Insect Repellents; Diapers; Toiletries and Cosmetics; Household Papers |
| Address: | Neve Neeman Industrial Zone, Hod Hasharon 4524083 |
| Phone: | 972-9-7473222 |
| Fax: | 972-9-7473233 |

Company Executives
Bruno Landesberg

Founder

Sano-Bruno's Enterprises Ltd.

Alexander Landesberg

Vice Chairman of the Board of Directors

Sano-Bruno's Enterprises Ltd.

Yuval Landesberg

CEO

Sano-Bruno's Enterprises Ltd.

About Sano-Bruno's Enterprises Ltd.
Sano Bruno's Enterprises Ltd. is Israel's leading manufacturer of non-food items. Sano corporation's plants manufacture hundreds of quality products in a variety of areas: household cleaning products, insecticides, paper products, toiletry and hygienic products. The company markets the widest variety of cleaning solutions for the household, industrial and institutional sectors in Israel. Sano put special emphasis on the value provided to its consumers, by developing innovative high-quality solutions, preserving the environment. Sano products and brands are among the leading at the Israeli market. In 1965 Bruno Landsberg founded Sano Bruno's Enterprises for the manufacture of cleaning products. Since 1982, the shares of Sano Bruno's Enterprises have been traded on the Tel Aviv Stock Exchange.
Marketing and Sales
Sano markets its products in Israel to the retail market, through the Southern Marketing Company Ltd. (SMC), which is one of the largest distribution organizations in Israel, reaching all the marketing chains and thousands of retail points of sale. Sano Professional Ltd. markets to the institutional market, including public institutions, hospitals, hotels, event halls and community organizations. SMC and Sano Professional Ltd. market hundreds of products to thousands of customers, operating independently as Sano's marketing and distribution arm.
Impressive Performance
In 2021, company sales reached approx. $566 million. Consumers con­sistently prefer Sano's products over inter­national brands. As a result, Sano commands approx. 20% overall combined market share in the home care and personal care non-food FMCG categories.
Sales abroad and export account for about 11.6% of the company's sales.
Preserving the Environment
In order to keep our world clean, Sano makes hugs efforts to ensure that its products do not damage the environment. All the company's products meet the strictest international environmental standards and even beyond them. The company was one of the first worldwide to launch to the market aerosols that do not harm the ozone layer. The reusable bags that Sano provides for several of its leading products reduce the volume of home garbage and use of raw materials for packaging by dozens of percent. Sano has launched a series of ecological cleaning products including Sanoclear liquid for windows cleaning and shining, Sanobon liquid for toilet cleaning, floors, and general cleaning liquids. Sano's ecological products bear a green standard, granted by the Standards Institution of Israel in cooperation with the Ministry of the Environment. Sano has the platinum label of the Standards Institution of Israel including ISO 9001-2008 systems for quality management, ISO 14001-2004 for environmental management and OHSAS 18001-2007 for occupational safety and health. Sano also stands in the forefront of plants approved for multi-standard management systems in Israel.
Quality Promoting Research
Sano operates one of the most advanced R&D departments in the world, developing dozens of new products annually. Sano takes into consideration the needs of the market and the customers and pays special attention to innovativeness, quality assurance and strict packaging of the products. Sano's quality management system was qualified for the requirements of ISO 9001:2008 and is one of the most advanced in Israel, including several laboratories which examine each product before it leaves the plant. Each of the hundreds of products of Sano was developed and perfectly adapted to the Israeli climate, keeping high quality and preserving the environment. Hence, local consumers constantly prefer Sano's products over international brands.
Wide Products Variety
Sano puts at the disposal of the Israeli public hundreds of products from various fields:
• Cleaning materials and detergents: cleaning materials, window cleaners, bathroom cleaners, floor cleaners, oven cleaners, dishwashing products.
• Air fresheners: floor polishers and anti-scale materials.
• Insecticides, repellents for crawling and flying pests.
• Carpet and fabric cleaning materials, ironing accessories.
• Paper products: kitchen and toilet papers, plastic bags and tin foil.
• Toiletries, baby and adult cosmetics and hygiene products: hair shampoo and conditioner, body lotions and creams, soap, baby creams, and shampoos.
International Activity
Sano markets its products overseas through fully owned subsidiary Sano International Ltd. for over 20 years, distributing its products in more than 40 countries worldwide. Sales abroad are under the Sano brand. The company's foreign subsidiaries distribute and market Sano products. The countries in which the subsidiaries operate are Romania, Ukraine and Bulgaria in other countries Sano International market its products through distributors.

Photo Gallery

Sano-Bruno's Enterprises Ltd. | Graph
PR Photo

Company Rankings