Azorim Investments in Development and Construction Company Ltd.
Residential real estate, Yielding real estate, rentable housing, and urban renewal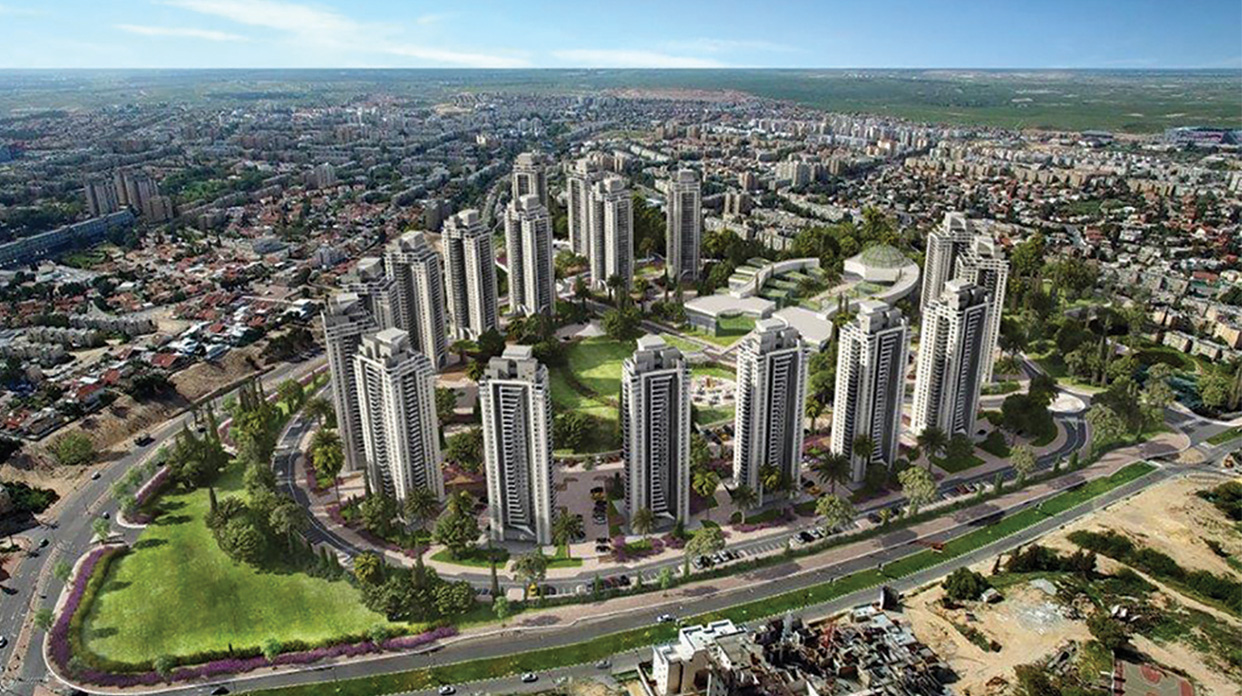 Company's Profile
| | |
| --- | --- |
| Established: | 1964 |
| Line of Business: | Residential real estate, Yielding real estate, rentable housing, and urban renewal |
| Address: | 32 Aranea St., Tel Aviv 6107034 |
| Phone: | 972-3-5632632 |
| Fax: | 972-3-5632665 |

Company Executives
Friedman Hershey

Controlling Shareholder & Chairman of the Board

Azorim Investments in Development and Construction Company Ltd.

View Profile

Friedman Hershey

Ron Avidan

CEO & Director

Azorim Investments in Development and Construction Company Ltd.

View Profile

Ron Avidan
Leading Executives
Moshe Koren VP, Business Development
Levi Shtresler CFO
Meir Simcha VP, Engineering & Planning
Gil Gurevitz VP, Marketing
Yoni Barel VP, Sales
Lilach Erez VP, Legal Counsel
Sigal Halevy VP, HR & Customer Relations

About Azorim Investments in Development and Construction Company Ltd.
Azorim has been one of Israel's largest and leading real estate companies for almost six decades. Azorim, which was founded in 1964, evolved into a public company, which shares are traded on the TASE, and which holds properties in Israel and abroad. The owner of controlling interests of the company is the international businessman Mr. Hershy Friedman.
Azorim's six decades of professional experience, in combination with the company's economic strength, position it at the forefront of the Israeli real estate market, with a specialization in residential properties. Azorim has been entrusted for decades on building innovative construction projects while identifying real estate potential, and creating an advanced and pleasurable residential experience for its customers, with first-class environmental development. In 2022, the company is expected to build about 3,500 apartments all across Israel.
At the Forefront of Israel's Real Estate Market
Azorim spearheads the Israeli real estate market thanks to its longstanding position, the vast experience it accumulated and the professional excellence for which it is renowned. This, in combination with creativity and uncompromising quality, and the attention to locating attractive land reserves, led Azorim to become the leading public company in terms of sales, in light of the sales of about 1,000 apartments in 2019-2021, in addition to digital sales of about 480 apartments in an urban renewal project in Bat Yam, Moment – Innovative sales offices with unique technologies that offer an innovative user experience.
Urban Renewal
Azorim created a dedicated division that specializes in the construction of large residential complexes, and is managed by the pioneers of this segment in Israel. In light of the focus of the company on social aspects and the needs of the residents, it is ranked at the top of Israel's urban renewal rankings. Azorim is promoting the planning of about 40 projects, and in total more than 20,000 apartments in Israel, in projects that include the company's flagship project – MOMENT Bat Yam, SHAAR HAIER Givat Shmuel, N Sokolov in Netanya, and projects in Herzliya's Weizmann Neighborhood, and in Neve David, Haifa.
Developing Rich Community Activities
Azorim believes that a home is a community, and accordingly the company initiates and conducts events and activities for its residents with their full participation, in order to formulate rich community activities. Azorim's loyal customer base follow it for many years, and upgrade their living conditions according to their changing needs. Azorim prioritizes its customers and maintains transparency, and therefore the residential neighborhoods guarantee the highest level of living quality. Azorim's high-quality residential environments lead to the vast urban development around them, including community services, high-quality education institutes, green lungs, ring roads for maximal safety, maximal accessibility and leisure centers.
Mixed-Use Development
Azorim is entrusted with mix-use projects across Israel, from the understanding that a rich community life, that integrates leisure and entertainment, creates high-quality residential environments. The commercial areas, which are located near the houses, offer the residents services such as supermarkets, cafés, restaurants and parking. Azorim's yielding properties arm has more than 50,000 sq.m. of commerce areas in various stages of operation, development and planning.
Azorim Living
The REIT Azorim Living specializes in long-term rental homes, and focuses on initiating and building rental complexes with hundreds of apartments. This provides operational efficiency in the construction, management and maintenance of the apartments. The projects are concentrated in high-demand areas, with attention to access to major transport arteries, public transportation hubs, and employment, education and academic centers. The REIT aims to operate in areas that demonstrate betterment potential over the long and medium term. The company's portfolio includes 10 projects at various stages with a total of about 2,000 apartments, including populated projects in Ashdod, HaRakafot Neighborhood in Rishon LeZion and Bayit BaPark in Or Yehuda, among others.
Flagship Projects in 2022
Exchange, Elite Junc., Ramat Gan: An upscale project which is characterized by modern and international mix-use architecture by MYS Architects, as it is commonly planned in cities such as Tokyo and NYC. The project leads an urban revolution in the Exchange Complex and would include two 220-meter-high towers and the conservation of the historical Elite factory. The 55-story residential tower would include 355 apartments.
MOMENT, Bat Yam: A project near the beach, the promenade, kindergartens, schools and the country club, that offers access to transport arteries, public transportation including the Red Line of the Light Rail. This project, which is located in the sought-after neighborhood of Ramat HaNasi, integrates residences that would include 714 apartments in four modern 34-35-story towers, with offices and commerce.
Central Park 17: Israel's largest residential project is currently under construction at the heart of Beersheba. This complex, that includes more than 2,300 apartments in 17 29-story towers, would offer residents high living quality at the heart of Israel's most promising city, near business, knowledge and academy centers, a culture and leisure center, with convenient access to transport arteries, among others.
Azorim HaNarkis, Rishon LeZion: This project is being built in the city's renewing eastern side in the neighborhood of Narkissim, near the Asaf HaRofe Hospital. The project is expected to include nine 9-27-story residential buildings. The residents would benefit from a variety of public institutes, commerce areas and leisure and entertainment locations near their homes.
N Sokolv, Netanya: This unique upscale project would be built while integrating a hybrid residential concept that includes innovative architecture, special spaces for the residents, commerce floors, public institutes, well-equipped gyms, acoustic music spaces, gaming rooms and multipurpose spaces. The project, which is currently at the planning stage, would include a complex of three towers with 264 apartments and 700 sq.m. of commerce areas. The residents would benefit from living in an environment that offers well-developed infrastructure and cultivated green lungs, and from the proximity to the beach and spectacular view.
Additional High-Quality Residential Communities of Azorim in Leading Cities Across Israel Include: Herzliya, Nahariya, Rehovot, Tel Aviv, Ganei Tikva, Beersheba, Shoham, Jerusalem and more.

Photo Gallery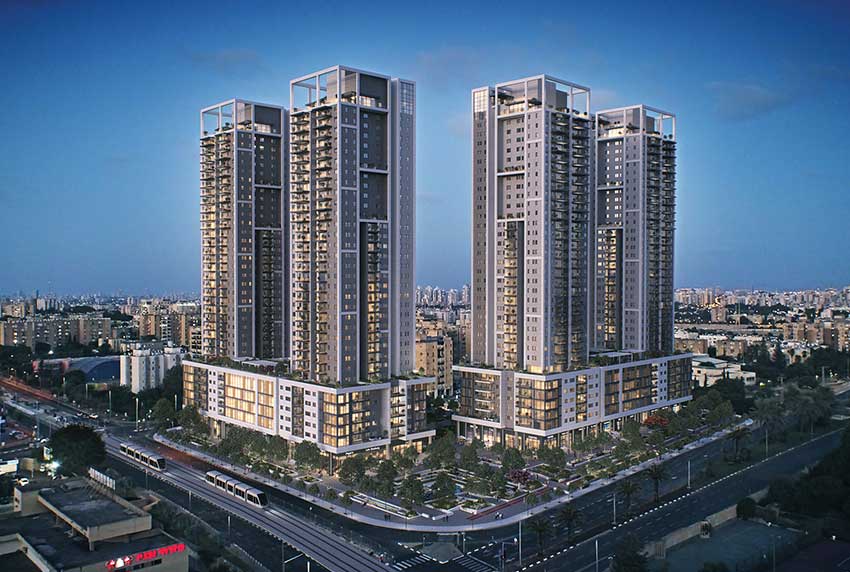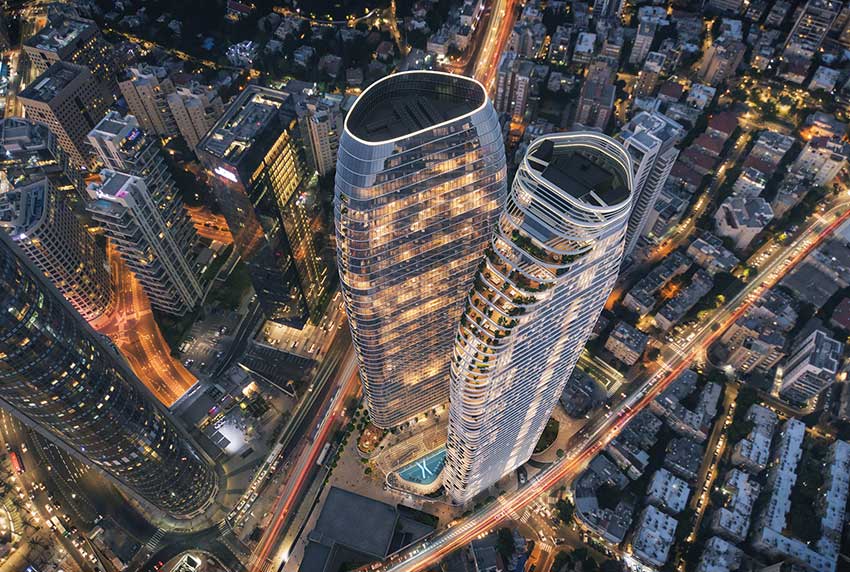 Exchange, Elite Junc., Ramat Gan
3DVISION

Company Rankings