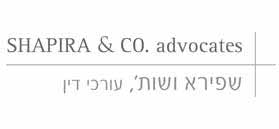 Shapira & Co.
Distressed Businesses, Insolvency, Debt Arrangements, Realization of Assets, Property Law, Real Estate, Commercial Litigation

Company's Profile
| | |
| --- | --- |
| Established: | 2008 |
| Line of Business: | Distressed Businesses, Insolvency, Debt Arrangements, Realization of Assets, Property Law, Real Estate, Commercial Litigation |
| Address: | 5 Azrieli Center (Square Tower), 27th Floor, Tel Aviv, Israel 6702501 |
| Phone: | 972-3-7766999 |
| Fax: | 972-3-7766996 |

Company Executives
Ofer Shapira

Managing Partner

Shapira & Co.

View Profile

Ofer Shapira

Dana Hillel

Partner

Shapira & Co.

Adv. Ran Keren

Partner

Shapira & Co.

About Shapira & Co.
Shapira & Co. is one of Israel's outstanding leading law-firms specializing in handling distressed and underperforming businesses, receiverships, liquidations, debt restructuring, a collection of debts, and realization of assets in Israel and abroad. The Firm also provides high-end services in complicated property transactions and construction projects, as well as commercial litigation. Shapira & Co. is well known for its extensive experience and impressive ability to integrate legal and business management aspects.
Adv. Shapira, the managing partner of the Firm with over 27 years of insolvency practice, represented Bank Leumi and Mizrachi Bank in the receivership and liquidation proceedings of Caesarea Glenoit (Carmel Carpets), participated in the creditors' arrangement for Izhar Industries, represented Bank Hapoalim in personal claims following the collapse of Adacom and in complex cases such as Hamashbir Lazarchan, Noga Electrotechnica, N.D.C. Group and many others. Adv. Shapira served as a court-appointed trustee in many tens of cases, including Ashkelon Plywood, Atzmon, TAT, Kaman Industries, Friedrich, Electro-Metal, SIF Industries, Africa Israel Industries, Packer Construction Steel, U Dori Construction, and many others in all fields of practice. Adv. Shapira also represented the trustees of Clubmarket, appeared for the Electra Group in the Hefziba affair, in Better Place case, in the case of Hadassah Jerusalem Medical Center, and the liquidation of Eurocom Real Estate. Adv. Shapira represented Bank Leumi in the Nidar case, represented Bank Hapoalim (among many other cases) in the collapse of Agreksco and the restructuring of Synergy, and represented Bank Leumi in the cases of Elbit imaging, Dorea, Extra Plastic, Negev Ceramics, Delek Group, and many more. Shapira & Co. also served as a consultant for the closure of Markstone fund in Israel and represented the fund and its subsidiaries in various legal proceedings.
Along with its substantial activity in cases of insolvency, Adv. Shapira represented throughout the year's major creditors in complicated cases of insolvency, from the realization of specific assets and mortgages on real estate projects to managing turnaround processes in groups of companies as going concerns. Shapira has also been representing creditors in Israel and abroad in debt restructuring negotiations and settlements and participated in the formation and implementation of many business recovery plans. Adv. Shapira has successfully managed complex cases for companies in receivership or liquidation, working in Israel and abroad, including Leadcom Group, assets of Sybil Group in Poland, Global Wire Group, RichFX, Atzmon, Levidei Ashkelon, Foris Telecom etc. Adv. Shapira was also appointed as receiver and special administrator of companies in Kaman Group was appointed as receiver and special administrator in the bankruptcy case of Joseph Grunfeld, serves as the administrator on the estate (in bankruptcy) of late Yoram Yossifoff, and court-appointed receiver of Africa Israel Industries.
Shapira has also been representing investors in acquiring distressed businesses. This special combination of an extensive experience in restructuring plans and schemes of arrangements and a rich business experience in running distressed businesses made Shapira & Co. to one of the most prestigious teams in leading of complicated debt arrangements in Israel. Among other matters, Shapira & Co. has been serving as a business and/or legal representative of trustees and institutional lenders in the matters of Arazim, Engel Europe, Sybil Germany, Gilon, Ampal, Extra Plastic, Negev Ceramics and others. Its unique ability to guide clients efficiently through complex, stressful proceedings to a satisfactory solution has made Shapira & Co. a leader in its field.
Areas of Expertise
Distressed Businesses: Insolvency: Based on the comprehensive experience of both commercial and legal aspects, Shapira & Co. brings an added value to dealing with complex crises regarding distressed companies. The Firm enjoys impressive capabilities in crisis management including leading turnaround plans and financial restructuring arrangements in Israel and abroad, managing companies under receivership and liquidation, and representation of major creditors in debt collection proceedings, asset realization, and various transactions and proceedings related to distressed businesses.
Litigation: Shapira & Co. has extensive experience in leading high-profile litigation, mainly in the fields of banking, shareholders disputes, property law and real estate. Financial understanding combined with a strong insistence on legal rights guide the Firm in litigation, with the focus on resolving the conflict effectively and wisely for the client's benefit.
Real Estate: Shapira & Co. provides top-quality legal services in the pursuit of success of real estate projects, from initiation and accompaniment of economic feasibility through the funding procedure, agreements between entrepreneurs and contractors, contracts with financial institutions, selling of units, negotiations with suppliers and customers, representation in construction defects lawsuits, handling all required issues with authorities, etc. Familiar in the realization of real estate assets and management of real estate projects of insolvent companies or distressed debtors, Shapira & Co. is skilled in leading real estate transactions, including organizing projects from their early stages, dealing with the authorities, negotiating with all parties, handling contracts and legal proceedings, etc.
Clientele
The Firm's clients include Bank Hapoalim, Bank Leumi, Discount Bank, International Bank, Industrial Development Bank, BNP Bank, Menora Mivtachim, Electra Group, Viola Credit (Plenus) Fund, Cogito, Hercules, Mishmeret Trust Company, Hermetic, etc.
Overseas Activity
Throughout the years Adv. Shapira gained an extensive, rich and very unique experience in running subsidiaries of Israeli companies overseas, and among other things worked with banks, suppliers and other creditors around the globe, from the US and Latin America in the west, through western Europe and eastern Europe and Africa to India in the east. The firm is a member of the INSOL International and the network's sole representative in Israel. INSOL is a global network of leading professionals in the field of insolvency, including attorneys, accountants, academics, business consultants and managers of recovery and reorganization. The professional connections of Shapira & Co. together with INSOL membership gives the firm the ability to provide effective and efficient professional services, including management of businesses and realization of assets, anywhere in the world.
The Firm's Vision
Handling of distressed businesses, especially in complex businesses that conduct global operations, requires business-economic vision alongside multi-disciplinary legal understanding. Shapira & Co. invests in enhancing the legal and business knowledge and experience of the team while striving for legal excellence and broad business understanding. Shapira & Co. act without fear, striving for the business goals of the firm's clients while using creative thought alongside loyalty and integrity. These characteristics made Shapira & Co. a leading brand in the field of insolvency in Israel.