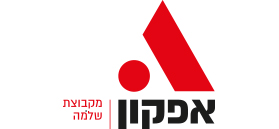 Afcon Holdings Ltd.
Infrastructure; Construction; Electricity and Electromechanics; Control and Automation; Communication and Teleprocessing; Renewable energy, electric transportation

Company's Profile
| | |
| --- | --- |
| Established: | 1945 |
| Line of Business: | Infrastructure; Construction; Electricity and Electromechanics; Control and Automation; Communication and Teleprocessing; Renewable energy, electric transportation |
| Address: | 4 HaTavor St., Sgula Industrial Zone, Petach Tikva 4914602 |
| Phone: | 972-73-2001333, 972-73-2001325 |

Company Executives
Israel Raif

Chairman

Afcon Holdings Ltd.

Dudi Hareli

CEO

Afcon Holdings Ltd.

About Afcon Holdings Ltd.
Afcon Holdings Ltd. actives in fields of Concession, infrastructure and construction, renewable energy, EV charging system, development and embedding of technologies, C&C, ,Safe & Smart Cities. Recycling, Telecom, and trade. Afcon plans and executes construction projects with high systems volume, and also develops high-end technologies. The company's solutions are merging of capabilities, honed out of an array of technologies and experience, that Afcon offers its clients. This combination of skills, its human capital, its strength and financial stability allow Afcon to present uncompromising quality and safety standards to its clients. Afcon employs 1,300 employees and has five branches in Israel and Romania, in addition to activities and part-nerships in the U.S., India, Poland, Russia and China. Afcon works under a variety of business models including SPC, GC, EPC, joint ventures, subcontracting, and maintenance (IFM). Afcon's revenues exceeds 2 billion NIS in 2021. Afcon is part of Shlomo Group – which is one of Israel's largest business group in Israel.
Areas of Expertise
Multi-System Infrastructure Projects - Afcon's activities as a primary contractor include planning and engineering on two fronts. On the first front, GC and construction for the public sector, includ-ing malls, hotels, hospitals, office buildings, logistical centers, and Data Centers. On the other front, Industrial construction and electrical works, facilities for the chemicals industry, the pharma sector, microelectronics as well as power plants. Afcon offers clients turnkey projects, involving electrical works, sanitation, HVAC, and EPC projects of renewable energy, Battery Storage Systems & EV Charging systems. Afcon has its own plant for "made-in-Israel" high and low-voltage electric switchgear and disconnect switches. Afcon has unlimited contractor classification and has a recognized contractor license for government works - OSHAS18001, ISO 9000, 14001, 27001 certifications. Afcon is the owner of "Sherut Hogen" a service company that specializes in nationwide service provider for HVAC and ventilation systems.
Afcon Electric Transportation - is a market-leader in field of vehicle charging systems, which holds a nationwide charging network and offer energy for electric vehicles in this fast-developing market. Afcon Electric Transportation has preformed thousands of installations, far beyond any other player, in Israel with a paying nationwide billing network.
Renewable energy - Afcon is a pioneer entrepreneur in Israel and abroad development and erection of wind farms, and PV fields in Israel Poland & spain. The company has the capabilities to erect a Battery storage systems, and hold an exclusive strategic partnership with leading BESS manufacturers worldwide.
Systems Technologies, Control and Automation, low-voltage systems - Afcon carries out projects in field of control for buildings and industry, by providing notification and PA systems, "Safe & Smart City" projects, parking control systems, fire detection and extinguishing, multimedia, meters and remote reading. For security systems, Afcon develop both the hardware and the software, including state-of-the-art sensors and motion detectors, unique solutions for border checkpoints and port gates. Afcon developed its own SCADA - (AfconPulse). Afcon's advanced technolo-gies enable it to participate in Israel's leading projects. Afcon has a large service department deployed nationwide, in field of VLV. DM and Gal-Net specialized as Audio Video integrator and IT infrastructure contractors are members in Afcon Holding group.
The Trade Division - Ateka Company - imports, marketing and distribution of electrical, control, electronics and robotics equipment. It represents about 40 leading manufacturers and brands, such as ABB, Omron, GEWISS and General Cable. The company maintains significant inventories for immediate response. The company's engineers and salespersons provide continuous service from pre-sale to post-sale maintenance. Recently RBS, a distributer of IT cables and equipment join Afcon Holding group.
Communication and IT - Tadiran Telecom - development, manufacturing, distribution, implementation and maintenance of diverse IT and communication solutions. Tadiran has unique know-how and expertise in Unified Communication & Collaboration systems (UC&C); Contact Centers; recording systems; cloud services and communication infrastructures. Tadiran is the manufacturer of the Coral product and developed the Aeonix (pure IP) Contact Center and the Dispatch Console. Tadiran markets and sells in Israel, as well as in the U.S., China, Russia, Ireland and India.
Selected Projects
Wind Farms in Sirin and Gilboa - Wind Farms in Sirin and Gilboa - Development (SPC), construction (EPC), and maintenance (O&M) of wind farms with 25 wind-turbines, generating around 22MW. These are pioneering, innovative and first-of-their-kind projects in Israel. The farms have begun producing electricity starting at the first quarter of 2016, and sell electricity to the Israel Electric Corporation (IEC) at a fixed rate.
The Light Rail, the red line - construction of a fire alarm system along all of the light railway's routes and stations in Tel Aviv. Execution of the F-SCADA control and supervision systems for railway infrastructure, Tadiran Telcom provides line's communication systems, the railway is due to be active at the end of 2022.
Transmission Stations Israel Rail (Railway electrical substation) - Erection of 14 electrical substations for the electrification of the rail routes nationwide, Afcon completed all of the electrification systems which support the electric railway between Jerusalem and Tel Aviv, and continues to execute the additional ESS.
Power stations and electrical sub-stations - Erection of electricity infrastructure and equipment at PS and ESS of Dalia-Zafit, Nesher Ramla, Sorek, OPC Rotem, Dead Sea plants, Machteshim Ramat Hovav, Vishay Dimona, Ashkelon desalination.
Mobileye R&D Campus - Erections of the world research and development campus in Jerusalem, a "green" offices and laboratories building, 140,000 sqm, LEED standard, the scope of work includes design, permitting, erection of civil, fit out, electrical, VLV, plumbing, HVAC, IT network, Data center works.
A FAB production factory for an international company in Kiryat-Gat - erection, and installation of electrical infrastructures and instrumentation, fire detection system (VESDA) for the three generations of factories built over the years. The works are carried out at all levels of installation, and are done in compliance with stringent international standards.
Campus for an international Hi-Tech Company PKT1 - Afcon executed and handed over a complete turnkey project, design-build, including licensing, LEED Platinum certified with a particularly challenging schedule. The project includes erection of one of the most advanced campuses in the world (Smart Campus), construction of offices, labs, cafeterias , kitchens, and underground parking, on an overall area of more than 75,000 sq.m. with a value of 600 MNIS.
Dalia Zafit Battery storage Farm - a design-build project of BESS with capacity of 66MWh which is the biggest in Israel, the farm has a black start capability.
Yehud-Monasson project - construction of five residential towers, 310 apartments, public spaces, and construction infra structure , parking lots , with an area of 65,000 sqm. The company's projects backlog is about 3 billion NIS, and currently is executing several projects, including the new wind farm in the Golan Hights, BIG glilot mega project, Court buildings in Tiberias and Safed, extension of DATA center in south of Israel, student dorms in Rishon LeTziyon, Aragaman tower, and TEMECH building in Tel Aviv. This places Afcon amongst the largest infrastructure and technology companies in Israel.

Company Rankings