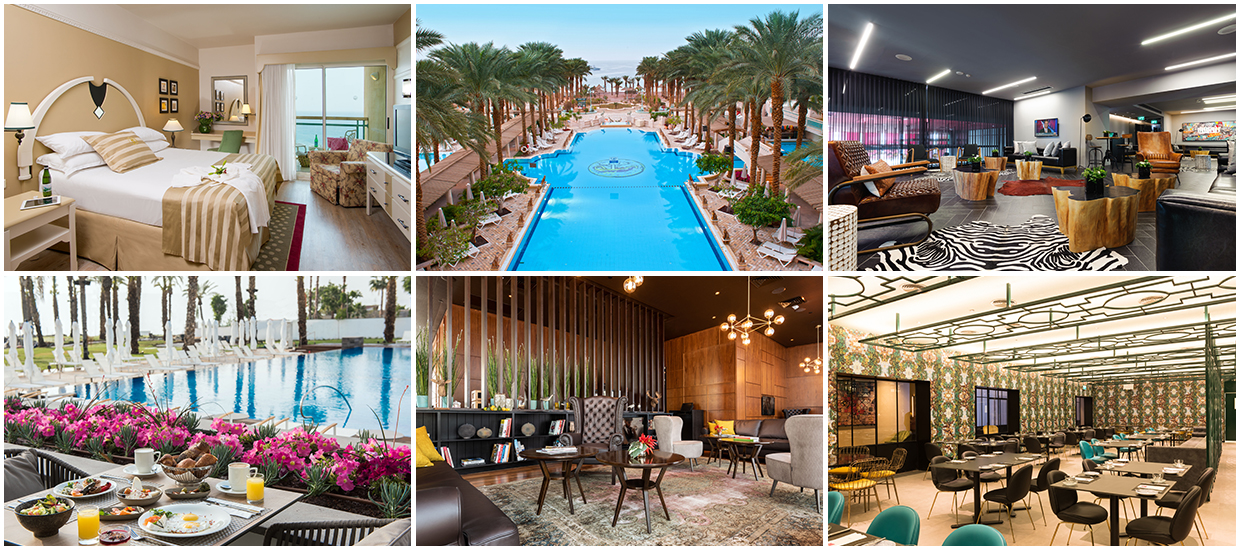 Company's Profile
Established:
1998
Line of Business:
Hotel Management
Address:
Fattal Hotels Chain, 2nd Alon Tower, 94 Yigal Alon St., 23rd floor, Tel Aviv
www.leonardo-hotels.com
Phone:
972-3-6081880
Fax:
972-3-6081877

Company Executives
David Fattal

Owner

Fattal Hotels Ltd.

Avia Mizrachi-Magen

CEO, Israel Operations

Fattal Hotels Ltd.

Shachar Akka

CFO

Fattal Hotels Ltd.

Dani Roger

CEO, Europe Operations

Fattal Hotels Ltd.

Yoram Biton

Manager, Central Europe Operations

Fattal Hotels Ltd.

About Fattal Hotels Ltd.
Fattal Holdings (1998) Ltd. is an Israeli hotels company owned and managed by hotelier and businessman David Fattal. The company owns and manages about 50
hotels throughout Israel, about 170 hotels in Europe and signature brands such as U, Leonardo, Herods, Rothschild 22, and NYX.
David Fattal is one of the most prominent and influential figures in Israel's tourism sector, with 40 years of experience. He was the former CEO of Africa Israel Hotels and is responsible for inaugurating the Holiday Inn brand in Israel (for AFI). In 1998 he founded the Fattal Hotel Management Company.
The company, which was founded just 20 years ago, managed one hotel, Meridien Eilat, and over the years accumulated management agreements with additional hotels, acquired many hotels and introduced international hotel brands with unique concepts and management standards to the Israeli hotels' industry.
As the company developed, several acquisitions were made, which expanded the scope of operations from just management to also ownership.
In 2009, the company executed one of Israel's largest hotels transactions, acquiring all 12 hotels of Azorim Tourism Ltd. (formerly Sheraton and Ac-cor) for NIS 970 million, and de facto became Israel's largest hotel chain. Thus, the chain expanded its presence to new prime locations such as Tel Aviv and Jerusalem.
Currently, the chain has full or partial ownership of 31 hotels throughout Israel, including flagship hotels such as Herods Eilat.
In recent years, the chain opened the Herods Herzliya, Leonardo Plaza Ashdod, Leonardo Plaza Netanya, Rothschild 22, Leonardo Boutique Jerusa-lem, Leonardo Boutique Tiberius, NYX Tel Aviv, NYX Herzliya hotels, Bachar House, and soon also NYX Jerusalem.
The unifying principle of all the chain's hotels is the commitment of the management and employees to provide guests with perfect pleasure.
Fattal brought innovation and freshness to the Israeli tourism sector, being the first to introduce the "All Inclusive" concept to the Dead Sea, Tiberius, and Eilat, and establish a new standard in the entertainment sector, bringing the best artists in the Israeli entertainment world to perform in its hotels.
Today, Fattal's hotels cover all of Israel's major vacation sites from north to south and offer a wide range of concepts suitable for all budgets and purposes:
Business tourism and conventions, urban tourism, recreation tourism, family vacations, boutique tourism, romantic vacation packages, and more.
The company manages 9,435 hotel rooms in Israel, its turnover in Israel amounted to about NIS 1.7 billion in 2019, and it employs approximately 5,600 employees nationwide.
Fattal Overseas
In 2006, Fattal expanded its operations into Europe independently, and through an investment fund that was established in 2007. In Europe, the company mainly invests in 3-4+ star busi-ness and urban hotels. To date, Fattal owns 169 hotels in Germany, England, The Netherlands, Wales, Ireland, Spain, Hungary, Austria, Switzerland, Italy, The Czech Republic, Scotland, Belgium, Poland, Greece, Portugal and Cyprus, 59 of them being fully or partially owned by Fattal. All the hotels in Europe operate under the company's signature brands, Leonardo, NYX , Jurys, and Appolo.
The company's turnover in Europe in 2019 was about €920 million with approximately 6,300 employees.
Leonardo
Fattal's signature brand was established in Europe several years ago and was also introduced in Israel. The brand currently includes approximately 125 hotels (23 in Israel and 102 in Europe).

NYX
Fattal's Business & Pleasure brand. Hotels with an eclectic atmosphere, music, innovative design, contemporary art, and bars with a unique ambiance. The company has plans for expand-ing this brand across the world.
Community Outreach & Involvement
Fattal goes beyond providing warm and welcoming hospitality, and also contributes to the community. Hand in hand with individual work that each hotel does for the benefit of the commu-nity in which it operates, the chain offers employment to disabled people in every hotel in various roles, including executive positions.

Facebook Updates

Photo Gallery