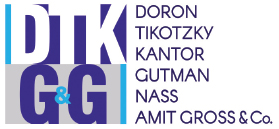 Doron, Tikotzky, Kantor, Gutman, Nass, Amit Gross & Co.
Tax law, real estate, real estate tax, capital markets, high-tech, banking and legal collections, labor law, immigration law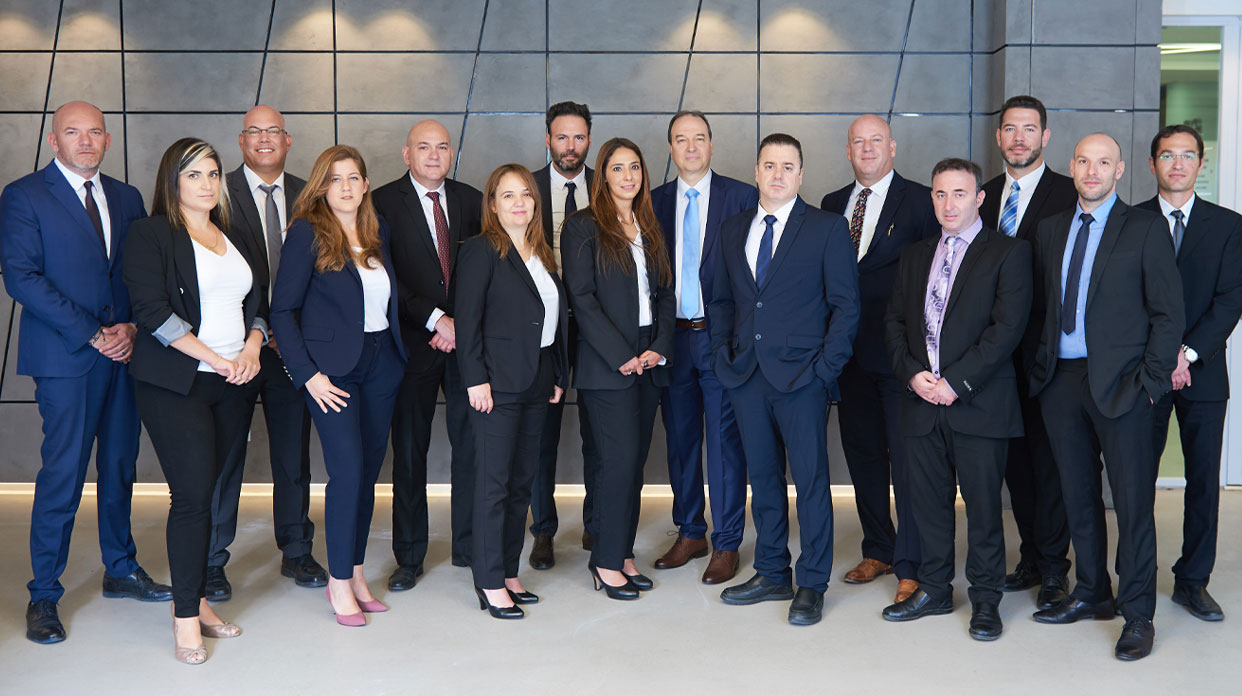 Company's Profile

Company Executives
Adv. Eli Doron

Founding Partner

Doron, Tikotzky, Kantor, Gutman, Nass, Amit Gross & Co.

Adv. & CPA Yaron Tikotzky

Founding Partner

Doron, Tikotzky, Kantor, Gutman, Nass, Amit Gross & Co.

Adv. Ronen Kantor

Founding Partner

Doron, Tikotzky, Kantor, Gutman, Nass, Amit Gross & Co.

Giora Gutman

Partner

Doron, Tikotzky, Kantor, Gutman, Nass, Amit Gross & Co.

Dr. Shlomo Nass

Adv. & CPA Founding Partner

Doron, Tikotzky, Kantor, Gutman, Nass, Amit Gross & Co.

View Profile

Shlomo Nass

Adv. Amit Gross

Founding Partner

Doron, Tikotzky, Kantor, Gutman, Nass, Amit Gross & Co.

About Doron, Tikotzky, Kantor, Gutman, Nass, Amit Gross & Co.
Doron, Tikotzky, Kantor, Gutman, Nass and Amit Gross is one of Israel's leading law firms, with over 100 lawyers, accountants, economists and former government and tax authority employees, led by 20 partners working in unison for the best interests of their clients. The Firm is renowned for its tax, capital markets, M&A, high-tech, corporate insolvency, real estate, labor law, immigration law and litigation practices.
The firm represents and accompanies large sectors in the Israeli economy, worked to assist and represent during the coronavirus crisis vis-à-vis the state's institutes, and to support businesses in crisis, in handling insolvency proceedings and correspondence with the tax authorities.
The Firm, originally founded in 1997, quickly established itself as one of Israel's leading taxation firms, and then branched out to other sectors in which it excels. Today, the Firm has two Israeli branches (Bnei Berak - Ramat Gan and Haifa) and significant international activities. The Firm ensures optimal and unique solutions for its clients, with an emphasis on uncompromising professionalism and the realization of the clients' interests objectives.
The Firm's Vision and Values
DTKGG is committed to service of the highest caliber to its clients 24/7, a legal, business minded response that combines excellence, expertise, availability and compliance with goals while crafting exceptionally creative and original solutions.
Activities across the Globe
The Firm has extensive international operations. It has a close cooperation with a New-York-based law firm, extensions in Romania and Cyprus, and dedicated desks that provide services in French, Russian, Chinese, German and Arabic.
New York: close cooperation with SRF, a law firm with over 60 lawyers and legal professionals.
Romania: This branch specializes in real estate and commercial law, and serves many Israeli en-trepreneurs operating in Romania in various fields, including real estate transactions, representa-tion before various authorities and obtaining a passport. Cyprus: This branch is located in Nico-sia, provides international support on matters such as incorporation, trust services, international banking and procurement in Cyprus and globally.
Areas of Expertise
Tax Law – specializing in taxation advice and legal support opinions on matters of Israeli and in-ternational taxation. The department represents clients in criminal tax and white collar offences; handles tax litigation (income tax assessments, Value Added Tax, customs duty, purchase tax, real estate tax, etc.); and is involved in international taxation matters, including written tax plan-ning opinions, and voluntary disclosure procedures. The tax department also assists Israeli and foreign clients to comply with the U.S. FATCA and other AML requirements.
Civil and Commercial Litigation – representation of clients in various courts and complex arbitra-tion proceedings in a wide variety of proceedings and disputes.
Real Estate – the Firm has an excellent reputation in real estate issues and taxation, with many years of experience in Israel and abroad in yielding properties transactions, large-scale residen-tial construction, combination and commercial real estate transactions. The firm is particularly ex-perienced and proficient in the urban renewal sector: Large and mid-sized Pinui-Binui projects, and Tama 38. The Firm also represents clients in international real estate transactions in the US, Europe, Africa and South America.
Hi-Tech – legal advice, guidance and representation for entrepreneurs throughout the lifecycle of high-tech and bio-tech companies in Israel and abroad. The department, in cooperation with the M&As department, serves many companies in various technology fields, as well as private equity and venture capital funds. The Firm's clientele includes numerous Israeli and international start-ups, NASDAQ-listed technology companies, private equity funds and more.
Mergers and Acquisitions – are one of our firm's core strengths. We have consistently represent-ed either purchasers or targets in Israel's M&A transactions. Our M&A transactions have included forward and reverse triangular mergers, stock acquisitions, asset purchases, leveraged buy-outs, divestitures, tender offers and other transactions involving a change of control. Our services in-clude advice on structuring, negotiations, due diligence, preparation of disclosure documents, preparation of shareholder communications, governmental filings and various other matters re-quired to consummate mergers and acquisitions.
Capital Markets – legal support for issuances in the Israeli and international capital markets. Representing issuers and underwriters in Israel (TASE), the US (NASDAQ and the NYSE), the UK (LSE) and other stock exchanges in Europe and the Far East. The Firm provides legal advice on delisting publicly traded companies, corporate governance, dual reporting, etc.
Insolvency and Corporate Rehabilitation – The department comprises Israel's leading team for handling insolvency proceedings and complex corporate rehabilitation situations. Dr. Shlomo Nass, who heads this department, has in recent decades taken a leading role in Israel largest corporate rehabilitation schemes. Our team members are often appointed as trustees and special officers by the courts dealing with insolvency and debt schemes proceedings, and have exten-sive experience handling such cases and proceedings. Our experience covers cases of public and traded companies as well as large private corporations operating in various fields such as retail chains, communications, infrastructure, international trading, construction, etc'.
The team includes experienced lawyers and accountants who provide ongoing legal services to companies and corporate managements who encounter financial difficulties. The team has also extensive experience in debt and equity restructurings, and special investigations and forensic auditing, following special appointment by the court.
Labor Law – The Firm represents hundreds of organizations and companies in the hiring, em-ployment and the implementation of labor laws, reducing their exposure to employee claims and administrative penalties (levies, fines, indictments or pecuniary sanctions), and saving our clients time, money and considerable mental anguish.
Banking and Collections – the Firm has an experienced team which handles legal collections, in-cluding the legal representation of banks and other financial institutions in the collection en-forcement processes, and receiverships. Among major clients are Bank Leumi and the Arab-Israel Bank.
Other Practice Areas – The firm's practice areas also include other special fields of law, such as: legal counselling to the orthodox sector; ongoing economic and business counselling; ongoing counselling to boards of directors; white collar criminal team; family law matters.

Facebook Updates

Company Rankings