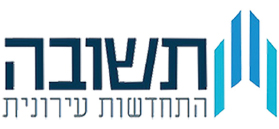 Tshuva Avraham & Sons Ltd.
Real Estate Construction and Initiation, Urban Renewal

Company's Profile
| | |
| --- | --- |
| Established: | 1967 |
| Line of Business: | Real Estate Construction and Initiation, Urban Renewal |
| Address: | 2 Ben Gurion Ave., Netanya |
| Phone: | 972-54-3450136 |

Company Executives
Avraham Tshuva

Chairman of the Group

Tshuva Avraham & Sons Ltd.

Rami Tshuva

Head of Urban Renewal

Tshuva Avraham & Sons Ltd.

About Tshuva Avraham & Sons Ltd.
Tshuva Avraham & Sons Ltd. has been active in construction and real estate initiation for more than 50 years, including high-density construction projects, upscale cottages and yielding properties. In recent years, the company has also made a significant entry into the urban renewal segment (Pinui-Binui and Tama projects).
The company comprises several arms – a holdings arm, an execution arm (The subsidiary Ilanot Ltd., which specializes in the construction of upscale detached houses), a foreign real estate investments arm and an urban renewal arm.
The Company throughout the Years
The group dates back to 1967, when Avraham and Yitzhak, the sons of Rahamim Tshuva, a food wholesaler from Netanya, joined forces and established a construction contracting company. Over time, the brothers parted ways, and Avraham continued to prosper in the real estate sector and has been constructing thousands of apartments, as well as entire neighborhoods and commercial centers in cities such as Netanya, Hadera, Ashkelon, Kfar Saba, Dimona, Eilat and in Moshavim and Kibbutzim.
Over the years, Avraham's children – Rami, Itzik, Zachit, Ilan and Galit joined the company's executive management, and Avraham became the company's chairman.
Financial Strength
Throughout the years, the company has been benefiting from financial strength and economic stability which are anchored in its solid level of equity. As a highly experienced and reputed company, the company selects the projects in which it participates across Israel very carefully, while conducting in-depth checks before entering the project. This longstanding strategy of the company has been guaranteeing its impressive success in every project in initiates and executes.
Integrity and Transparency
The company's most important asset is the complete integrity and transparency towards its customers. The latter receive a response for every request and demand at any given moment, also from the project managers, but in particular from the company's executive themselves, headed by Avraham, who are at their disposal at all times. The attitude towards the customers is egalitarian, warm and friendly, whether if the customer is a new customer or a customer who purchased an apartment 10 and even 20 years ago. This lets the customers feel as if they are part of the family. The company benefits from a base of numerous returning customers.
Both a Contractor and an Initiator
The company benefits from integrated initiation and execution capabilities and this enables it to accompany each client from the sale stage up to the execution and the delivery of the apartment's key. This capability provides the company's customers with "peace of mind" with the ever-present knowledge that they have a single point of contact for any request and demand.
Despite the company's size and the very large scope of its projects, the company's executives give each resident in their projects their personal phone numbers and take care to be available to them at any time and for any inquiry. Moreover, the powerful combination of execution and initiation in one entity enables the company to control all of the projects' construction and planning stages, so that its executives always have their hands on the pulse and can react directly for any delay or requirement from the field.
Urban Renewal
Five years, the company has made a strong entry into the urban renewal segment, and it is currently planning and executing dozens of projects in central and northern Israel under Tama 38/1, Tama 38/2 and Pinui Binui programs. Some of the company's urban renewal projects are: A Tama 38/1 with land addition in Atlit, where the company is building around 350 apartments; A Tama 38/2 projects in Kiryat Nordau, where the company is demolishing 32 old apartments and reconstructing 150 new apartments; a large Pinui-Binui project in Jerusalem; An extensive Tama 38/2 project in Ramat Gan, where the company would demolish 70 old apartments and reconstruct 220 new apartments; numerous Tama 38/1 projects in Tel Aviv, some of which are under construction, as well as about 9 Tama 38/2 project in this city where a total of 160 apartments would be reconstructed. The urban renewal operations is managed valiantly by Rami Tshuva and the company benefits from significant engineering capabilities. These capabilities enable it to execute particularly complex Tama 38/1 projects which include robotic subterranean parking and basements that many initiators refrain from constructing.
Classic High-Density Construction
Beyond urban renewal, the company continues to construct regular high-density construction projects, as well as detached houses. In this framework, the company is expected to build a 32-storey luxury tower in the Nof HaTayelet (a.k.a. "Nat 600") neighborhood of Netanya, and it also owns several other lots in this neighborhood and in Ramat Poleg, for which construction permits have been received while construction hasn't commenced yet.
Coral Tower in Netanya, the Flagship Project
One of the company's flagship projects is the "Coral Tower" project in Netanya, one of the city's most prominent and impressive projects, which rises to a height of 19 storeys. The tower includes 52 large and luxurious apartments with a swimming pool and a gym at the residents' disposal, and it is located at the first line to the sea – 100 meters from the water line.

Photo Gallery